Guides
The best bus tours in Dublin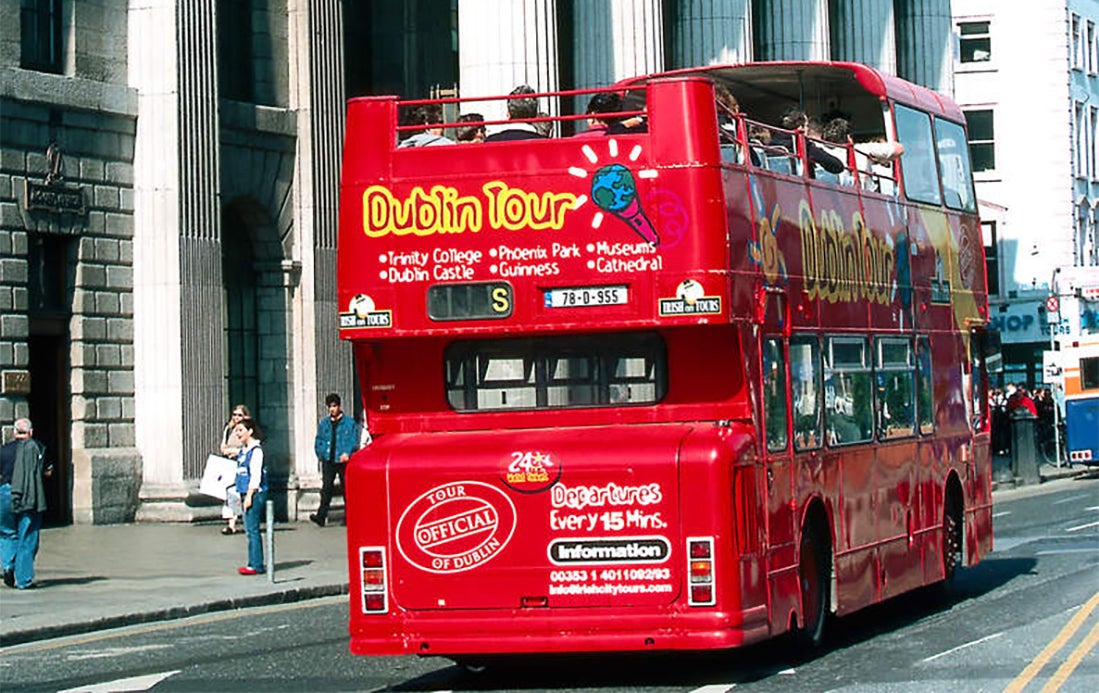 Go sightseeing in Dublin on a city bus tour, and see all the landmarks in one day.
If you're short on time, a bus tour is a great way to see Dublin. You can tick off all the major sights in one fell swoop, without your step counter going through the roof.
Whether you want to pack in as much as you can, or simply see the sights from the comfort of a double decker bus, these tours will show you the best of Dublin.
Seeing the city by bus means you don't need to decide between visiting Kilmainham Gaol or the Phoenix Park, because you can do it all in one day, hopping on and off at your leisure. Better still, you'll often be accompanied by a tour guide who can point out the local hotspots as you sail on past.
It's also a cost-effective way to see the city, particularly if tickets to museums or other attractions are thrown into the mix. As a general rule, you can expect to pay around €30 for a 24-hour hop on, hop off tour, or around €35 for a two-day ticket. On most of the tours, at least one child goes free per adult, making family tours even better value.
But bus tours aren't just for seeing the city. Nearby attractions are also at your fingertips, on tours that take you all around Ireland without you having to hire a car or navigate public transport. You can head off to places like the Cliffs of Moher or the Giant's Causeway and be back in the city by nightfall.
---
You'll spot these bright green buses all over the city. Their hop on, hop off tours take in all the major sights, including the Guinness Storehouse, Trinity College and EPIC The Irish Emigration Museum. But they also stop off at the smaller attractions, like Teeling Whiskey Distillery in the Liberties and Marsh's Library, right next to St Patrick's Cathedral. A ticket also includes entry to the Little Museum of Dublin and a Pat Liddy's walking tour. Buses depart from O'Connell Street regularly.
If you want to get out of the city, they also run tours south to Wicklow and Glendalough, or north up to Belfast and the Causeway Coast. They also offer a Ghostbus tour of Dublin, where you'll visit a medieval vault and a city graveyard, accompanied by some fairly theatrical characters. While their original tour is most definitely not for kids, they've now created a version for children aged between 7-14.  
---
This bus tour takes in 25 stops around Dublin, with a guide pointing out all the sights of the city, or a pre-recorded commentary available in eight languages. As well as all the locations set in the middle of the city, the tours head out to Dublin Zoo in the Phoenix Park, as well as Kilmainham Gaol and Richmond Barracks. Even if you don't hop off and explore those sights, the trip will give you a broader sense of Dublin's geography away from the city centre. The regular tours kick off from O'Connell Street, check Big Bus Tours Dublin for up-to-date departure times.
All tickets include a walking tour, and there's free Wi-Fi on the bus, too — so you can plot out your next move, or post a video of the on-board singalongs to Instagram. They also offer a night tour, so you can see all the landmarks illuminated after dark, like the lights of St Patrick's Cathedral or the buildings that line the River Liffey. There's also a deluxe package available, which includes the hop on, hop off ticket for three days, a night tour and a half day coastal tour to the fishing village of Howth.  
---
City Sightseeing
There are more than 30 stops on the City Sightseeing hop on, hop off tour, including Jeanie Johnston, a replica famine ship on the River Liffey, and the Irish Museum of Modern Art in Kilmainham. Buses run every hour, departing from Trinity College.
As well as the included stops in the city, you can get picked up in the morning from bus stops around Ballsbridge, which is handy if you're staying in that neighbourhood and want to see the more central sights without getting separate transport into town. 
They also offer a river cruise along the Liffey, giving you a unique perspective of the city from the water. Starting at Bachelor's Walk, you'll sail under O'Connell Bridge and past the 18th-century Custom House, all the way to the glass and steel architecture of the Docklands. 
---
This isn't a traditional bus tour. Instead of hopping off at various spots, you'll stay on the vintage bus for the duration of your journey, passing the highlights of the city as you tuck into afternoon tea accompanied by the sounds of 1950s jazz. You'll see sights like Trinity College, the Phoenix Park and Christ Church Cathedral, with freshly made sandwiches, desserts and pastries on the table in front of you.
---
What to see in Dublin
Planning your hop off points? Our guide to the great things to see in Dublin will get you started, with most of them included on the bus tours above.