Guides
The best vegetarian and vegan restaurants in Dublin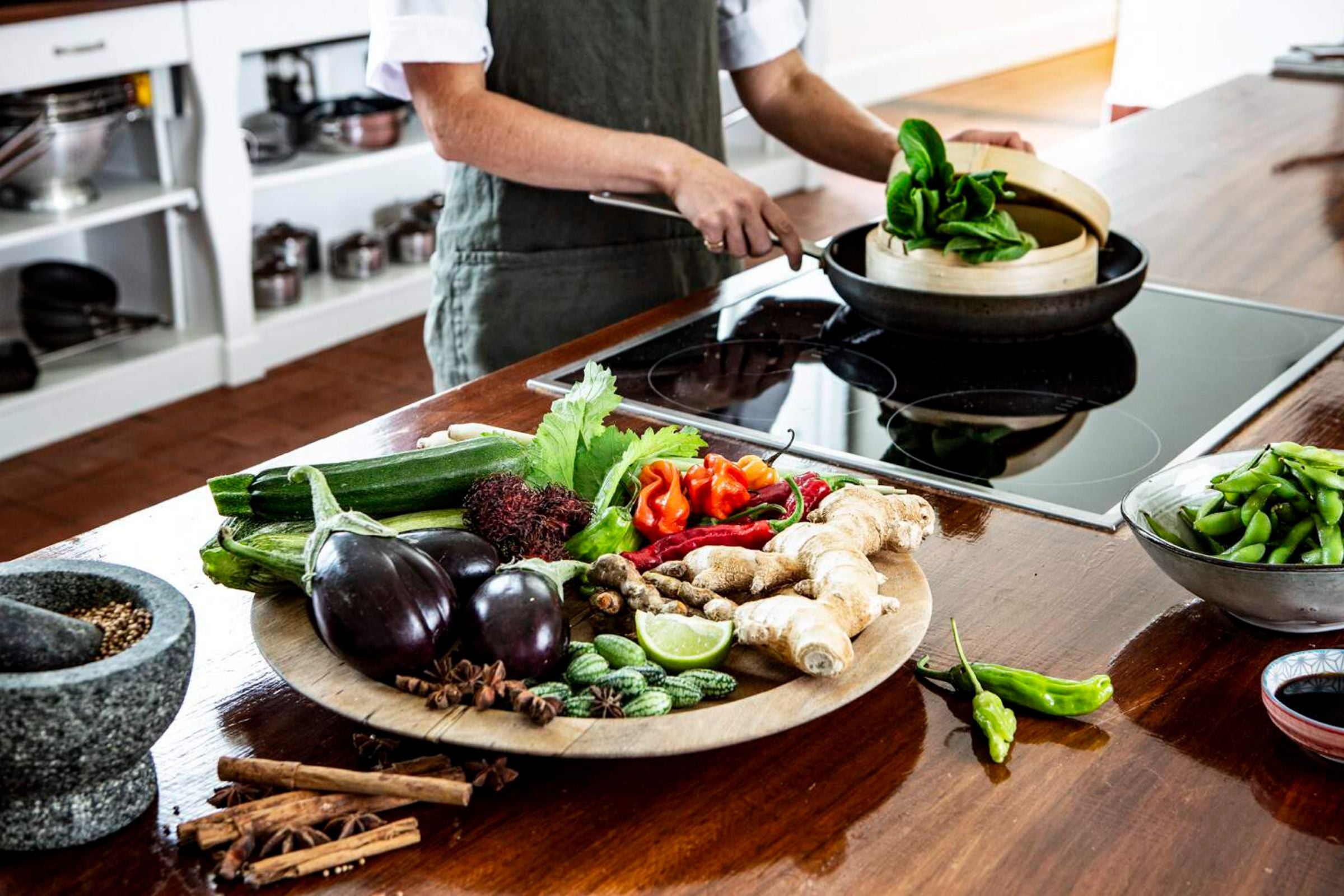 Dublin is a city with some of the best food around and that doesn't exclude vegan and vegetarian options.
Plant-based dining in Dublin is being revolutionised as a new battalion of vegan restaurants join forces with the much-loved old guard of vegetarian spots. The result is an exciting mix of creative vegetarian and vegan options to satisfy virtually all tastes.
From vegan breakfast or brunch through to afternoon tea and cakes, from casual gatherings to fine dining dates, our guide will keep you well fed and in the know.
Old-school icons
The long-reigning queen of Dublin's vegetarian and vegan restaurant scene is Wicklow Street's Cornucopia. Once a wholefood store and vegetarian café, it's now a vegan and vegetarian restaurant set over two elegant floors and run by the second generation of McCaffertys, who foster family vibes amongst long-standing staff and regulars alike. Think plant-based breakfasts, vibrant salads, warming rib-stickers and vegan cakes. 
Around on Drury Street, Blazing Salads is beloved for take-out salad boxes and samosas – perfect for impromptu picnics – and the family behind its generations of success now also run Flip Burger in the nearby George's Street Arcade. This daytime vegan burger joint loads nourishment into tempting patties like a Black Bean and Quinoa Burger, so you can throw in a soft-serve vegan ice cream for pure boldness. 
---
New school pioneers
In recent years, several pioneers have pushed things forward in Dublin. Down at Grand Canal Dock the vegan-friendly restaurant Nut Butter fast-tracked pulled jackfruit and cashew cream into the mainstream, and their colourful rice bowls and action-packed tacos deliver much plant-based pleasure. 
Dublin's definitive cauliflower wings belong to Pretend (formerly Vish Shop and near the pretty Blessington Basin park), who also do a mean Vish™ and chips featuring crispy battered, seaweed-seasoned cassava.
---
Finer dining
Off Grafton Street, the Michelin-listed Glas is a perfect date night choice on the south side of the city. The setting is ultra-stylish, with signature wallpapers and carefully placed foliage emphasising an atmosphere of relaxed sophistication. The menu is every bit as elegant, with some very creative cooking in dishes like Rum and raisin fritters with Waldorf salad, green curry gel and bitter chocolate. Add some expertly made cocktails and a terrific wine list and you've got a memorable night out. 
---
Insta appeal
Dublin is not short of social-savvy eateries tapping into the Insta-appeal of veganism. Some channel the feel-good factor, such as Stoneybatter's Kale+Coco, with its healthy smoothie breakfast bowls topped with whole fruit, lunchtime 'Nourish Bowls' and local thirst-quenchers like Parachute CBD drinks, King of Kefir and Synerchi Kombucha. 
Others answer vegan cravings for fast-food flavours: beeline to V-Face in Smithfield for a Beyond Smashed V-Burgs with some filthy-delicious Katsu Curry Fries, or vegan dogs, wings and flavour-bomb toasties. 
The Saucy Cow brings vegan burger heaven to Temple Bar, where their Buckfast BBQ burger is joined by seitan chicken burgers, wraps and loaded fries.
---
Universal appeal
Dubliners love falafel for a value feed, and you'll find primo versions at five branches of Umi Falafel around the city (Umi means mother in Arabic, and these are falafel to make her proud). Dublin's food markets have decent falafel too, alongside other veggie and vegan-friendly lunch options.
Don't miss Karuna's Kitchen (St Anne's Park Farmer Market and Dun Laoghaire Coco market, both of which take place at weekends) for vegetarian delights like ghee-fried samosas and spring rolls. Sprezzatura is a brilliant value Italian restaurant (Rathmines and Camden Market) with plenty of vegetarian options, like their classic arancini, Cacio e Pepe or roast tomato and Irish hazelnut risotto. 
---
Asian favourites
Asian eateries offer plenty of good vegetarian and vegan options for dining with a gang. Yamamori's three branches feature vegan 'japas' like deep-friend Agedashi Tofu and Kabocha Korokke (pumpkin croquette) as well as vegan sushi and wok specials. Also with three city centre locations, Eatokyo's vegetarian and vegan dishes include classic noodle, rice, ramen or teriyaki dishes. 
Wagamama's 'Vegan Edit' menu pairs pad thai, ramen and katsu curries alongside warm chilli tofu salad or hiyashi 'summer noodles' bowls. Big Fan is Dublin's favourite dumpling shop, and their Beyond Meat Snowflake jiaozi, Tofu Edamame bao with jade sauce, and platter of lucky crackers with yuzu tofu cream have devotees beyond their vegan fanbase. 
---
Café-burb vibes
Dublin's buzzing suburban cafe scene is increasingly vegetarian-friendly. Purr Café is a quirky weekend-only vegan café in the Phibsboro Cat Rescue Centre where you can tuck into vegan soups, sandwiches, salads, cakes, cookies and ice cream - all while watching the happy action in the kitty play room.
The Veggie Vibe Café in Blackrock Market makes a good go-to after a coastal walk or Southside swim, with warming curry bowls and vegan lasagne. In the northside seaside villages of Clontarf, Howth and Malahide, vegan jambons take pride of place in the vegan afternoon tea served at branches of Póg. 
---
A little pizza heaven
Any good pizzeria (and Dublin has plenty) will have choices for vegetarians, but the city also has excellent vegan pizza options. On Parliament Street, Stoned Pizza's vegan section includes a Vegan Hawaiian or Vegan Meat Feast pizzas, while Di Fontaines is king of the late-night slice, with a cult-classic vegan homemade cashew ricotta with shreds of Follow Your Heart 'Mozzarella' and 'Parmesan', plus optional nutritional yeast and chili flakes. For the perfect beer pairing with your vegetarian, vegan or gluten free pizza, make it Dublin 8's Rascal Brewing Company.
---
Plant-forward hotspots
Beyond Dublin's growing battalion of dedicated plant-based establishments, there is a strong trend towards plant-forward cooking, where meat and fish are cast in supporting roles to the vegetables. These restaurants still offer plenty of vegan-friendly options, so there's something for everyone.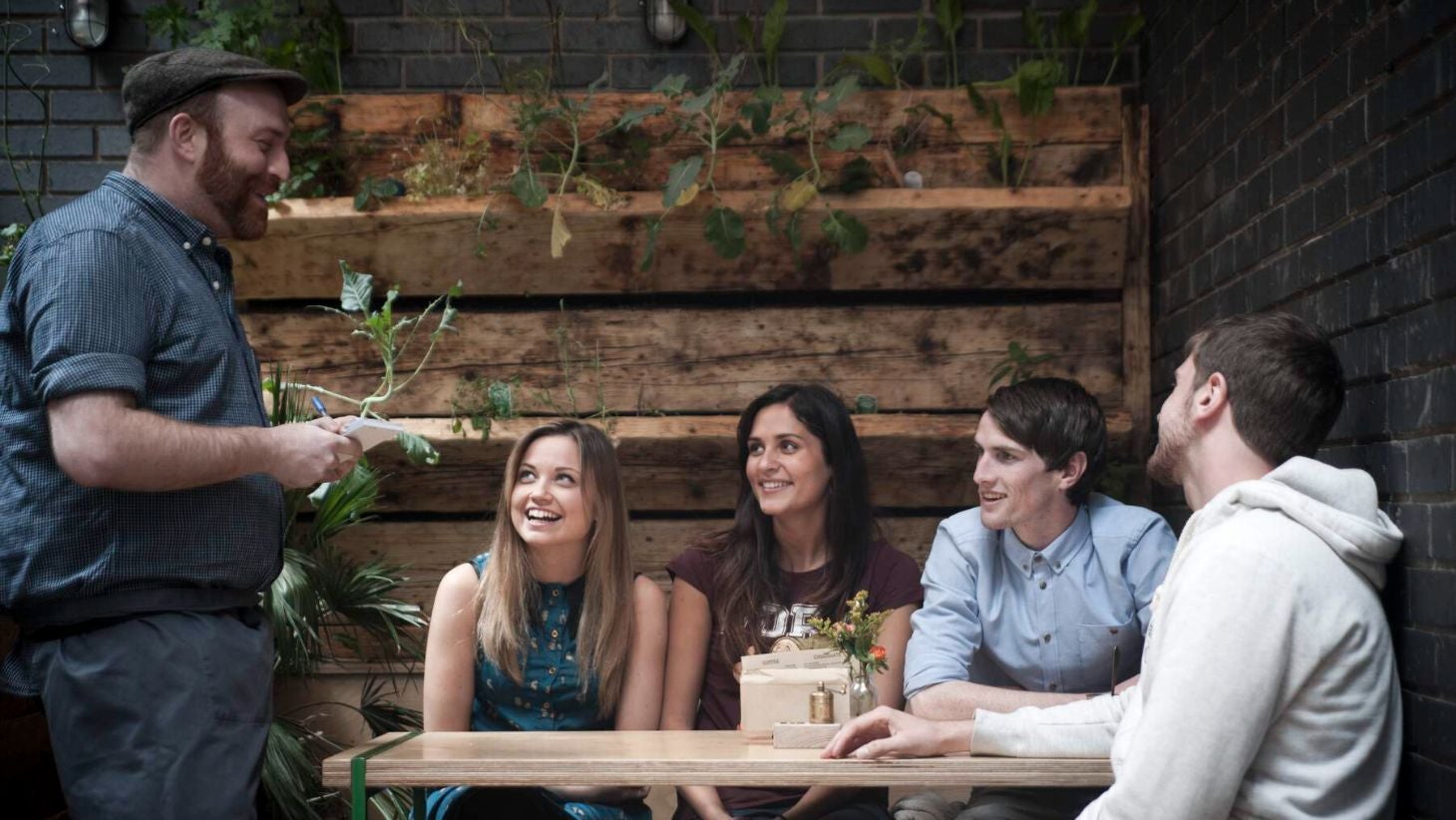 Brother Hubbard, with multiple locations throughout the city (on Capel Street north of the Liffey; on South Circular Road and in Ranelagh on the south side) is ideal for meat-free mezze and inspired brunch options, as is the Middle Eastern mecca of Shouk in Drumcondra. In Dublin 8, the small plates at tiny Assassination Custard showcase big Italian and Middle Eastern flavours. Hen's Teeth is a gallery-store-café with mighty vegan sambos and ras el hanout roast cauliflower; you can also get great vegan options at community-favourite The Fumbally, where you can linger by the huge windows, and Two Pups, a pet-friendly café in the Liberties that does a fabulous steaming dahl.
---
Dine in Dublin on a budget