Guides
A tour of Oscar Wilde's Dublin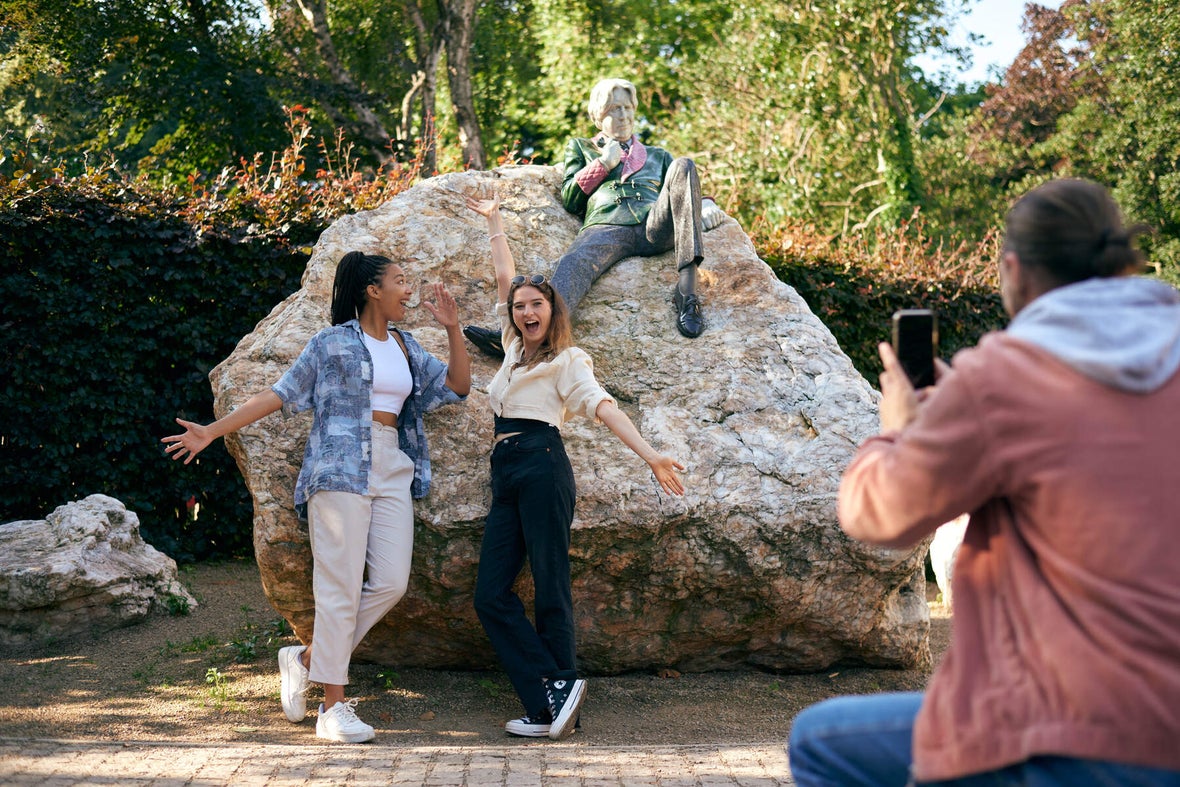 One of the most famous playwrights to come from Dublin, Oscar Wilde has a deep connection to the city.
On the northwest corner of Merrion Square, a colourful character is sprawled on a quartz boulder, his long legs stretched down the side of the rock as he wryly observes those passing by. Fans will instantly recognise him as renowned author, playwright and wit Oscar Wilde, immortalised in statue form just a few steps from the house in which he was raised.
Take a walk around Oscar Wilde's Dublin, from his favourite childhood haunts to his house in Merrion Square.
It's a sculpture every bit as flamboyant as the man himself. Wilde was well known for his love of the finer things in life, which is why the artist Danny Osborne created a statue that's unusually vivid. Take a closer look at Wilde's glossy smoking jacket and you'll see that the colour comes not from paint, but from precious stone. His green jacket is carved from jade, the colour and cuffs made from a rare pink stone called thulite and the trousers a blue pearl granite. Fitting for a man who decorated his room at Oxford with peacock feathers. The lifesize sculpture depicts Wilde at his full 6' 3" height: when you consider that the average height for a man back then was 5' 5", Wilde was larger than life in more ways than one.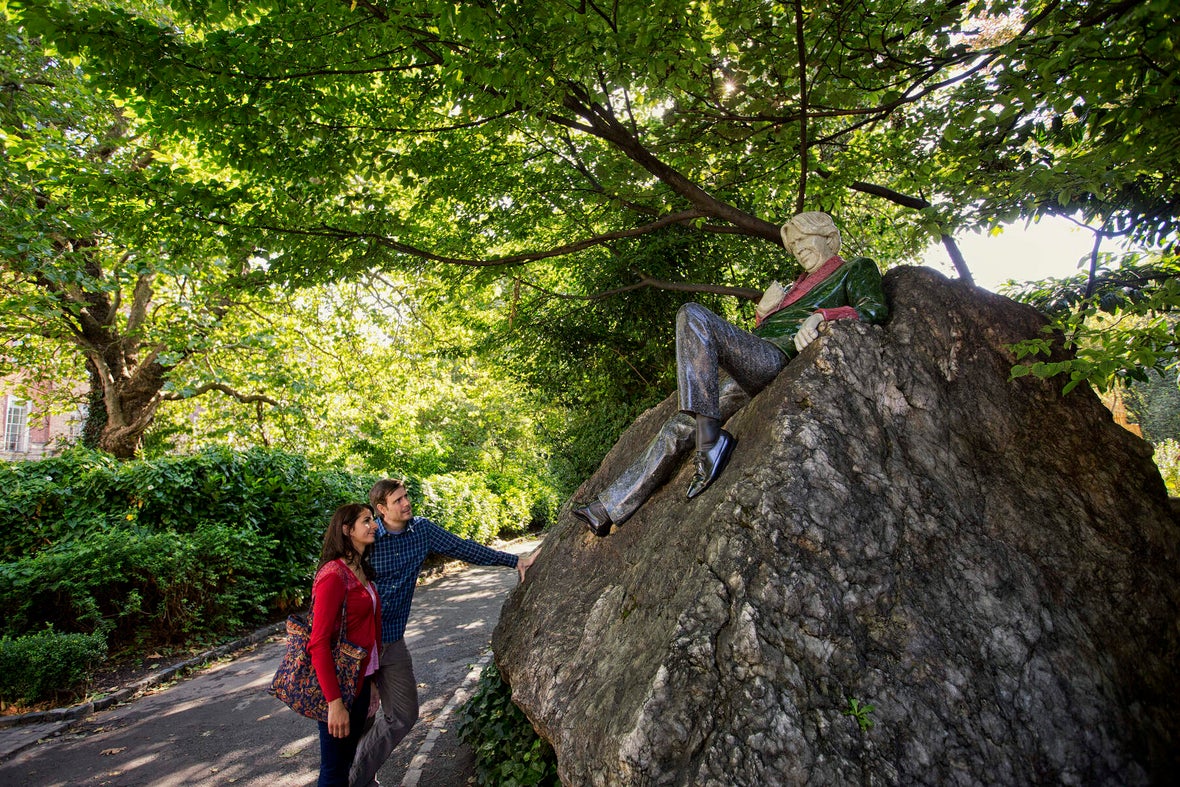 When you approach the statue from the west side of the park, Wilde's face looks rather thoughtful and serious. But as you walk around the sculpture, his expression changes to one of wry amusement. This was Osborne's nod to Wilde's divided sense of self, his face here "both life-like and mask-like, both tragic and comedic."  
There are two other sculptures that make up the Oscar Wilde Monument, a bronze statue of his pregnant wife Constance and the torso of Dionysus, the god of youth, wine, poetry and theatre. Take a walk around these sculptures and read the handwritten Wilde quotes inscribed on the plinths, each one chosen by unnamed artists, writers and poets, as well as scientists and politicians. Osborne's website lists the names behind each of the quotes, which include Bono, Irish president Michael D Higgins and artist Robert Ballagh, who may have chosen the most 'Wildesque' quote of all: "All art is quite useless". 
Right by the monument is the Giant's Garden playground, named after Wilde's early fairytale The Selfish Giant, which tells the tale of an ogre who bans all children from his garden. But it's only when all children are allowed in that the garden can bloom. The inspiration for this tale is presumably drawn from Wilde's childhood. When he was a boy, he and his siblings often played on this very spot, while the poorer children of the local tenements and slums weren't allowed in.   
Oscar Wilde House, Wilde's childhood home, is across the street at 1 Merrion Square. You can tour the house (which now serves as the campus for the American College Dublin) in the company of expert guides, who reveal plenty of detail about Wilde's rollercoaster life, from his early years throwing bread rolls at the dinner table to his friendship with Toulouse-Lautrec in Paris just before he died. 
Of course, what Oscar wouldn't want you to know is that he was actually born around the corner, at the less impressive address of 21 Westland Row. You'll see another plaque dedicated to Wilde outside the house, which now belongs to his alma mater, Trinity College. A few doors down is Kennedy's, a pub with a fair few literary connections. Samuel Beckett and James Joyce were both known to frequent this bar for a tipple or two, but in Wilde's day it was also a shop where he worked as a shelf stacker. He was also known to spend his earnings there on a Sunday evening, sitting with a bottle of stout. Nowadays, you can sit down next to a statue of Wilde on the bench right by the front door.  
Just over the road is Sweny's Pharmacy, which makes an appearance in Ulysses and looks pretty much as it did when it opened in the 1850s. Wilde was a regular visitor to the pharmacy as a young boy, dropping in prescriptions for his father. There's also a prized first edition of An Ideal Husband kept in a cabinet behind the counter.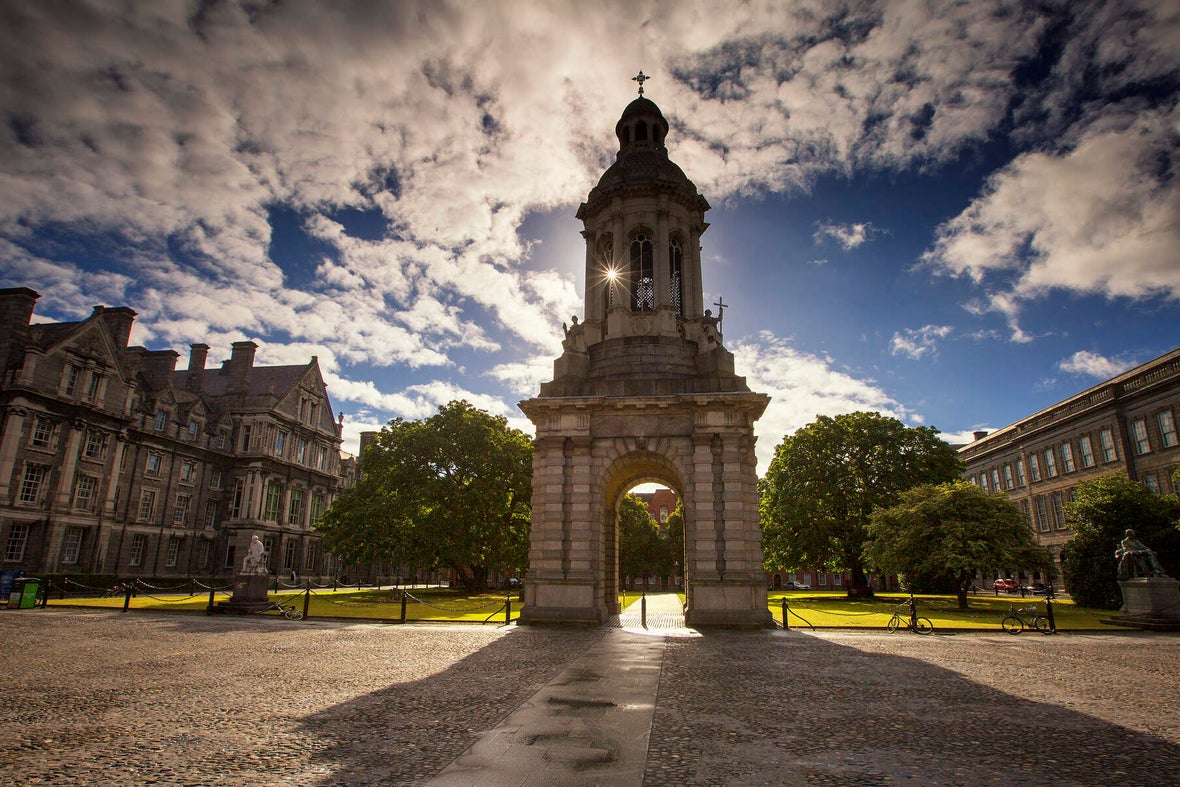 Stroll around Lincoln Place and along Nassau Street and you'll find yourself at Trinity College, where Wilde won a scholarship to study Classics and engaged in regular debates in the Philosophical Society. While tours of the college are reserved for prospective students, you can visit the Book of Kells and one of the most beautiful libraries in the world, the Long Room, where Wilde studied.
Wilde was also a familiar face at Marsh's Library, close to St Patrick's Cathedral. Though smaller than the Long Room in Trinity College, it's just as striking, the carved oak shelves heaving with leatherbound books. Barely a thing has changed since the library opened its doors back in 1707, including the reading room, where Wilde studied during his university years.    
On St Stephen's Green, the Museum of Literature Ireland is housed in the original campus of University College Dublin at Newman House. Wilde wasn't a student here, but one of the exhibits here is a sound installation from The Picture of Dorian Gray called 'Words! Mere Words!'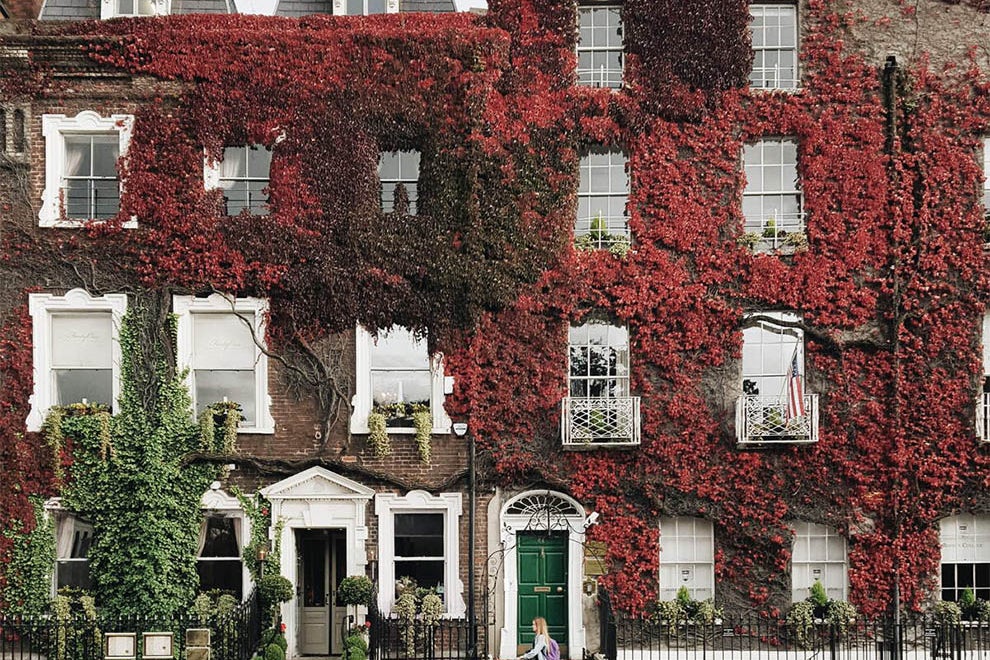 Afterwards, walk through St Stephen's Green, much like Wilde would have done on his subsequent visits to Dublin. He often stayed at the Shelbourne hotel, and it was here where he slept on the night he made his proposal of marriage to his future wife, Constance Lloyd, in 1883. The Georgian buildings that line the park look much as they did in Wilde's day, so take a walk around these streets and you'll be walking in his footsteps.  
---
Dive into Dublin history
Dublin's been around for over 1000 years, which means there's plenty of history to uncover, so why not join one of its heritage walks and tours?