Guides
The complete guide to kayaking in Dublin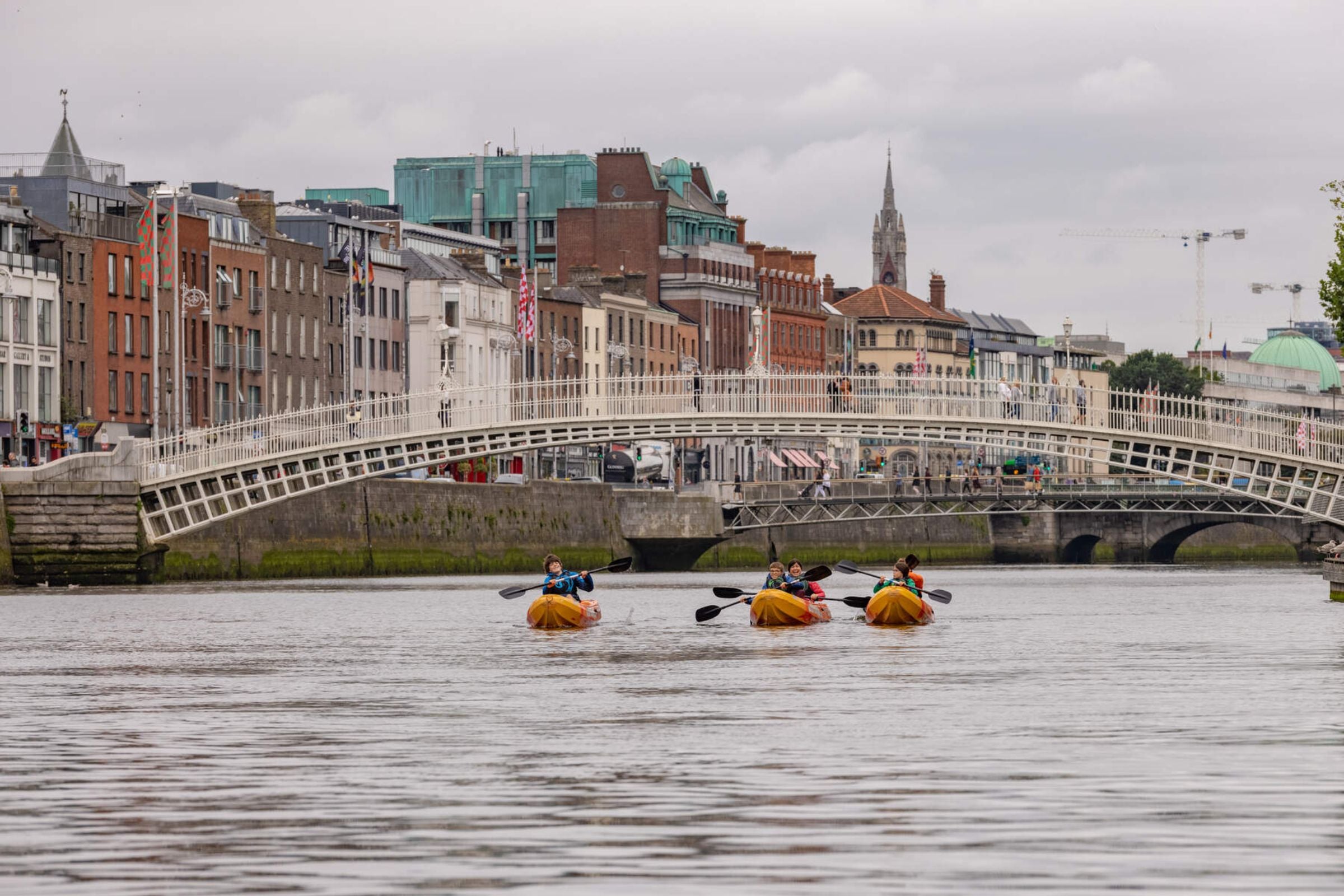 Experiencing Dublin by water is a great way to get a new angle on the city and county, and kayaking Dublin's most beautiful bays, rivers and canals will show you a new side to the capital and its surrounds.
You can kayak along the coast, around Dublin Bay (a UNESCO Biosphere), on canals and even on the River Liffey through the city centre, experiencing wildlife, nature and great scenery along the way. You will also enjoy the peace and tranquillity of some slow, motor-free travel which gets you close to the water.
Here's everything you need to know about kayaking in Dublin.
What do you need?
If you don't have your own equipment, the best way to experience Dublin by kayak is to book a tour in advance with a kayak company. These usually last two to three hours and they will provide all of the gear including a buoyancy aid. You don't need to have kayaking experience or be able to swim long distances, but you should have reasonable fitness so that you can paddle for an hour or two and be comfortable in the water.
You will find single, double and triple kayaks, sit-on-top or sit-in kayaks with cockpits, depending on the company and location. Bring runners and either wear a wetsuit (usually provided) or wear comfortable clothing plus a rainproof jacket, depending on the weather. Expect to get wet and bring a change of clothes and a towel. If a wetsuit is provided, wear swimwear underneath. Bring a hat, water, snack and sunscreen and have a waterproof case if you'd like to take your phone or camera.
Here are some of the best kayaking experiences in Dublin:
Kayaking to Dalkey Island
A trip to Dalkey Island is one of Dublin's most popular kayaking experiences. You can experience the beautiful coastline from the water before crossing Dalkey Sound to visit the uninhabited island, which has a Martello tower and the ruins of St Begnet's church. The island is a habitat for seabirds so you might spot cormorants, gulls and terns, plus seals, rabbits and goats.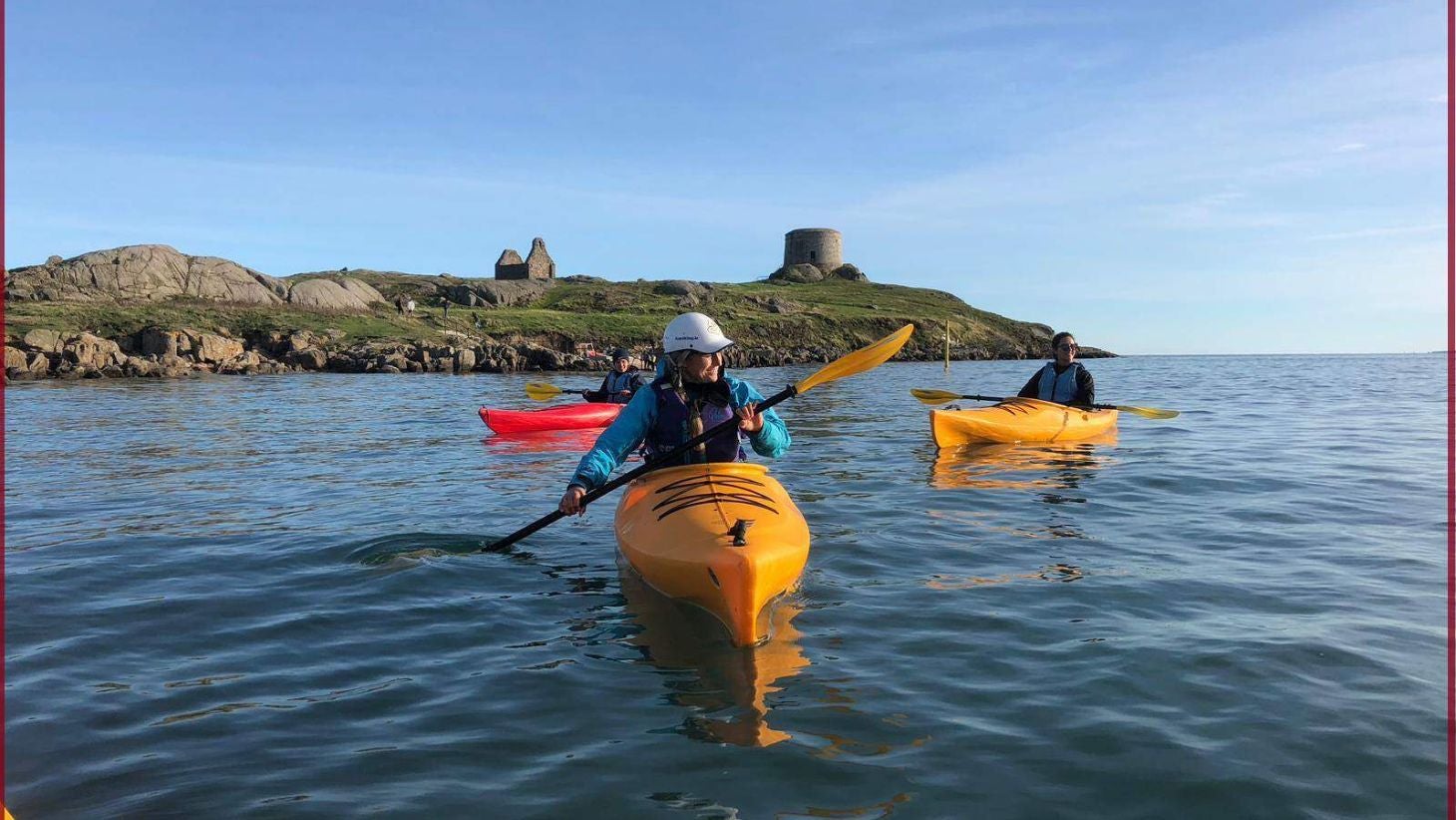 Tidal and sea conditions around the island can be tricky so if you are not a sea kayaking expert book a guided trip so that you can relax and have fun. A three-hour trip with Kayaking.ie starts from Bullock Harbour (around 14km south of the city centre) at the edge of Dalkey village and runs around 2km along the coast to the island, with some trips at sunset. On a three-hour trip with Portobello Adventure you'll start from Killiney Beach and paddle around 2.5km along the coast before crossing over to the island.
Kayaking on the River Liffey
Kayaking right into Dublin City centre is a unique experience – you can admire magnificent landmarks like the Custom House from the water, glide past the shiny office buildings of the docklands and paddle under iconic bridges like the Ha'penny Bridge and O'Connell Bridge, the only bridge in Europe that is longer in width than in length.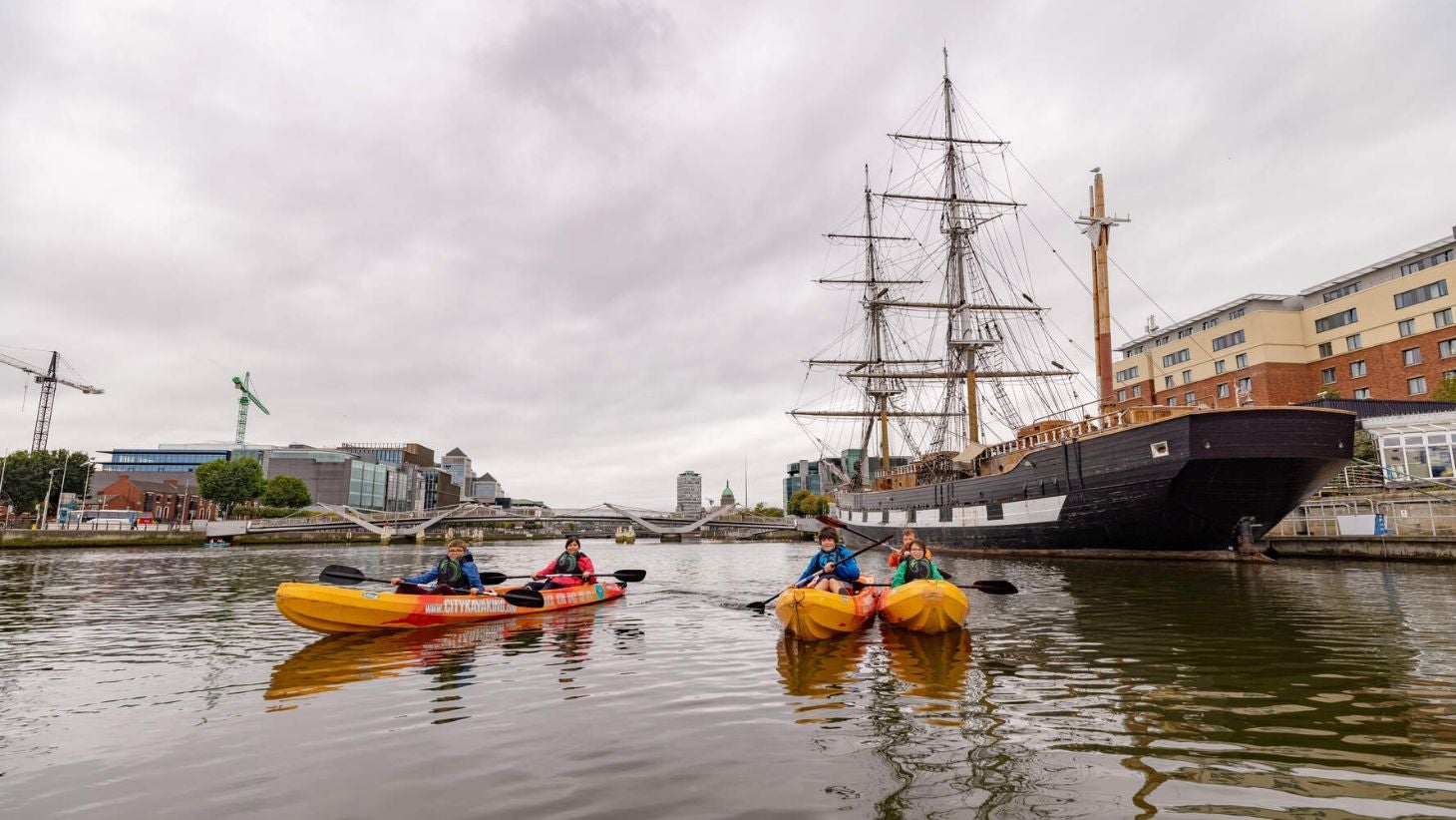 The River Liffey is tidal so you can paddle under the bridges at certain times of day, and 90-minute tours with City Kayaking, which set off from Custom House Quay beside the Jeanie Johnston, are all timed for the tides. The sit-on-top kayaks are either doubles or triples, and suit anyone aged 8 upwards with reasonable fitness. City Kayaking also runs a Music Under The Bridges tour with live musicians playing under the bridges.
Further up the River Liffey and away from the buzz of the city, Kayaking.ie runs guided trips through Strawberry Beds, where you pass Shackleton's Mill (a water-powered flour mill aka the Anna Liffey Mill) in Lucan and even get to slide down a weir. The trips are for more experienced kayakers and you can rent equipment.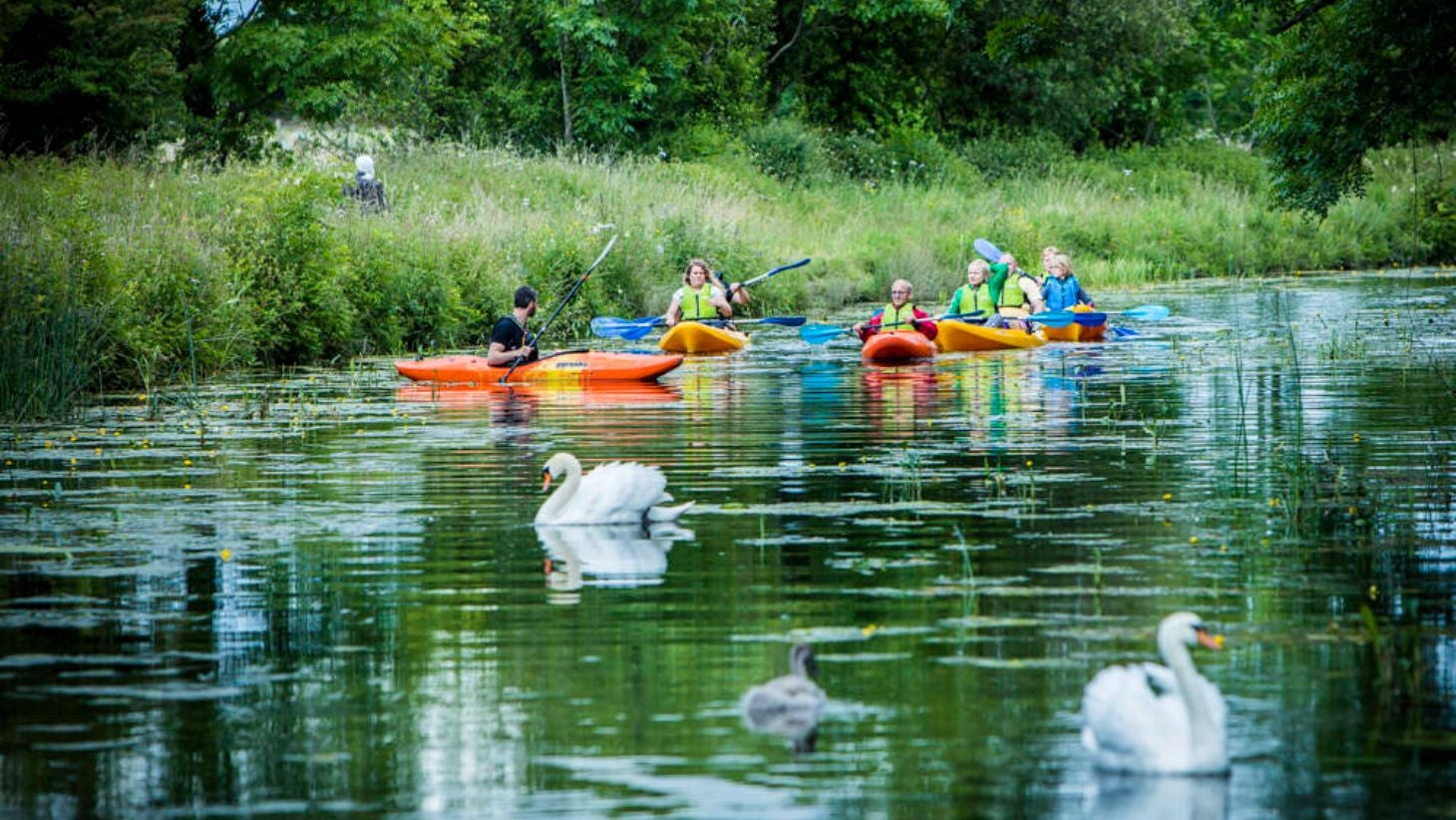 Kayaking in Howth and Ireland's Eye
Go kayaking from the fishing village of Howth, around 14 km north of Dublin city (20 minutes by train), and you might get to paddle past a colony of seals and glide under the cliffs of Howth, checking out coves, sea caves and seabird habitats. Or you can paddle the 1.5km across to the small uninhabited island of Ireland's Eye, where you can explore early Christian ruins and check out the rugged free standing rock formation known as 'The Stack'.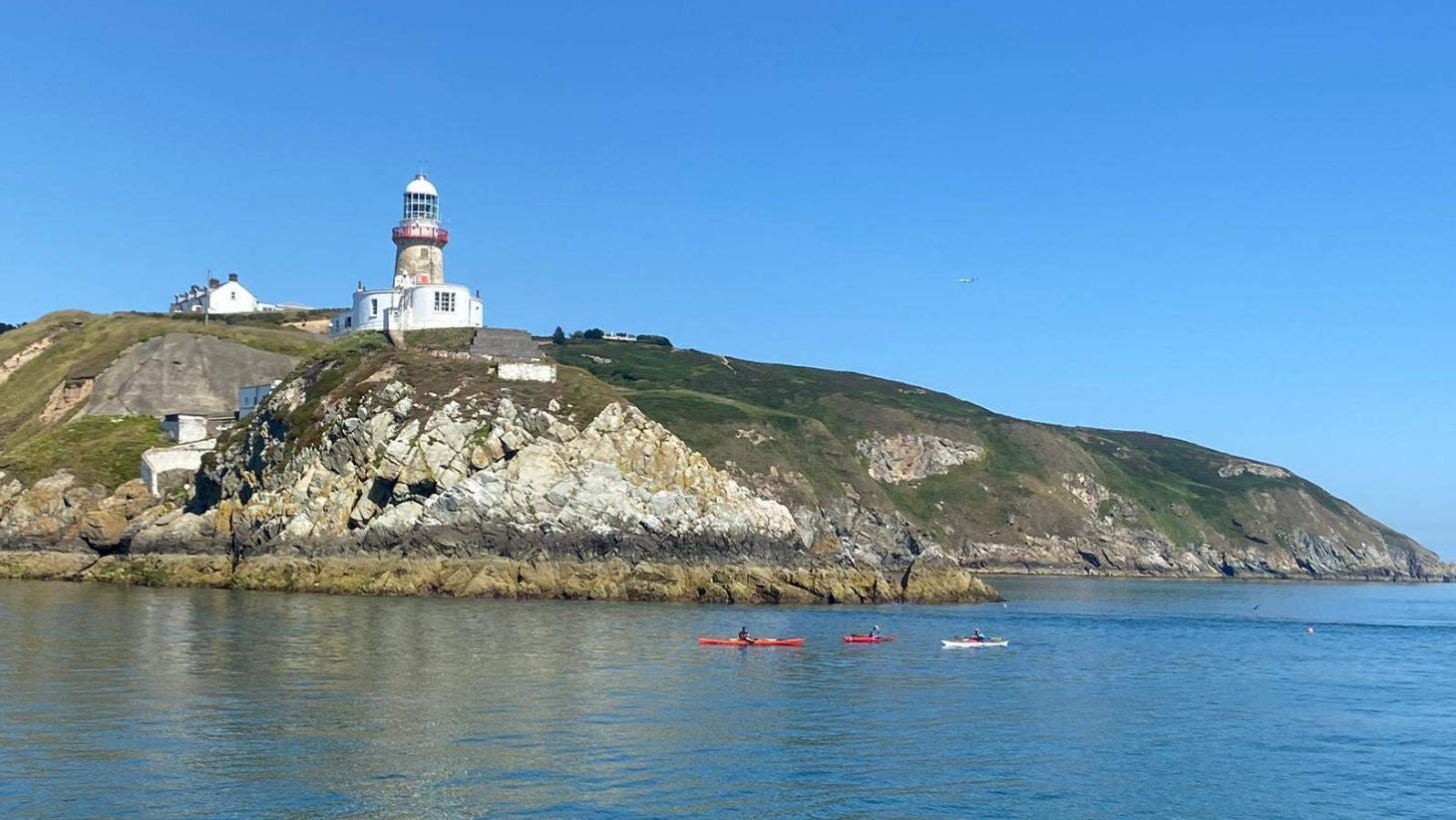 Shearwater Sea Kayaking runs half- and full-day sea kayaking courses from Howth Harbour, often kayaking to the southern tip of the island (weather depending), and as well as soaking up the scenery, you will also get some expert instruction and learn kayak handling skills before you leave the harbour. Portobello Adventure takes guided kayak trips from Sutton to the Baily Lighthouse, on the south side of the Howth peninsula, to see the cliffs and seabirds, taking in a stop at a small beach.
Kayaking on the Grand or Royal Canal
If you prefer more sheltered waters away from the choppy waves of the sea, there are opportunities to kayak on Dublin's Grand or Royal canals, and on the Grand Canal Basin in the Docklands.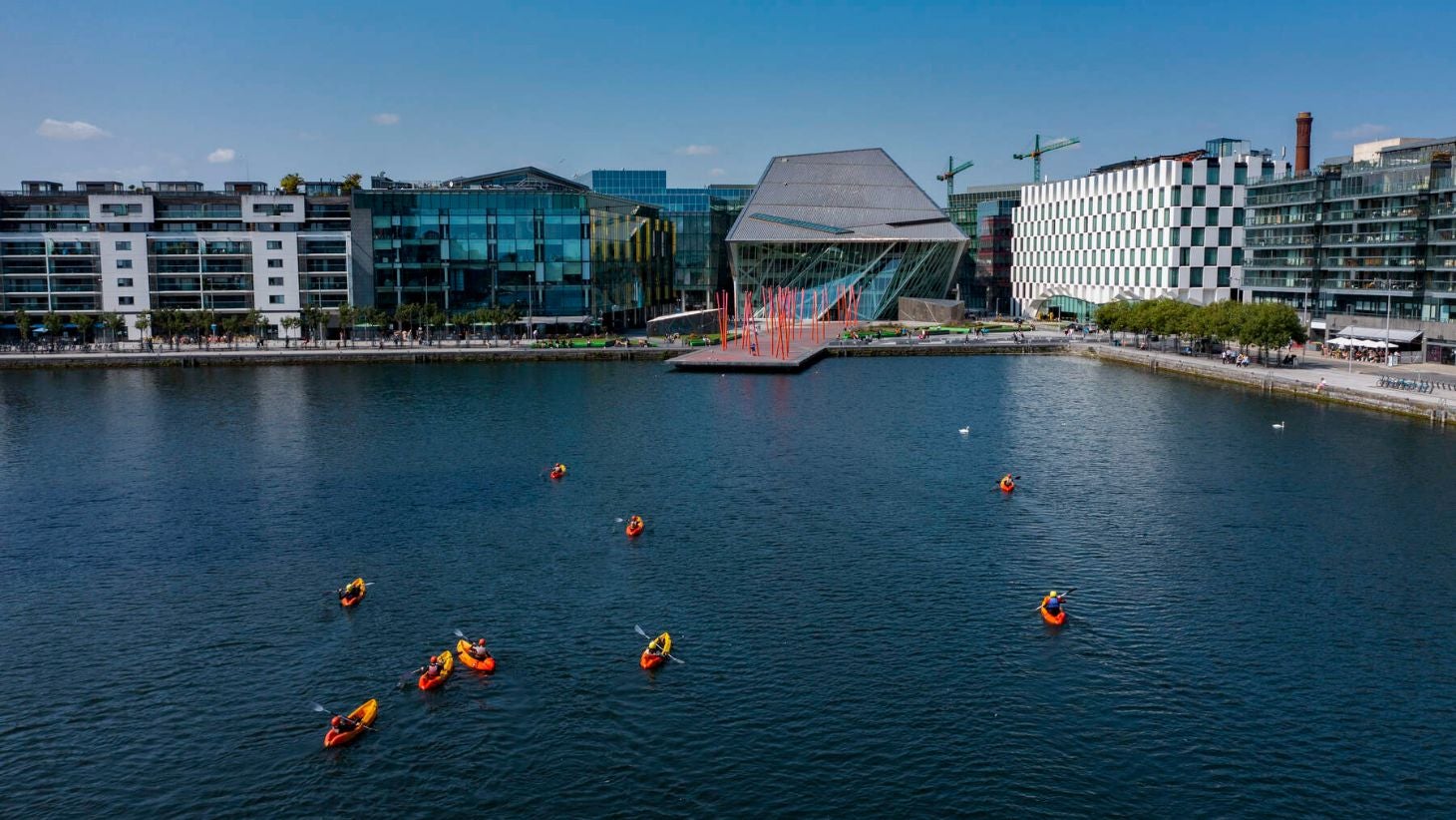 Surfdock Watersports runs three-hour kayaking sessions at the Grand Canal Basin for large groups of between 10 and 32 adults and will provide all equipment. You can rent single or double kayaks on the Grand Canal near Portobello Harbour with Portobello Adventure/Extreme Time Off, while Kayaking.ie runs guided kayaking trips and kayaking courses for beginners on the Royal Canal near Lucan, Co Dublin.
Other kayaking locations
If you want to rent a kayak and potter around the mostly sheltered waters of Dún Laoghaire Harbour, 11 km south of the city centre, book a two-hour rental with the Irish National Sailing & Powerboat School (INSS). You can rent a double or single kayak and start from the INSS clubhouse on the West Pier. Wetsuits are included and there are showers and changing rooms.
In the coastal town of Skerries, 33 km north of the city centre, Skerries Watersports runs 90-minute kayaking tours all around Skerries Bay and the islands (weather dependent), plus lessons and rentals. The kayaks are sit-on-top and all equipment is supplied.
Learning to kayak in Dublin
If you would like to learn more kayaking skills, check out evening and weekend kayaking courses with Canoeing Ireland, which runs training for adults and juniors at Strawberry Beds on the River Liffey near Lucan, Co Dublin, with all levels from beginner level to experienced. Kayaks and safety gear are provided.
Wild Water Kayak Club runs beginner courses on the River Liffey from its clubhouse just along the river from Strawberry Beds, around 9km from the city centre. There are full day courses or three-hour evening courses and you can use the club's equipment.
Explore more of Dublin
If you're looking for other energetic ways to explore the city, check out this list of adventure activities in Dublin.
---