Guides
The best Dublin dishes for dining on a budget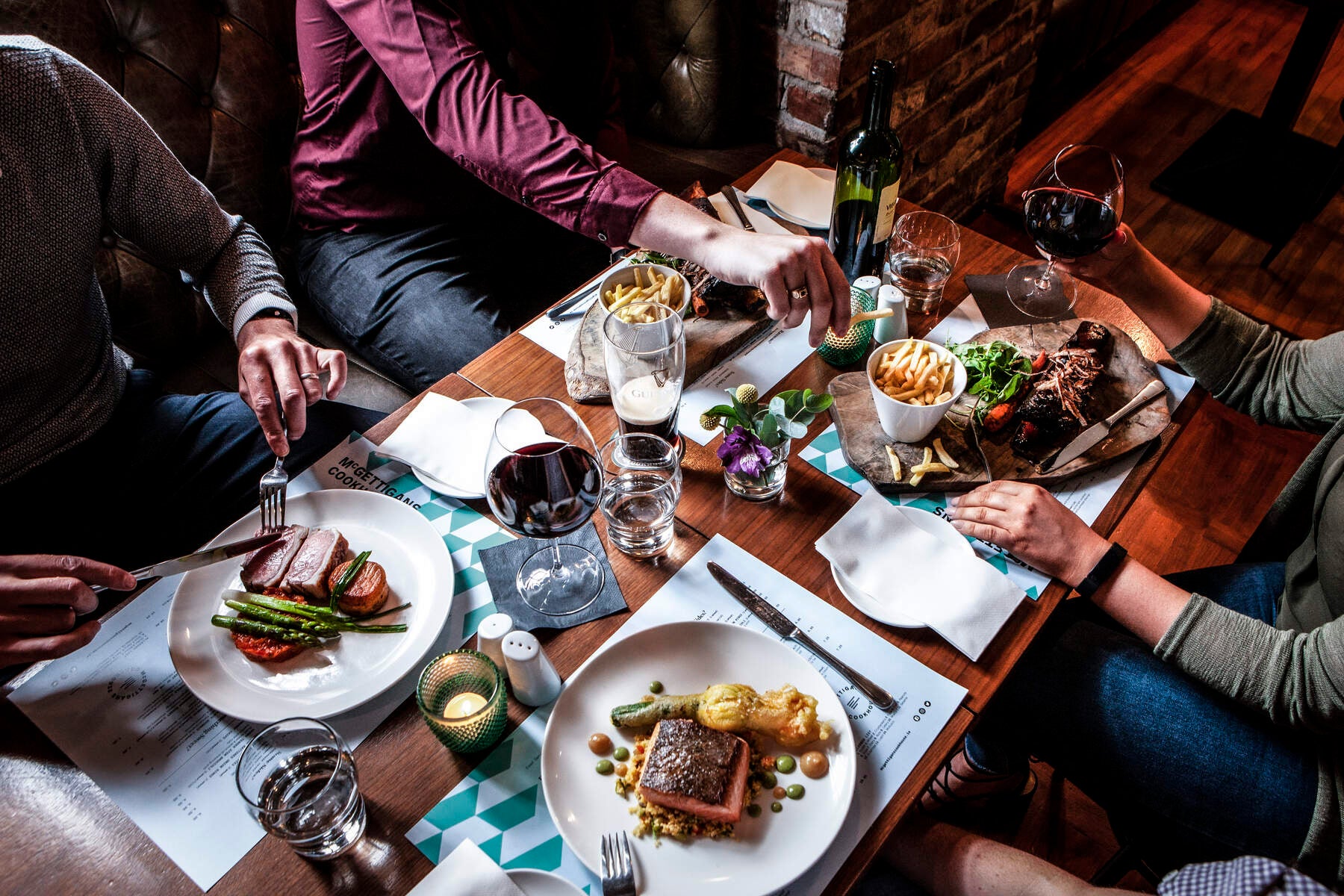 You can find excellent meals across Dublin on a budget.
Dining out in Dublin doesn't have to cost a fortune. There's a spread of great value dining options throughout the city, from tasty breakfast spreads to amazingly affordable fine dining, including one of the city's hottest two-star Michelin destinations. Every one of the dishes listed below falls comfortably within our budget category, which is €15 or less for lunch and no more than €20 for a main course at dinner.
Without further ado, here's 11 of the most delicious dishes you can find at a great price right now.
1.

2.

3.

4.

5.

6.

7.

8.

9.

10.

11.

12.
1. Steak sandwich at Featherblade
Minutes from both the high-street buzz of Grafton Street and the Long Room Library hush at Trinity College is Dublin's best value steakhouse, Featherblade. Clever know-how is applied to value cuts of beef, like the eponymous featherblade, and served in a slick dining room. At lunch, don't miss the seared featherblade steak sandwich in a toasted ciabatta with watercress, carmelised onions, Dijon mayo, gherkins and pork scratchings (for extra umami oomph). The value continues into dinnertime, too, if you can resist their (albeit keenly priced) cocktails.
---
2. Daily plant-based special at Luncheonette
Jennie Moran began Luncheonette at her alma mater of the National College of Art and Design, serving beautiful plant-led dishes in her art-project-meets-student-canteen. That project now resides in the light-washed basement space of Dublin's Hugh Lane Gallery on Parnell Square, home to Francis Bacon's studio, amongst other highlights. Nourish your soul with an hour or two of gallery browsing followed by a life-affirming lunch: think roast cauliflower with ajo blanco, cannellini beans, pickled barberries, bright green lovage oil and crispy curry leaves.
---
3. Salad plate with Moroccan lamb at Tang
With locations either side of the river, on Abbey Street and on the corner where Dawson Street meets St Stephen's Green, Tang is a sure bet for fuelling up and feeling great. The restaurants feature wholesome breakfast and lunch menus plus a solid sustainable ethos and impeccable sourcing. A salad plate here is as imaginative and colourful as it is nutritiously balanced, and you can get it to go if you feel like making a picnic of it. Top with some Moroccan-spiced lamb for an extra treat.
---
4. Ensalada de pulpo at Las Tapas de Lola
This ever-cheerful tapas spot on lively Camden Street is perfect for grazing with a gang – but you could also dine solo in style on the likes of Las Tapas de Lola's 'ensalada de pulpo' (a classic octopus salad dressed in onion, parsley and an olive oil vinaigrette) with some 'Pa amb tomàquet' (Catalan-style bread with grated tomato and extra virgin olive oil). The Catalan influence comes from chef-owner Anna Cabrera – she runs Las Tapas de Lola and its newer, bodega-style sister restaurant La Gordita with her Irish front-of-house partner Vanessa Murphy.
---
5. Pappardelle with Jane Russell's fennel sausage ragù at Sprezzatura
The most frugal of food-loving Dubliners know where to get seriously good Italian-inspired small plates and handmade pastas without busting the budget. Sprezzatura cuts costs in smart ways – by making their own pasta and serving wine on tap – without compromising on fine Irish ingredients. This includes the fennel sausages from fifth-generation butcher Jane Russell showcased in their signature ragu. A smart spot for top-class soakage before a gig in one of several nearby venues.
---
6. Seafood chowder at The Winding Stair
Pull up a bentwood chair to a lunchtime table overlooking the River Liffey's iconic Ha'Penny Bridge at The Winding Stair, a pioneering supporter of local producers. At lunch, tuck into their heartiest of seafood chowders topped with Irish-made Gubbeen chorizo and served with dillisk seaweed treacle bread. At dinner, don't miss their roasted bone marrow, braised oxtail, Irish-raised Gaelic escargot and garlic butter, which elevates underrated ingredients to a humdinger of a dish that has the food critics swooning.
---
7. Eggs at The Fumbally
A short stroll from St Patrick's Cathedral, Marsh's Library, Teeling Distillery and the antique browsing heaven of Francis Street, The Fumbally café and green grocers and adjacent Fumbally Stables event space is a cornerstone of both the local community and of Ireland's contemporary food scene. It's hard to beat their all-day Fumbally Eggs, lightly scrambled in olive oil with Gubbeen cheese, garlic and sautéed kale with a fermented hot sauce and toasted seeds on house sourdough brioche; Saturday night dinners see a rotating menu of small plates like crab linguine.
---
8. Tacos de chicharron at El Grito
Every city has a best-kept secret, and in Dublin, it's tucked away in an unassuming basement on the quieter side of Mountjoy Square. While you're spoilt for excellent value Asian food along the adjacent Parnell Street, it is worth seeking out El Grito: an uptempo Mexican taqueria where the warm welcome is as authentic as their tacos de chicharron (pork belly) and their Michelada spiced beer cocktails.
---
9. Braised Seabass at M&L Chinese Restaurant
If you had to order just one Szechuan dish at M&L Chinese Restaurant, its legions of firm fans would suggest sticking with a classic from the Chef's Recommendation selection such as their braised seabass and vegetables in a hot spicy sauce. Better still, go as a pair to enjoy their stalwart stir-fried French beans with dry chilli, too. Or bring a crowd and explore the Authentic Traditional Dishes, from the intriguing (chicken legs and pork ribs stewed in house wine) to the intrepid (deep fried frogs' legs with dry chilli and crispy peanut).
---
10. Korean Fried Chicken Wings at Chimac
There will be die-hard fans who insist that, four decades on, Elephant And Castle wings remain the best in town, but in recent years Chimac have given them a serious run for their money. This high-octane Aungier Street diner is full of cool kids catching up at the start of their night. While its pretty much all about the juicy free-range chicken, vegans can opt for cauliflower wings. Order the medium portion to save room for their vanilla ice cream sandwiched between house-made cookies.
---
11. Preview menu at Liath
Dublin has some world-class fine dining restaurants, three of which now have two Michelin stars each. One of the hottest tickets in town is Liath, a minuscule dining room in the unassuming setting of Blackrock Market. Sample some exquisite seasonal creations from their regular tasting menu at a fraction of the price with their early evening preview menu, and adjourn to their adjacent wine bar, Bhonn Space, for a glass from the lovingly-curated list afterwards.
---
Explore Dublin on a budget
Plan a city break that doesn't break the bank with these ideas for exploring Dublin on a budget.