Guides
Top 10 pubs for Irish traditional music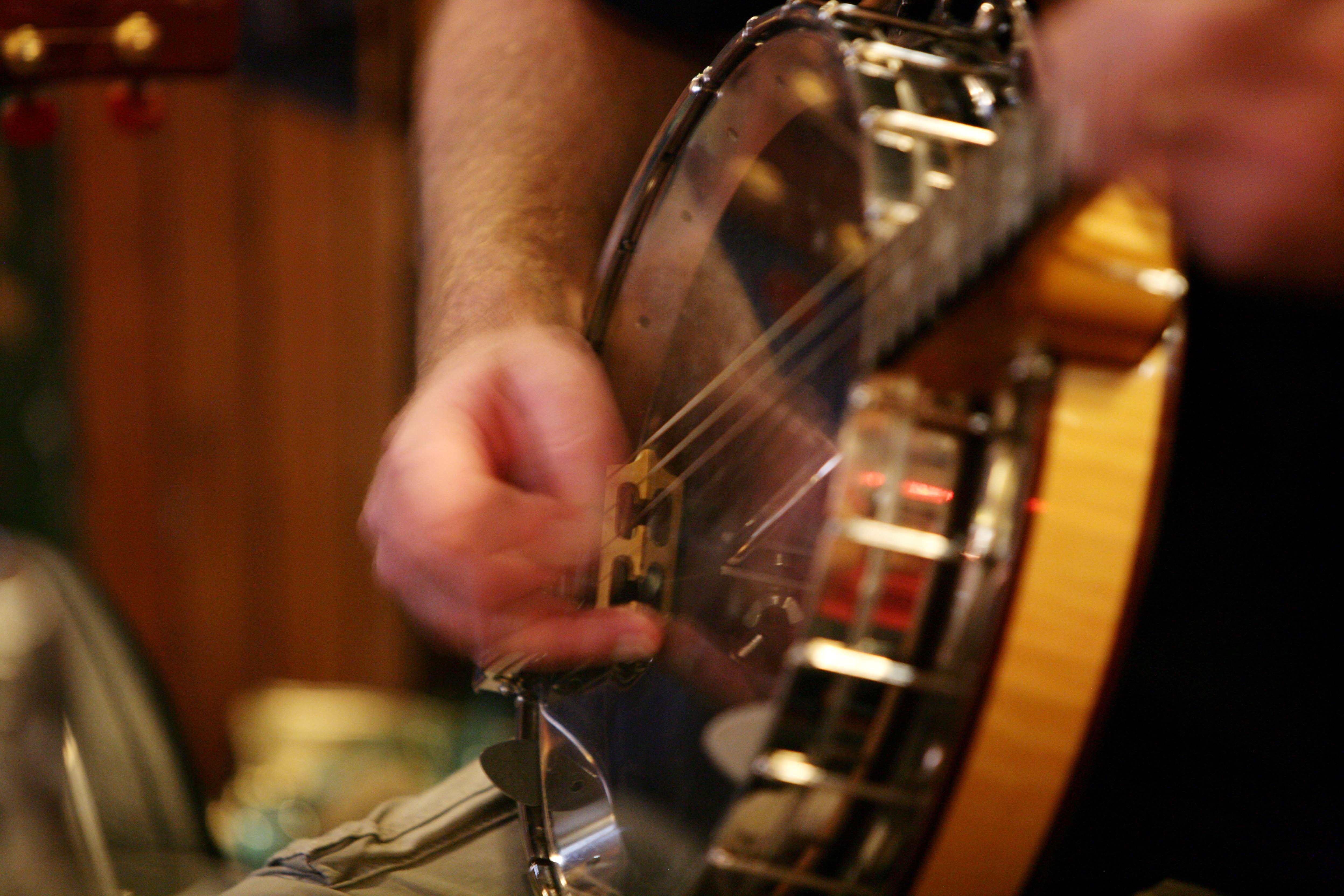 Nothing gets hearts racing faster than an authentic Irish trad session, and Dublin's selection of pubs and venues have something for everyone.
Traditional music is played in all kinds of places, from the back room of a pub to the main stage of a dedicated venue. And, depending on where you are, you can opt to join in (if you dare) or just sit back and take it all in. Whatever the setting, it's all about craic agus ceol (fun and music), so find a snug and settle in for an earful of Irish history through song.
Whether you're in a bar in cobblestoned Temple Bar or high up in the Dublin Mountains, you're never too far from the sweet sound of an uilleann pipe, the beat of a bodhrán or the emotionally charged song of Irish traditional music.
1.

2.

3.

4.

5.

6.

7.

8.

9.

10.

11.

12.

13.
The Merry Ploughboy
In the leafy suburb of Rathfarnham, The Merry Ploughboy draws an audience of tourists, local residents and dedicated music lovers. The pub is owned by a group of traditional musicians and is the only venue in the country where the proprietors take the stage at every show. A three-time winner of Best Traditional Dinner/Entertainment Event in Ireland, festivities kick off every evening after dinner and play late into the night. The pub even organises a shuttle bus to ferry revellers in and out of the city centre.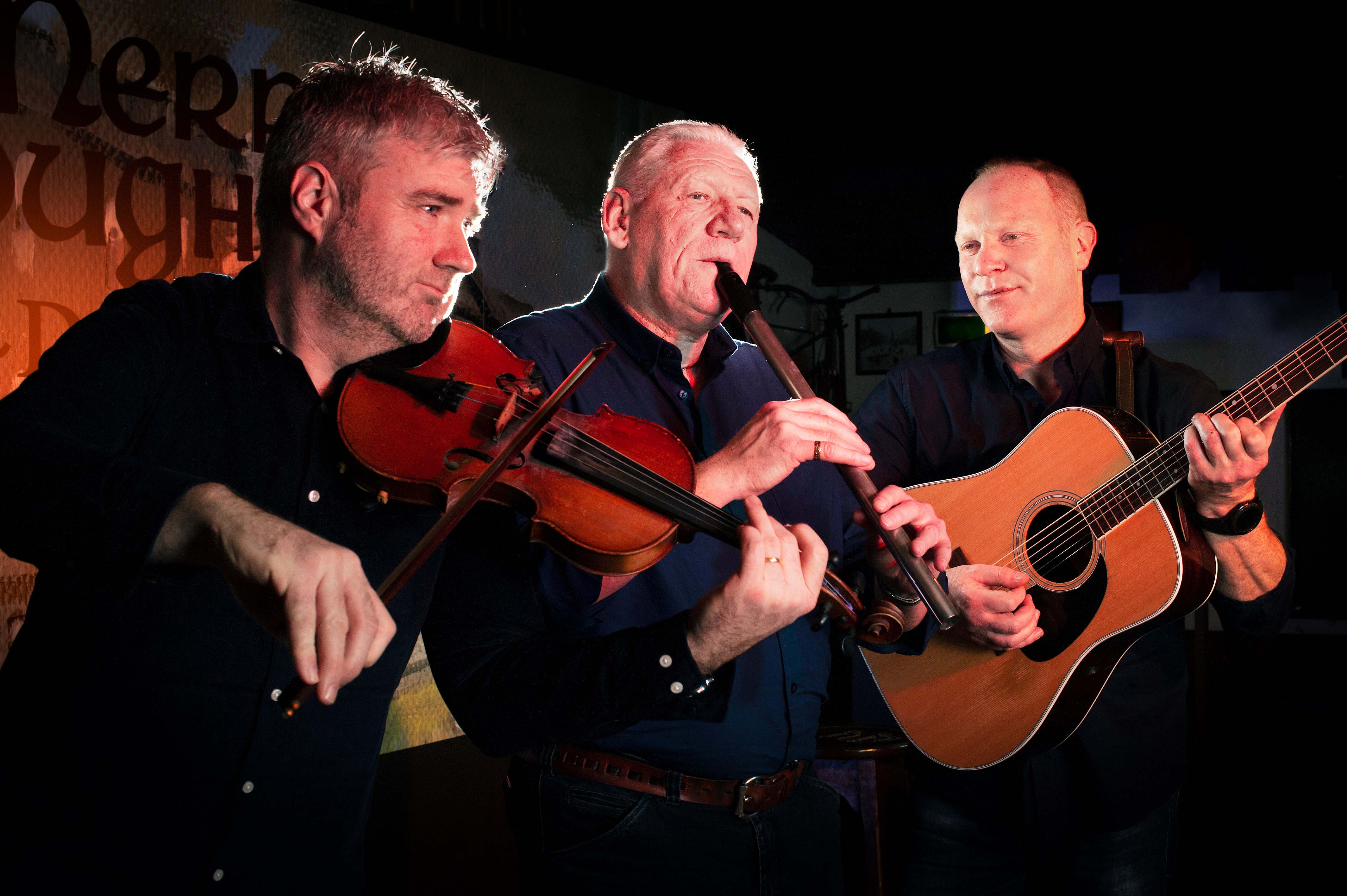 ---
One of the most intimate venues for small but mighty trad bands is The Cobblestone in Smithfield, a classic pub that hosts skilled musicians led by renowned uilleann piper Néillidh Mulligan each weekend. An old, beaten-up bar with heaps of personality and history, The Cobblestone is standing room only once the music starts. The appreciative crowd is typically a mix of locals and visitors hushed by the beautiful melodies.
---
High up in the Dublin Mountains, Johnnie Fox's is one of the city's most popular music venues, drawing crowds in from all over with a nightly show that is equal parts traditional music, Irish dancing and storytelling. While the 'Hooley Show' is geared largely to the international visitor, the entertainment (and the four-course meal that comes with it) is so good that you're as likely to see local hikers, cyclists and even the occasional biker crew tapping their toes and singing along. It's the closest thing to a country pub atmosphere as you'll find within the city limits.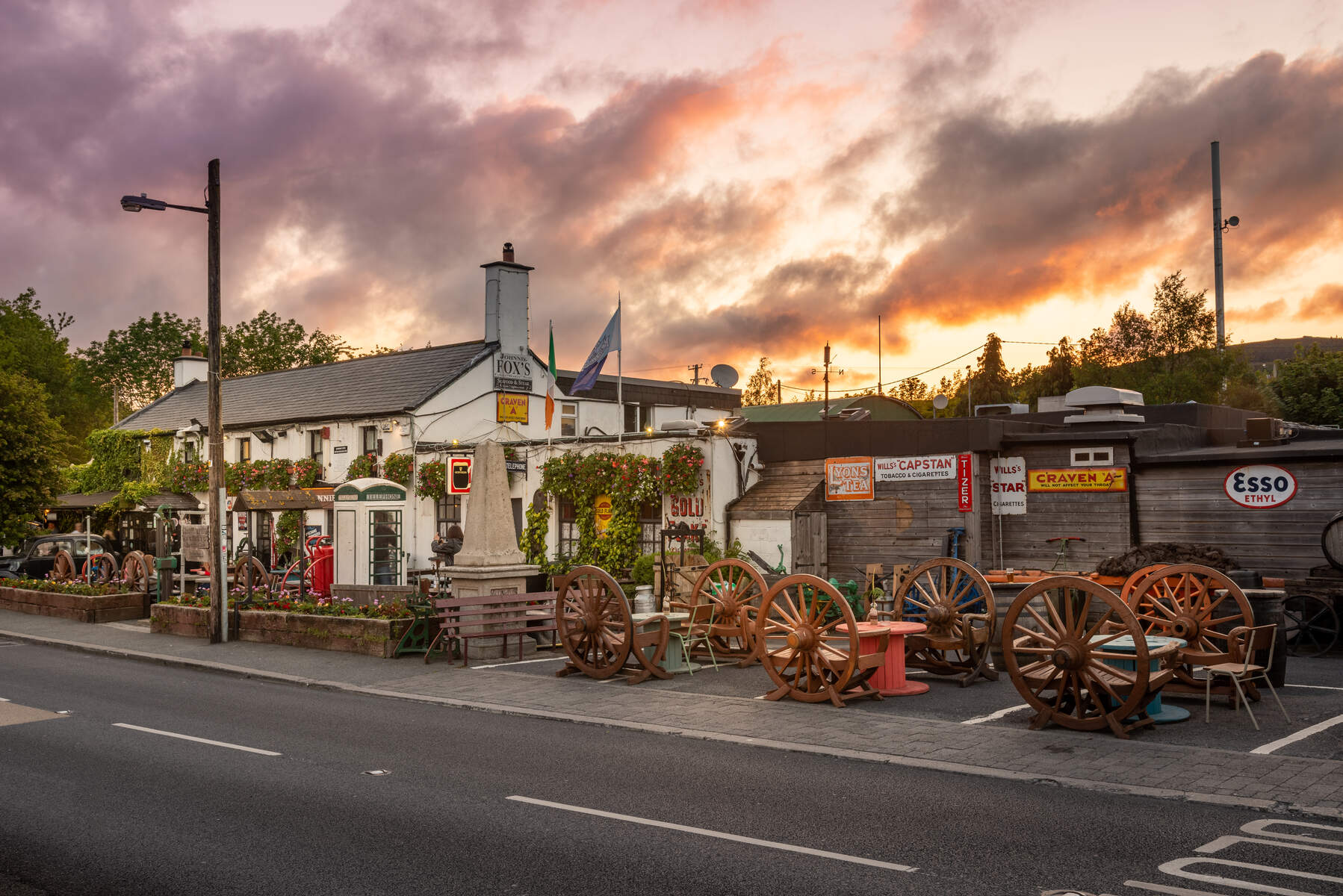 ---
Perhaps the most famous musical pub in Dublin is O'Donoghues on Merrion Row, due in large part to its central role in launching the career of folk superstars The Dubliners. The pub was at the heart of Dublin's blossoming folk and traditional music scene in the 1960s, and today that tradition lives on through the tourists, musicians and locals who come to hear a mixture of classic and modern interpretations of the genre. If you're lucky you might find yourself in the midst of a legendary session here, weeknights from 9pm or Saturdays from 5pm.
---
Darkey Kelly's
As the name suggests, Darkey Kelly's is a pub with a macabre history. A word of warning to the faint of heart - bar staff here are known to share stories of the pub's bone-chilling past which includes witchcraft, ghosts and even murder. The location also happens to be where Handel's Messiah was first performed in 1742, and that musical heritage has lived on through the live trad sessions that take place here every evening. The Saturday céilí (dancing) session in particular is a much-loved event for hot-footed Dubliners. Arrive early if you want to join the fun as this spooky venue fills up fast.
---
Is there anything more atmospheric than a traditional seisiún (session) in a pub that dates back to 1198? The Brazen Head is Dublin's oldest pub, its low ceilings and walls lined with historical keepsakes and mementos that date back almost as far as its origins. The nightly traditional sessions kick off at 9pm and are strictly informal, which means anyone is welcome to join in – so long as they can hold a tune and keep up with the pace of play.
---
For a more gentle session, make your way to The Celt bar on Talbot Street, a traditional stone-floored pub that specialises in fine food and craft beers. Here, the music serves as a subdued soundtrack to the bar's main activity, which is serving gourmet grub to its crowd of visitors and lifelong regulars. The sessions mightn't be as raucous as elsewhere, but the quality of the playing is every bit as good.
---
One of Temple Bar's most popular pubs is the Oliver St John Gogarty, which serves up a daily session of traditional music to a usually jam-packed audience of visitors. Live Irish music, ballads and laments fill the upstairs bar from early afternoon each day before trad-pop sessions erupt downstairs in the evenings. The result is two floors of duelling music that packs in tourists seven days a week. 
---
The Old Storehouse
In the heart of Temple Bar, the Old Storehouse is three bars in one. The musical action takes place in the main bar, where seasoned players perform every afternoon to an appreciative audience against a fine backdrop of the Ha'penny Bridge outside. Once the sun sets the music moves downstairs to O'Flaherty's, and should you want some respite from the craic agus ceol you can just just find a seat in the Snug.
---
Pipers Corner
A relatively new addition to the trad scene is Pipers Corner on Marlborough Street. The primary focus here is on the uillean pipes, which explains the large mural of legendary piper Séamus Ennis that adorns the front. The pub was established by Chieftains founder member and brilliant tin whistle player Seán Potts, which helped cement its reputation as a place for the very best players to perform. Despite its relative youth, this is one of the most serious venues in town, and no chit chat is tolerated once the music starts.
---
Festivals
TradFest gets hearts racing across the pubs, clubs and streets of Temple Bar every January, offering visitors all of the intimacy and excitement of a high-octane pub performance with the variety of a world-class programme.
In May, the seaside town of Skerries plays host to a Traditional Music Weekend that celebrates the rich musical culture of the Fingal region and features lots of great local musicians. Also in May is the outdoor folk and traditional music festival Féile Nasc in Marlay Park. This family-friendly celebration of music features a line-up of established stars as well as promising up-and-comers.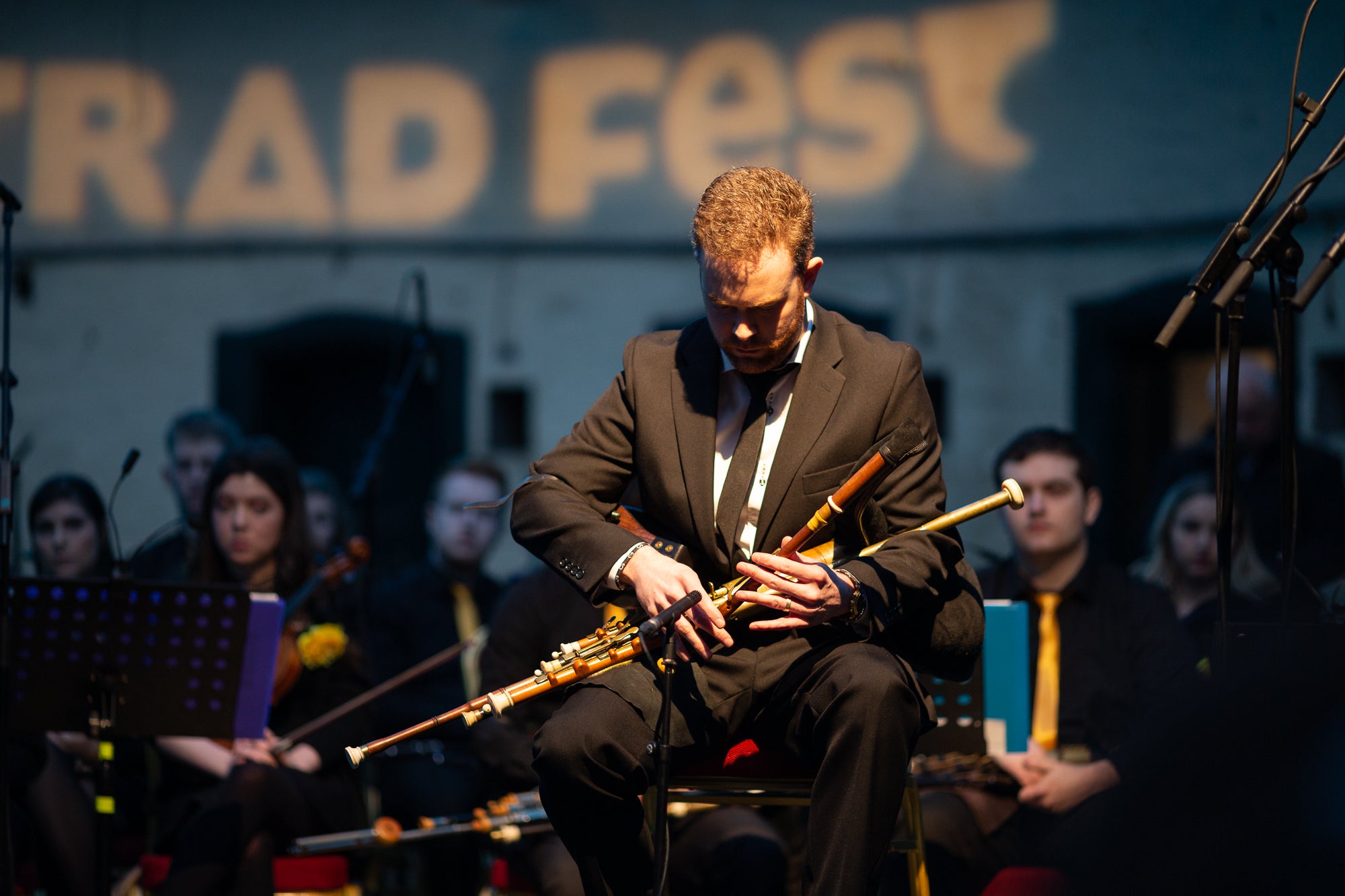 ---
Musicians to look out for
Many a celebrated ceoilteoir (musician) can be found delighting audiences across Dublin's pub scene. Eoin Dillon, the uilleann piper from renowned Irish folk group Kila, takes the stage in Bowes pub on Fleet Street most Sundays, while O'Donoghues is one of singer-songwriter Christy Moore's favourite places for an impromptu concert. In Booterstown, The Old Punchbowl has musician, storyteller and poet John Spillane as a regular, while Devitts on Camden Street has nightly sessions that feature plenty of young, talented musicians eager to make a name for themselves.
---
Hit Dublin's other music hotspots
Ready to experience more of the best live entertainment in the city? Discover What's On to find your next gig.