Guides
10 films set in Dublin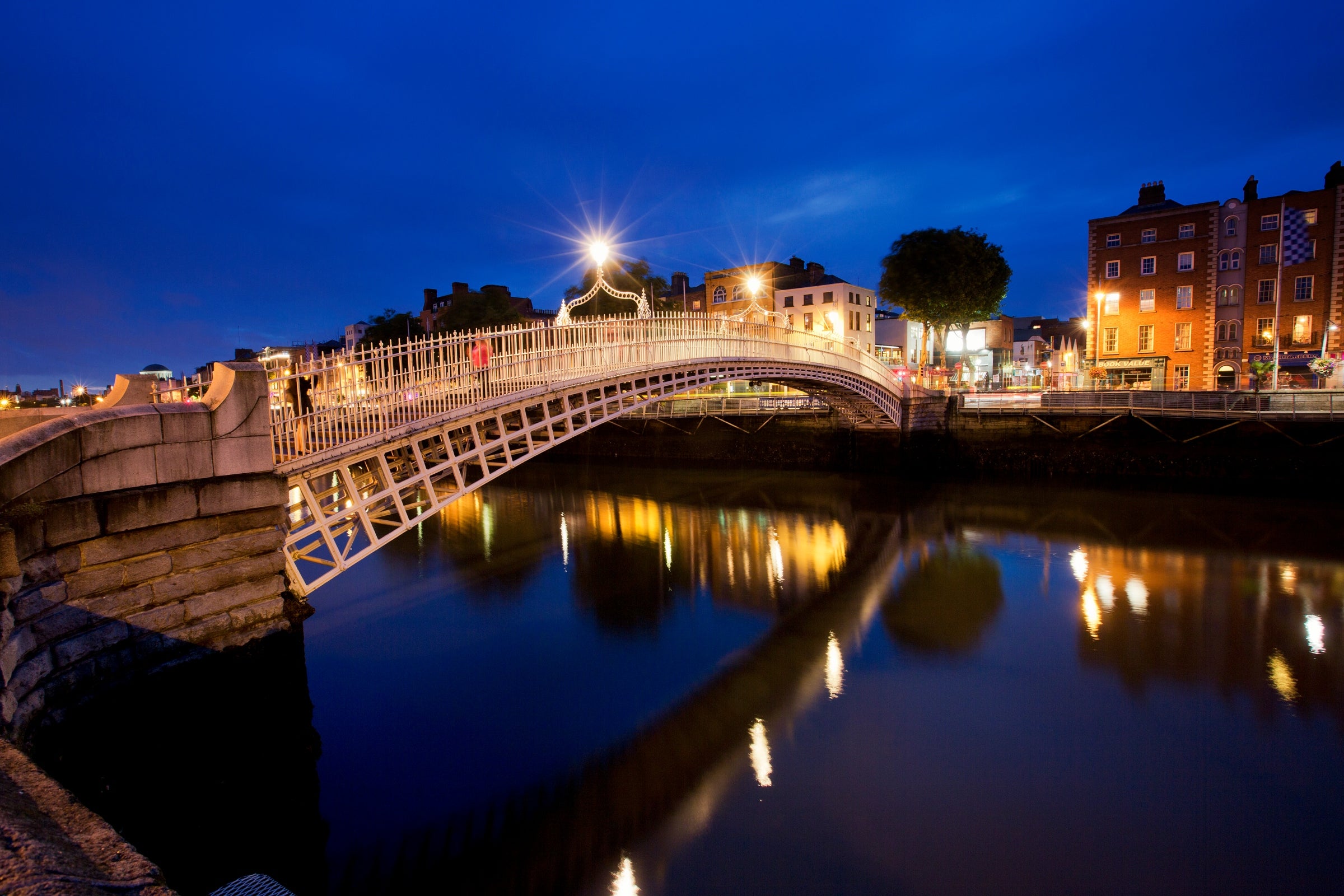 Filmmakers have been drawn to Dublin's vibrant and charming streets for decades.
Walk around the city for long enough and you're likely to find a camera crew setting up somewhere. Whether it's a local independent film or an international hit, the city's many famous landmarks look stunning on the big screen. Here's a collection of the films showing glimpses into the magic of Dublin onscreen.
Sing Street (2016)
This feel good coming of age story depicts Dublin at its nostalgic best. Written and directed by John Carney, the 2016 musical comedy stars Ferdia Walsh-Peelo as Conor "Cosmo" Lawlor. See the city in all its gritty 80s glory as Conor forms a band, showing just how far one ambitious Irish teenager is prepared to go to impress a girl. Played out against a backdrop of music inspired by The Cure, Duran Duran and The Clash, Conor and his bandmates unleash their creativity around Dublin's city and suburbs. Look out for picturesque Dalkey Island and scenes shot in Fusco's café on Meath Street in the heart of Dublin's Liberties district.
---
Once (2007)
What 'Before Sunrise' did for Vienna, John Carney's 'Once' does for Dublin. The city is the soft focus backdrop of one of the most widely loved romances featuring the capital. A beautifully lit Grafton Street sets the scene for many of the film's more sentimental moments. Killiney Hill also features towards the film's climax, overlooking the Irish Sea and showcasing the magnificent surrounds of the capital. Starring Glen Hansard as a local busker trying to make it big and Markéta Irglová as a fellow struggling musician, the film's lead track 'Falling Slowly' won the Oscar for Best Original Song. Once has since generated Simpsons appearances and spin off musicals but the intimacy of the original story still remains.
---
Intermission (2003)
With an ensemble that includes Colin Farrell, Cillian Murphy, Kelly McDonald and Colm Meaney romping through a Dublin cast as a criminal's playground, 'Intermission' is a dark comedy that has it all. A tale of double decker buses crashing, revenge, kidnappings and ransom demands, it's hard not to be hooked on the characters entwined in John Crowley's farce. Stand out locations include the Canal Lock and the Dublin Mountains, a popular hiking destination with unbeatable views of the city and Dublin Bay.  
---
The Commitments (1991)
Based on Roddy Doyle's beloved novel of the same name, this is the heartwarming story of the rise and fall of "The World's Hardest Working Band". Hilariously chaotic with an award winning soundtrack, director Alan Parker perfectly portrays the working class heart of inner city Dublin. Set in fictitious 'Barrytown' based on the Dublin suburb of Kilbarrack, 'The Commitments' was filmed across multiple northside and city centre locations. Scene stealing city highlights include the cobbled streets of Temple Bar and buzzing Camden Street, renowned for its nightlife. The beautiful Mansion House, home to Dublin's Lord Mayor since the 18th century and meeting place of the first Dáil Éireann, makes an appearance too and is just a stone's throw from Stephen's Green.
---
Ordinary Decent Criminal (2000)
Loosely based on the life of Irish crime boss Martin Cahill, Thaddeus O'Sullivan's 'Ordinary Decent Criminal' boasts an all star cast including Kevin Spacey as main protagonist, Michael Lynch and Dubliner Colin Farrell. This dark comedy sees our anti hero start to lose his cool when he steals a priceless Caravaggio painting that he's then unable to get rid of. While one of the film's key moments takes place on Dublin's famous Ha'penny Bridge, be on the lookout for a bus stunt shot on Wilton Terrace close to the statue of Patrick Kavanagh. 
---
My Left Foot (1989)
Starring Daniel Day-Lewis in one of his most striking and memorable roles, 'My Left Foot' tells the true story of Dubliner Christy Brown, a writer and artist born with cerebral palsy. In a deeply moving and often witty movie, we get a glimpse of city life in the 1940s and 50s as Christy and his family learn to live with his condition. Directed by Jim Sheridan and starring Brenda Fricker, it won two Oscars and remains one of Ireland's most successful and beloved films. Visit Locks Brasserie on the Grand Canal or Mulligans, a renowned pub on Poolbeg Street where most of the film's bar scenes were shot. Killiney Hill, just a short DART journey south of the city, closes the film with stunning views of Dublin Bay.
---
About Adam (2000)
This romantic comedy by Gerard Stembridge stars Stuart Townsend as a handsome young Dubliner who sets about seducing a woman and her two sisters. Charming and quirky, the story is famed for its engaging and unusual narrative form, whereby several scenes are repeated through different points of view. Much of the film was shot in Temple Bar at Meeting House Square and the Photo Museum Ireland. The Winding Stair bookshop and restaurant on the River Liffey also makes a guest appearance.
---
The Dead (1987)
Everybody's favourite James Joyce short story, 'The Dead' was extended into a feature length film by the late John Huston. The last film by the great director retains the melancholy mood of the story itself, the only successful adaptation of Joyce's famously difficult to translate work for the big screen. While set in 1904, Georgian Dublin and landmarks like the Gresham Hotel are beautifully shot under a layer of snow. Starring Huston's daughter Anjelica, much of the filming took place in 15 Ushers Island, the home of James Joyce's grand aunts and the original literary setting. While you're in the neighbourhood, the James Joyce Bridge across from the house is a treat for photos at sunset.
---
Educating Rita (1983)
Starring legends of the screen Julie Walters and Michael Caine, 'Educating Rita' captures a meeting of minds between a bored young housewife and her university lecturer. While actually set in Liverpool, Lewis Gilbert's Oscar-nominated film is secretly Dublin through and through. Both Trinity College Dublin and University College Dublin (UCD) are the principal settings for the film, plus a host of other spots like The Stag's Head pub and the Phoenix Park. Have fun trying to spot every giveaway sign that you're really watching Dublin.
---
The Drummer and the Keeper (2017)
Nick Kelly's debut drama on bipolar disorder and friendship takes in much of contemporary Dublin as we know it. The old Chocolate Factory on King's Inns Street is featured, where the wonderful Blas Café is now based. There's also a striking scene that centres on Sandymount Strand where the vastness of the sandy beach is apparent against the backdrop of the iconic Poolbeg stacks. Whelan's, Dublin's home for live music, also features prominently in the film. In fact, many films have shot scenes in this famous pub, namely 'PS I Love You'.
---
Explore Dublin City
Now that you've discovered where to relive some of Dublin's best movie moments, find out What's On in Dublin and start planning on your Dublin City break.