Guides
The art of brewing: a guide to all things Guinness
Media caption
Discover the history that goes into every pint of Guinness.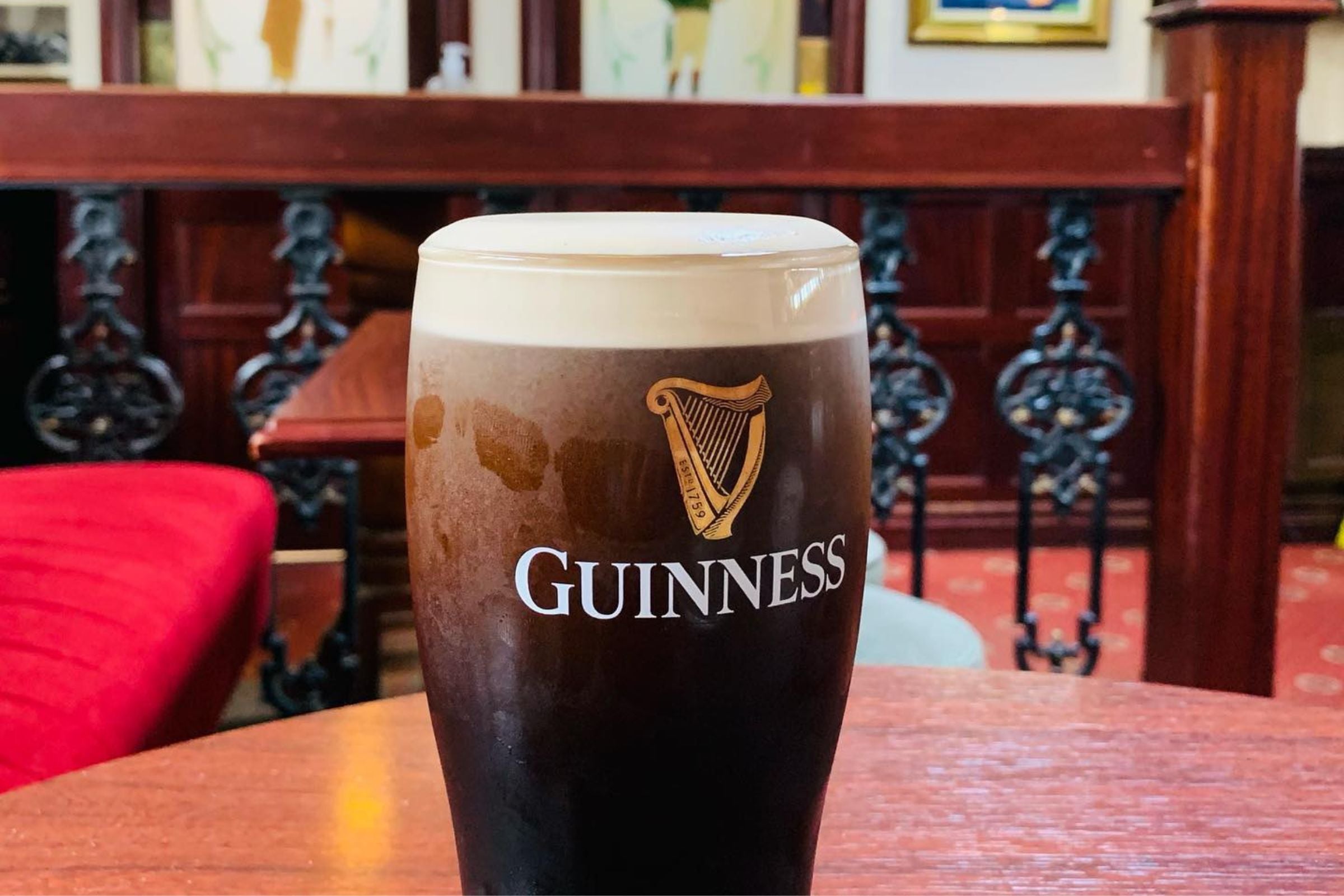 Media caption
Discover the history that goes into every pint of Guinness.
No brand in the world is as intimately connected with the place of its birth as Guinness is with Dublin. The black stout produced at the St James' Gate Brewery is arguably the most famous beer in the world and Ireland's most recognisable export, but Guinness' importance is more profound and far reaching. It has played a key role in the social and cultural legacy of the city for over 250 years and, for many visitors, no visit to Dublin is complete without trying a pint of Guinness in its native home.
Aoife Carrigy explores the legacy of the Guinness family and their St James' Gate Brewery, takes a whistlestop tour of the Guinness Storehouse and suggests the best pubs in Dublin to sample the black stuff.
The birth of a global brewery in the heart of Dublin city
Sometimes happy accidents have long legacies. The story goes that when a London brewer accidentally burnt his barley, he created a darker beer that would become very popular with the porters who worked the city's rivers, streets and markets – and would become dubbed 'porter' in their honour. In doing so, he sparked something across the water in Dublin where a young Arthur Guinness would take that dark ruby-coloured beer, make it synonymous with his own name and home city, and bring it to the world from his Dublin base.
Arthur Guinness always had big plans. This is the man who, in 1759, took on a 9,000-year-lease on a disused brewery (a bargain at just £45 per annum). By 1796, Guinness was exporting to England. His offspring did justice to those ambitions: under the shrewd eye of his son Arthur Guinness II, St James's Gate Brewery became the largest brewery in Ireland with shipments to destinations as diverse as South Carolina and Sierra Leone, Portugal and Barbados. Arthur II's grandson Edward Cecil Guinness grew it into the largest brewery in the world, and the first major brewery ever to be incorporated. Not content to merely ship their product around the world, by the late 20th century Guinness was being brewed in 49 countries. Today some 10 million glasses of Guinness Stout are downed daily in over 150 countries worldwide.
The original Arthur Guinness started out brewing ale but saw a gap in the market with that new trend for a hearty dark beer, and by 1799 was exclusively brewing porter. Various versions of porter were developed in England and Ireland over the years, using various combinations of pale, brown and black malts but in all of them, the use of highly toasted or roasted barley gave the beer a dark ruby colour and richer aroma than ale. As well as 'plain porter' – immortalised by Flann O'Brien in his oft-quoted ode to the 'pint of plain', aka 'yer only man' – variations such as 'West India Porter' and 'Extra Superior Porter' emerged and eventually became the 'stout' for which Guinness is famed today.
Open-minded innovation was always key to the success of Guinness. In 1959, for instance, on the 200-year anniversary of the signing of the famous lease, Guinness Draught was launched with the introduction of nitrogen. This transformed the beer from a dark, flat porter with a thin, yellowish head to the more one we're familiar with today, complete with the now iconic creamy white head and the famous two-part pour.
From early on, a canny Arthur Guinness had an eye on the export market and brewed different types of porter to suit different palates. He developed the special export beer called 'West India Porter' that is now known as Guinness Foreign Extra Stout. It remains hugely popular in Asia, Africa and the Caribbean, and accounts for 45% of all Guinness sales globally today.
Still today you might hear Dubliners quip 'bring us back a parrot' to someone heading off on holidays – a verbal tic that survives from the days when young Dublin lads would shout it at the Guinness barges sending the beer to Africa and the West Indies.
---
The brewery that shaped Dublin's cultural legacy
From local expressions to living conditions, the St James Gate Brewery and Guinness family played a huge role in shaping the city around them. Arthur II's son, Benjamin Lee Guinness, was a civic-minded man who became Lord Mayor of Dublin in 1851 and opted to put the growing wealth of the family to constructive use. He undertook the restoration of St Patrick's Cathedral at a cost of £150,000 (around €5.5m in today's money) as a philanthropic gift to future generations of Dubliners. A large statue of Sir Benjamin stands at the cathedral entrance by way of thanks.
Both of Benjamin's sons, Edward Cecil Guinness (aka Lord Iveagh) and Arthur III (Lord Ardilaun), continued that philanthropic spirit in various works. As well as a creating St Patrick's Park next to the cathedral, Edward commissioned the construction of the Iveagh Trust as pioneering accommodation for low-income workers. These landmark, red-bricked apartments boasted enlightened features such as baths, a play centre and a Working Men's Hostel for unmarried men, whose residents would later include the poet Patrick Kavanagh.
That legacy lives on, with the Iveagh Trust providing a significant percentage of the social housing in central Dublin today, and one of the original flats is now a museum that gives insight into life here over the years.
Edward's brother Arthur III was equally productive with his charitable work. His legacies include the Coombe's Women's Hospital, Marsh's Library and St Stephen's Green, which he transformed from a private park to the 27-acre public heart of the city by funding a redesign inspired by New York's Central Park.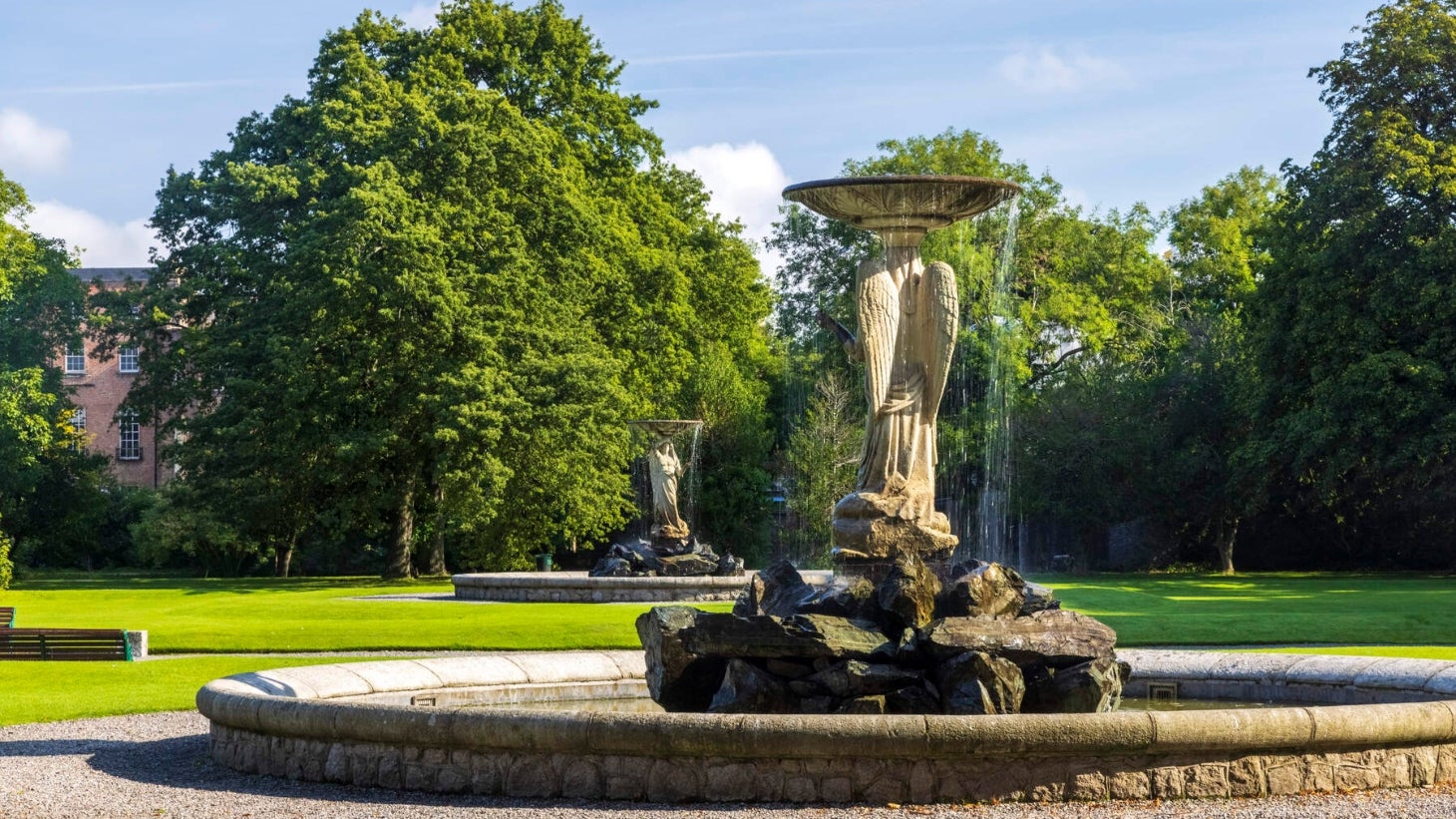 The next generation continued in the same vein. In 1939 Edward's eldest son Rupert, the 2nd Lord Iveagh, donated his grandfather's city residence, Iveagh House on St Stephen's Green, to the Irish State – it now serves as the Department of Foreign Affairs. That same year he also made public the private Iveagh Gardens, a 'hidden' park just off Harcourt Street. With its fountains and waterfall, sunken lawns and hedge maze and even an archery ground, this public park remains one of the city's green gems.
The Guinness family became well known as one of Ireland's most significant, influential and respected employers who saw the good sense in building quality homes for its workers and providing them with forward-thinking benefits such as free healthcare and pensions. A job with Guinness was one that would set you up for life, and still today, it is not unusual for Guinness employees to stay loyal for their full careers.
---
Visiting the Guinness Storehouse
One such lifer is Steve Gilsenan, who joined Guinness as a graduate trainee in 1999 and worked his way up to Master Brewer of St James's Gate Brewery before moving into his current role as Guinness Global Head of Quality at Diageo.
The Guinness Storehouse gives visitors real insight into not just the legacy of the Guinness family and the brewing innovations that have been at the heart of their success but also the nitty gritty brewing process overseen by Steve and his team.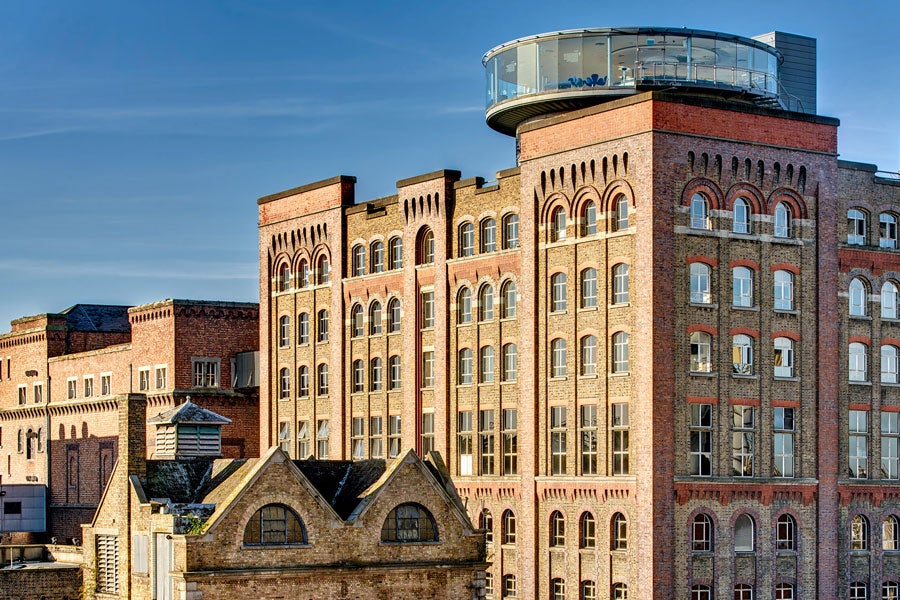 A visit here is sensory experience. You'll hear the thunder of the water which Steve explains is "sourced from the beautiful Blessington Lakes at Poulaphouca in the Wicklow mountains" and fully treated on site before brewing.
You'll smell the "very sweet, grainy and biscuity aroma" of the sugar being extracted from the malted barley – a scent that is strongest near the Liffey quays where the black box building of Brewhouse 4 is now the main production plant for Guinness.
You'll discover the importance of perfect temperature for roasting barley. "At 232ºC, we can guarantee the right level of flavour, colour and consistency that we need for Guinness," Steve explains. "Too cold, it is wrong – too hot it is wrong and also goes on fire!"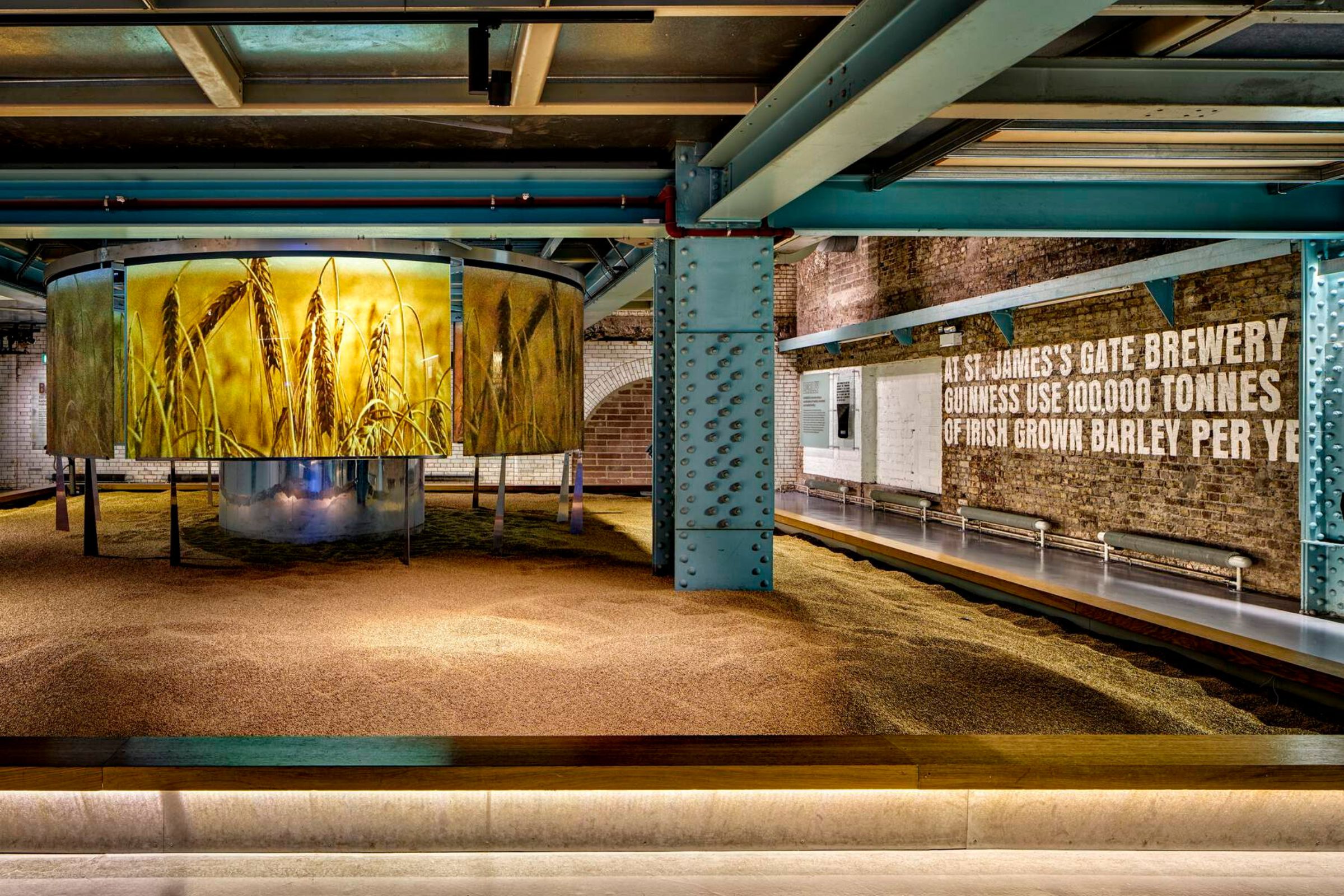 Any Guinness drinker knows that time is an important factor in the pouring of a perfect draught pint – but it's also integral to the brewing process.
"Guinness has a relatively fast brewing process with a warm fermentation and maturation compared to ales and lager," Steve explains. "It takes typically 10 days from grain in to kegs out the gate." Within that 10-day process, there is an important pause to let the double-jobbing yeast do its second job. "After the yeast has fermented all of the sugar into alcohol, we then move the beer to a maturation vessel with a little more yeast for about three days," he says. "When the yeast is no longer fermenting, it matures the flavour of the beer to the flavour profile we want in Guinness Draught."
Visitors can join a Guinness Beer Specialist on a Connoisseur Experience romp through the histories of several variants of Guinness including Draught, Original, Foreign Extra Stout, and learn about how surprisingly food-friendly each Guinness beer can be. You'll also learn about the different types of Guinness sold around the world and why they're brewed for specific regions.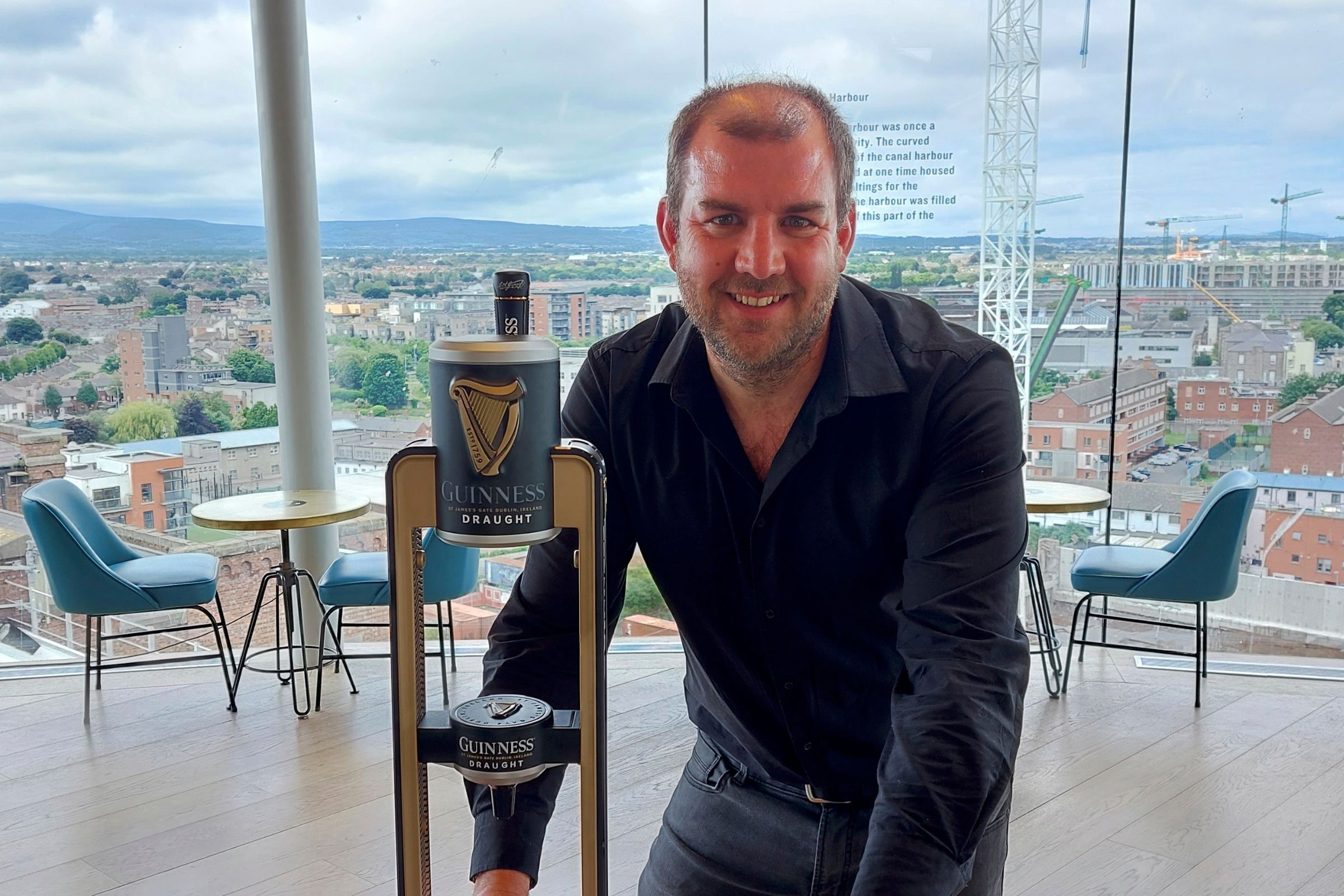 ---
Seeking out the perfect pint
No visit to the Guinness Storehouse would be complete without sinking a creamy and technically perfect post-tour pint in the Gravity Bar, with sweeping views of the city below and the mountains and sea beyond. Arguably, though, you haven't really had the full Guinness experience until you've enjoyed a pint elbow to elbow with other Guinness drinkers in an old-school Dublin pub.
Of course, it's debatable whether the Guinness itself tastes different in Dublin. Steve Gilsenan acknowledges that there is a romance to the myth that the closer you drink it to the source, the better it will taste. He argues, however, that "the same beer goes into the kegs – with the same brewing processes – that go to pubs in Dublin, the rest of Ireland and the rest of the world."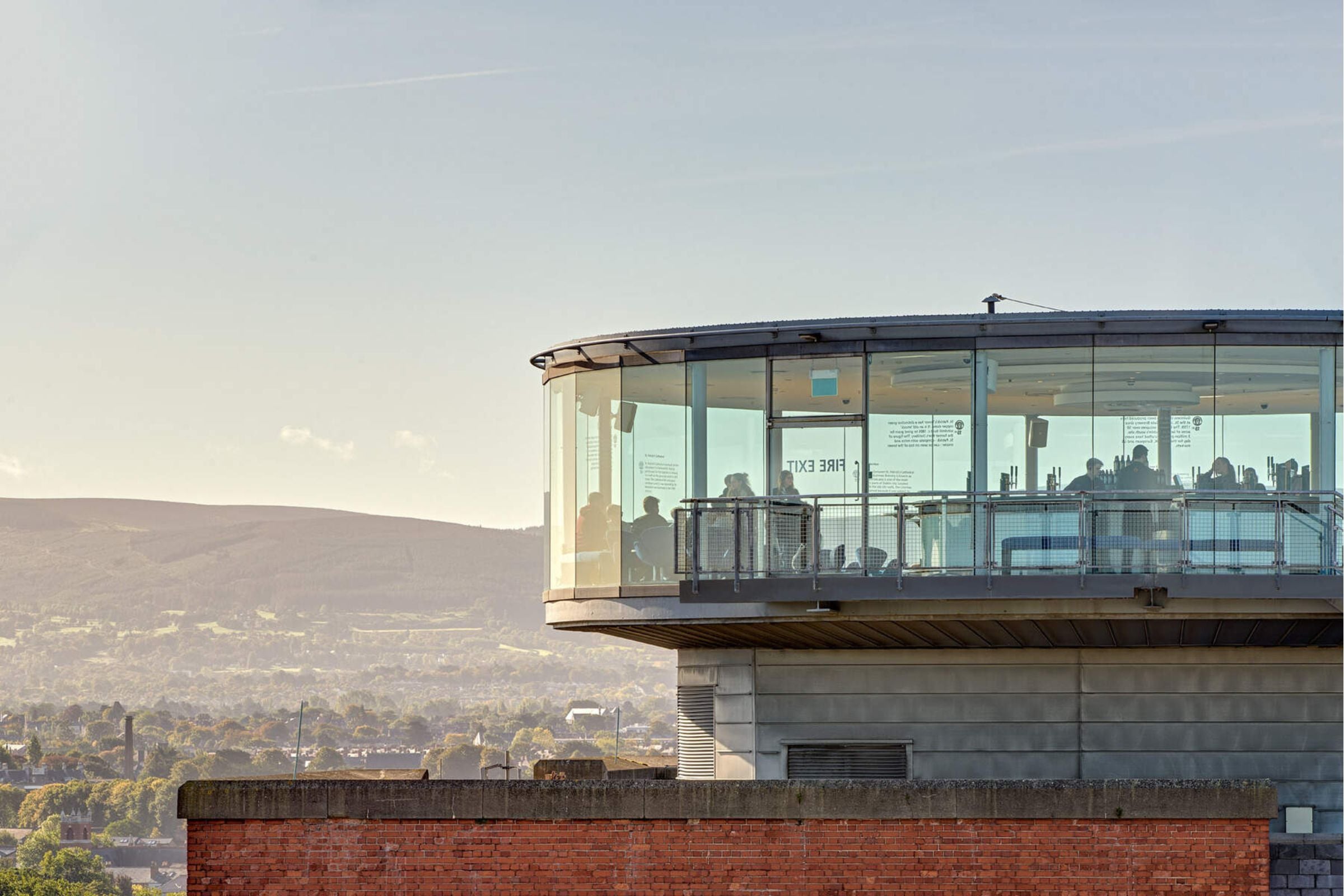 His team at Guinness work hard to ensure the same quality standards in pubs all around the world. What's more, he adds that "Guinness brewed everywhere in the world has an element added to it – our flavour extract produced in St James's Gate – so that all Guinness anywhere in the world links back to our process in St James's Gate."
Still, it's hard to deny that Dublin pubs themselves don't bring their own special something to the overall experience. Nothing beats finding your personal favourite to fall in love with, but to get you started, here's a few classic suggestions that won't disappoint. Sláinte!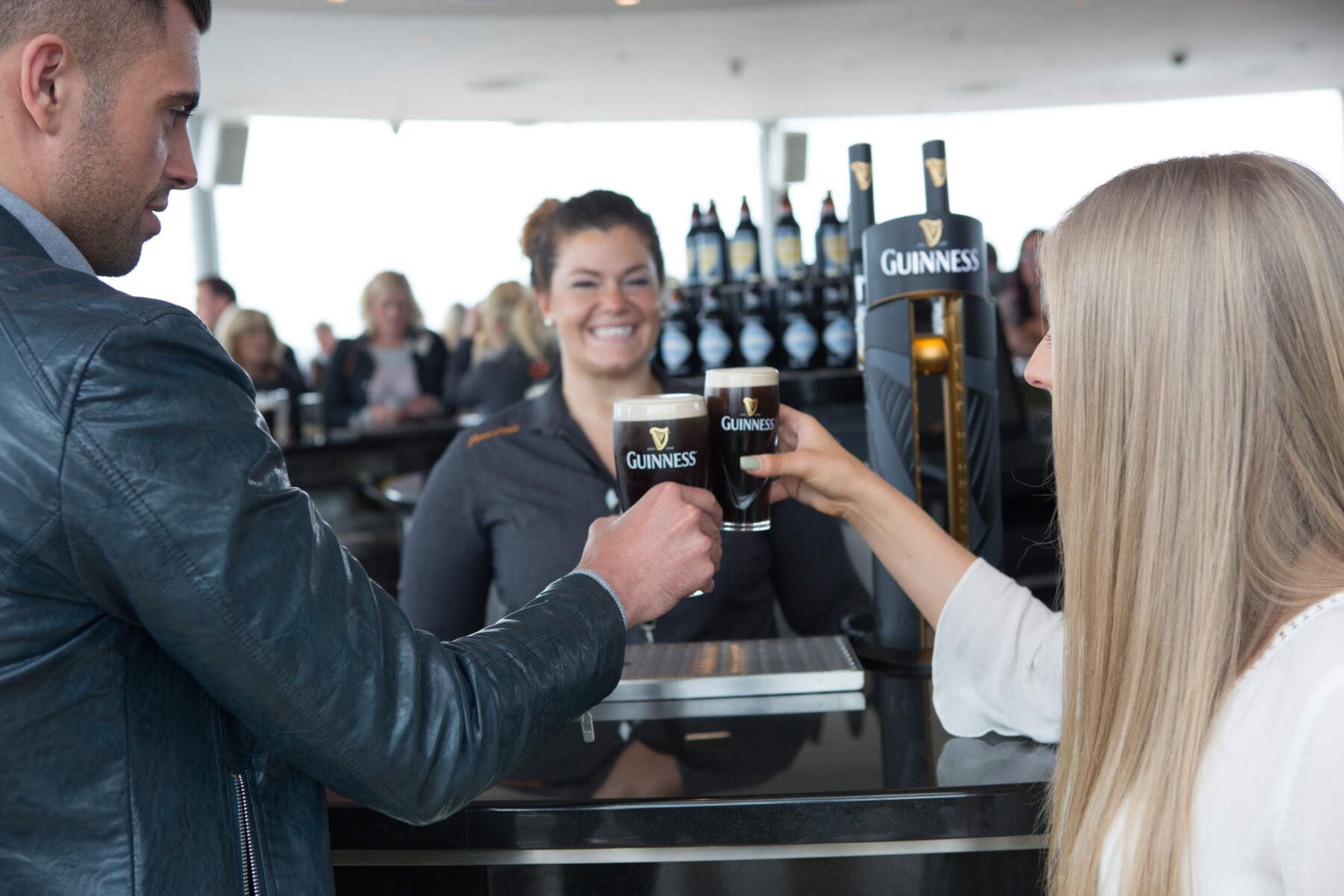 John Fallon's ('The Capstan Bar')
Whether you're visiting the Guinness brewery or the nearby Teeling Distillery, Fallon's on New Row South in the Liberties is the perfect place to chase that experience, with one of the city's best pints of plain and a beloved toasted cheese sandwich for soakage. With a drinking hole of some sort on this site since the 1620s, Fallon's is a local institution that encapsulates the vibrant diversity of Liberties life. Today you'll find a mixed crowd of older locals, Dublin 8 hipsters and music students from the nearby BIMM (British and Irish Modern Music Institute), all rubbing elbows inside and outside this small but perfectly formed bar, with its time-worn wooden floor, exposed brickwork, much-coveted snug and sunny outdoor stools.
The Stag's Head
You never know what you might find downstairs at the Stag's Tail cellar, from live trad to comedy nights to ukulele sessions, but walk in the street level main bar of the Stag's Head and you can be sure to find great pints of Guinness being pulled in one of the city's best preserved Victorian pubs. Though there has been a tavern here since the 1770s, its current incarnation opened in 1894 as the city's first electric-lit pub, and the original carved mahogany woodwork, granite tabletops and mosaic marble tiled floors still glow with a Victorian gleam. Don't miss the tiny parlour lounge tucked away off the main affair.
Mulligans Pub
On Poolbeg Street, just across the river from The Abbey Theatre, Mulligans is a great choice for some post-show analysis, with a literary, theatrical and newspaper tradition that spans generations. James Joyce was a regular here and Mulligans makes an appearance in his short story Counterparts, from Dubliners, as well as in the writing of John McGahern. Expect a fine pint of Guinness served up by barmen who ply their trade with trademark Dublin wit. A classic and a mecca for lovers of old-school pubs where conversation is king. 
The Old Royal Oak
On a dreamy little leafy street running parallel with the outer wall of the Royal Hospital Kilmainham (and therefore a great go-to after a visit to the Museum of Modern Art or Kilmainham Gaol, The Old Royal Oak feels like a perfect little country pub that somehow ended up in the city and decided to stay put. Decor is as simple inside as out: as the mostly high-stool seating suggests, this is somewhere to come for the pint and conversation, and you never know who you'll get chatting to. For an even more intimate evening, snag the hidden snug with a few friends, and you can have private service from the bar through a hatch.
John Kavanagh The Gravediggers
John Kavanagh The Gravediggers is a modest neighbourhood pub in Glasnevin that all of Dublin takes pride in. A family business still run by eighth-generation Kavanaghs, it is best known for its coddle (a traditional Dublin supper of sausages and potatoes), its superlative pint of the black stuff and its original customers: the gravediggers who would frequent it after (and possibly during) shifts in Glasnevin Cemetery next door. It's the ideal destination for a sunny afternoon (thanks to its grassy square out the front) and a damp evening (thanks to one of the cosiest wood-panelled interiors going). All in all, a gem – and just a short stroll from Glasnevin's Botanic Gardens.
---
After paying a visit to the Guinness Storehouse, explore the surrounding neighbourhood and get to know the rest of the Liberties.