Guides
A tour of Dublin's Moore Street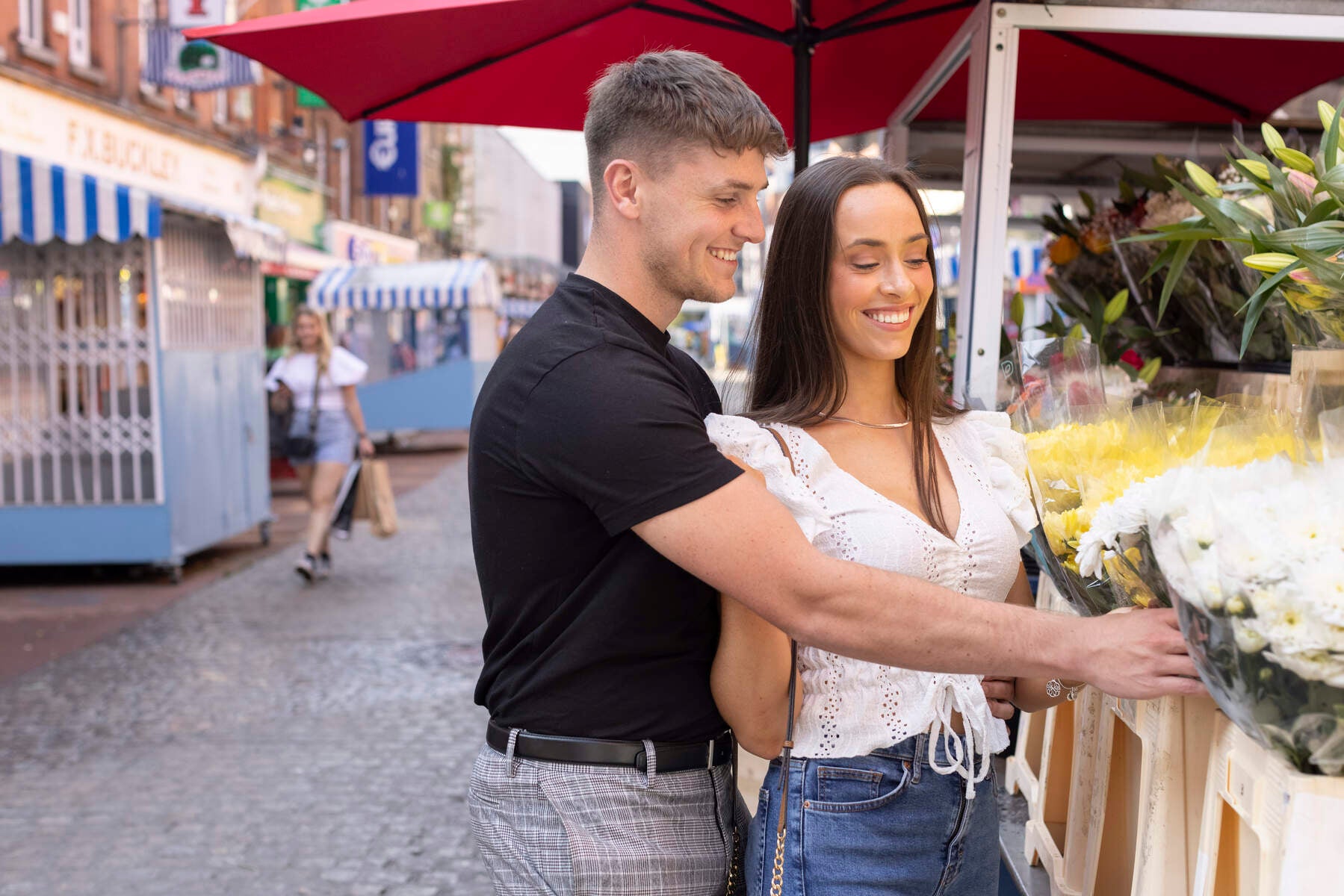 Take a walk down Moore Street and step into Dublin's past.
The story of Dublin may be told in its collection of historic buildings, but it comes properly to life on Moore Street. Here you'll find market stalls that have stood for centuries, operated by unique vendors that make up the fabric of the city. Alongside the markets stalls, there are shops founded by Dublin's international community, selling everything from Indian spices to Mexican tostadas.
Here's how to explore Moore Street and its rich history for yourself.
A street steeped in history
First established in the 18th century, Moore Street is one of the oldest marketplaces in the city. Over the years, it has survived a big shift in how people shop, as more and more Dubliners chose to visit supermarkets and shopping centres rather than markets. But despite the arrival of its neighbouring shopping mall the Ilac Centre in 1981, the stalls of Moore Street have remained largely as they were. Nowadays, it's one of the last trading streets left in the city.    
Moore Street also played a vital role in the 1916 Easter Rising. During battle, members of the Irish Volunteers occupied four houses on a terrace off the street, from numbers 14 to 17. It's on this street that five key figures in the Rising surrendered, led by Patrick Pearse. Visitors can tour Moore Street on one of the 1916 Rebellion walking tours that start off at The International Bar. The story of the rising is also told in great detail in the museum at the nearby GPO, which was the rebels' headquarters during the rebellion. 
---
Stalls and markets
For centuries, Dubliners have flocked to Moore Street to pick up fresh fruit and vegetables from the stallholders that line the street. But as the city became more multicultural, the street morphed into a place where you can pick up a bundle of bok choi and some fresh taro root, along with your local spuds and strawberries.  
You'll find the fruit and veg sellers on Moore Street every day, though the stalls are busier at weekends. In most cases the stallholders have been selling from this very spot for decades, and will loudly call out their offers in order to draw in the shoppers. Most of the stallholders are women, and are known for their feistiness and sense of humour. The produce is some of the best priced in the city, too.    
The butcher FX Buckley has been on Moore Street since 1930, and while they now have a few shops and restaurants around the city, this remains their flagship branch. As well as all the usual meats, they stock some unusual Irish offerings, like fresh rabbit, kid goat and wild venison. Don't miss the mosaic artwork on the pavement by the door, depicting a bull's head.  
Moore Street is a bit of a one stop shop for international foods. Just a few steps apart, you can find shops specialising in Chinese, African and Indian ingredients, as well as items from Brazil and Poland.
Oriental Pantry Supermarket is a favourite among Dublin chefs, stocking a huge variety of Asian staples and fresh produce, with a strong South American section, too. There's also a stall inside called Pastel King, selling savoury Brazilian specialities like 'pasteis' and 'coxinhas', as well as sugarcane juice and sweet treats. A few doors down, Asian Spices sells frozen naans, samosas and paratha, alongside pulses like maize and black chickpeas.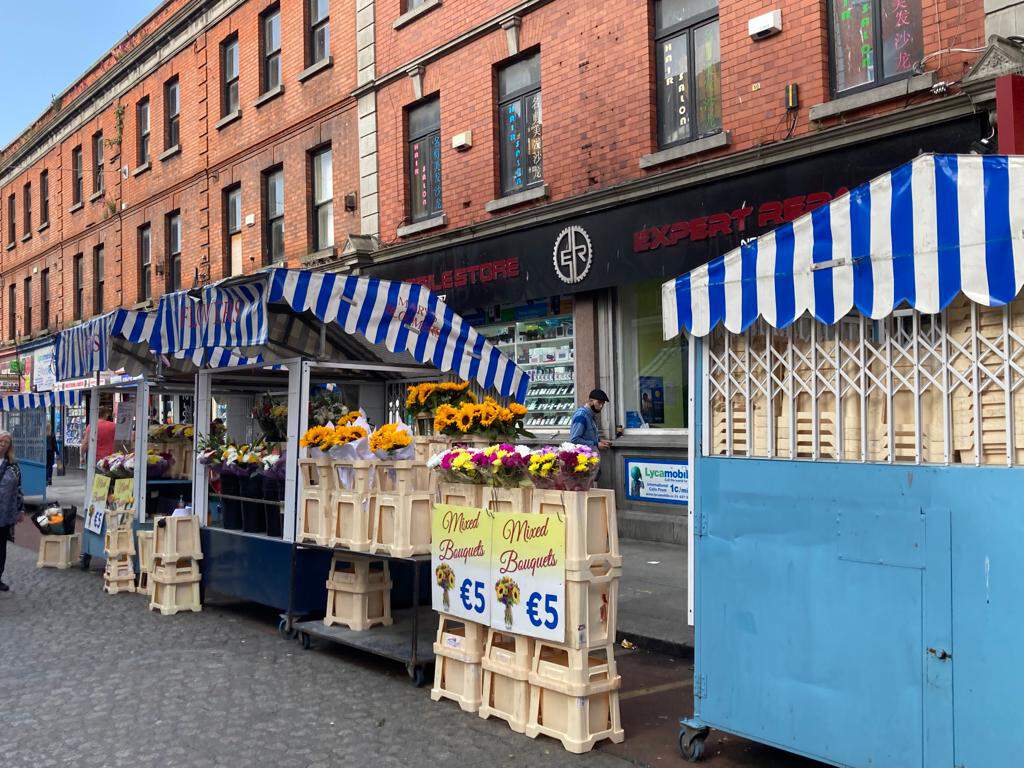 ---
Where to eat
Head down the escalators to the Moore Street Mall and you can have your pick of several cuisines, all under one roof. Whether you want spicy pork soup from the Bolivian Restaurant or 'burek' in the Balkan café His Food, this canteen-style food court has you covered, and at bargain prices, too.
One of the most popular outlets is White Rabbit, where you'll find Korean fried chicken and 'bibimbap', as well as corn dogs stuffed with sausage, mozzarella, or both. Order one Korean-style and it will arrive sprinkled in sugar and drizzled with mustard and ketchup. It may sound a little strange, but the sweet, tangy and crunchy combination works. There's another branch on Capel Street, too. 
Up on the main street in the Brazilian restaurant Tucano, you can eat your fill of 'picanha' steak, served with rice, beans and fried cassava. Or try the classic dish 'bife acebolado', with strips of beef and onions with rice, beans, fries, and a healthy dollop of Brazilian mayonnaise.  
---
Moore Street on screen
The allure of Moore Street has captured many Dubliners' imaginations over the years. Brendan O'Carroll, writer of BATFA award-winning TV show 'Mrs Brown's Boys'  wrote the 1999 film 'Agnes Browne', a hit comedy which tells the story of a widowed Moore Street trader in 1967, played by Hollywood icon Anjelica Huston.
The storefront of FX Buckley is featured in Colin Brady's short documentary on Dublin sign painting, 'Gentlemen of Letters'. Irish street artist Maser, who was featured in the documentary, has also championed Moore Street in the past. In 2014 he designed a tote bag emblazoned with the phrase Give Moore Love, which was given out free to people buying fruit and veg from the vendors along the street.   
---
Food markets in Dublin