Guides
Dining at the Irish table: your guide to Irish flavours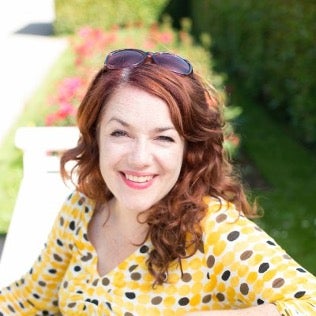 Aoife Carrigy
Aoife Carrigy is a freelance writer and editor specialising in food, drink and travel. She is the wine and drinks columnist for the Irish Independent Weekend Magazine and co-author of "Cornucopia: The Green Cookbook."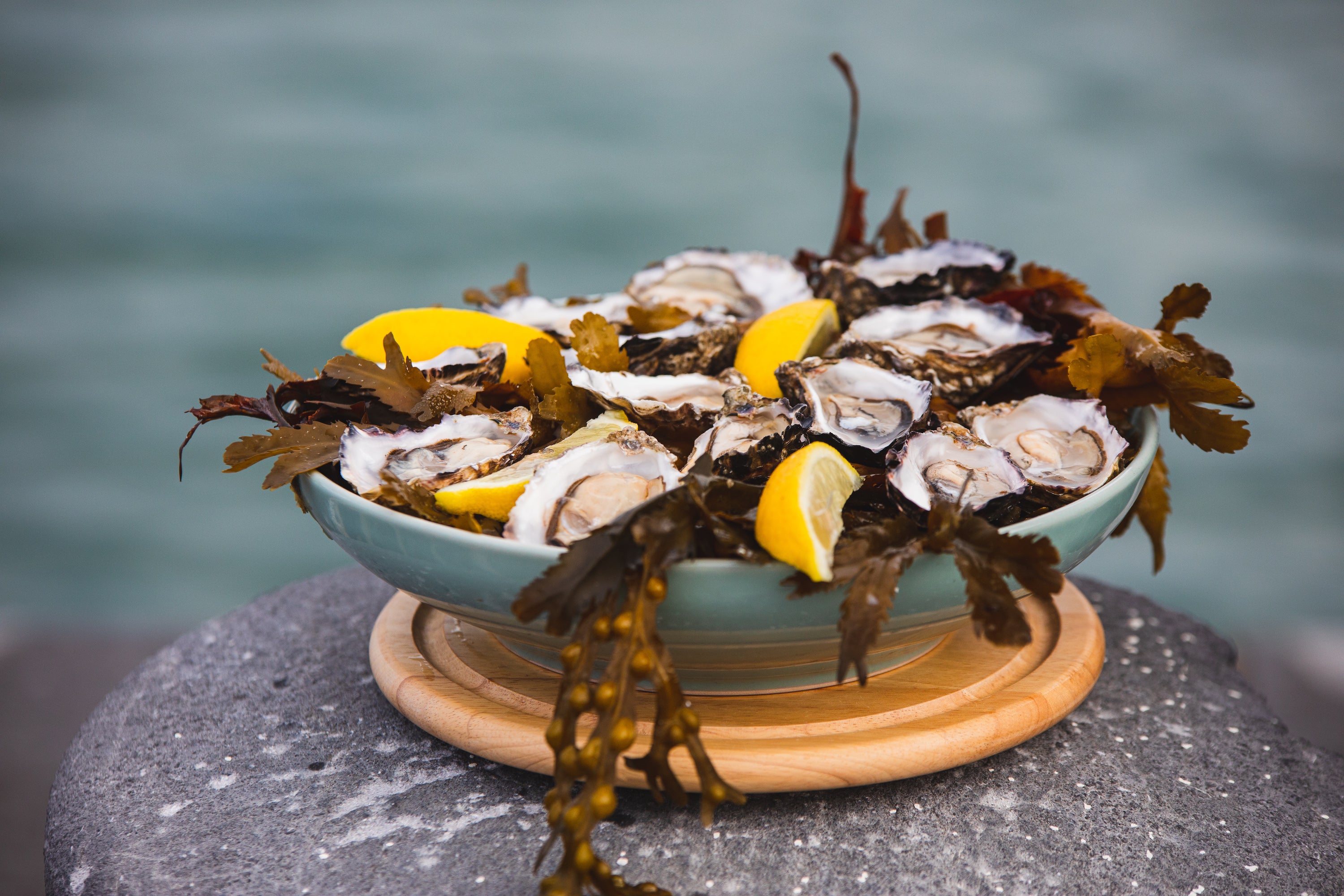 Irish ingredients – from seafood, meat and dairy products to soda bread, oats and the ubiquitous potato – are the basis of Irish cuisine.
And while Irish cuisine has evolved significantly from Irish stew and cabbage and bacon to offering a more sophisticated and well-rounded menu, the basics still remain, even if they've been modernised for a contemporary palate. So, where can you get the best version of Dublin coddle, the finest fish and chips or a really tasty bacon and cabbage?
Here's a run-down of the most quintessentially Irish ingredients and dishes and where to sample them throughout Dublin.
Fish and seafood
Firm-fleshed smoked salmon, mackerel or fresh-water trout atop thickly buttered soda bread. Pristine potted crab, glimmering oysters, sweet Dublin Bay prawns with Marie Rose sauce. Great platters of these, and fresh catch of the day. Pots of mussels steamed in local cider. Steaming fish pies or bowls of creamy chowder, a seafood soup that is a meal in itself with its generous chunks of fish and shellfish. A classic fish and chips, featuring white fish in crisp batter with big fluffy potato chips, all wrapped in brown paper and eaten as a takeaway. It's hardly surprising that an island surrounded by clean cold waters and a capital with its own working fishing port at the seaside village of Howth should serve up great local seafood. 
Where to find it
Go straight to the source for a feast of fresh shellfish from second-generation seafood restaurateurs at King Sitric at Howth Harbour, or opt for pitch-perfect fish and chips or tangy fish tacos at Fish Shack on Dun Laoghaire's East Pier (they have a second location in Malahide). In Temple Bar, beeline to Klaw or its sister Seafood Café for a platter of oysters. Just over the Ha'penny Bridge is the Winding Stair, which serves fine for potted Dingle Bay crab, Irish seafood chowder and a signature fish plate showcasing Ireland's finest fish smokers.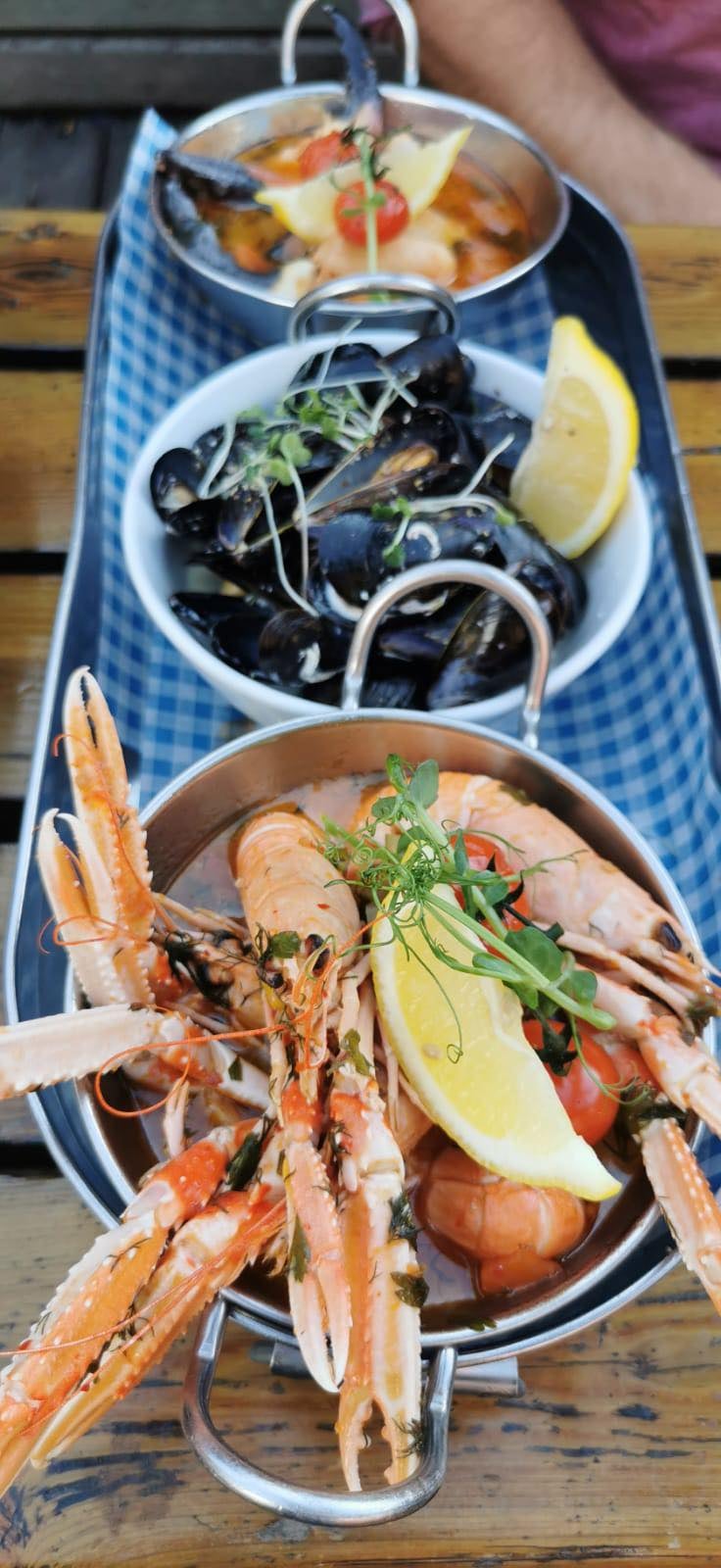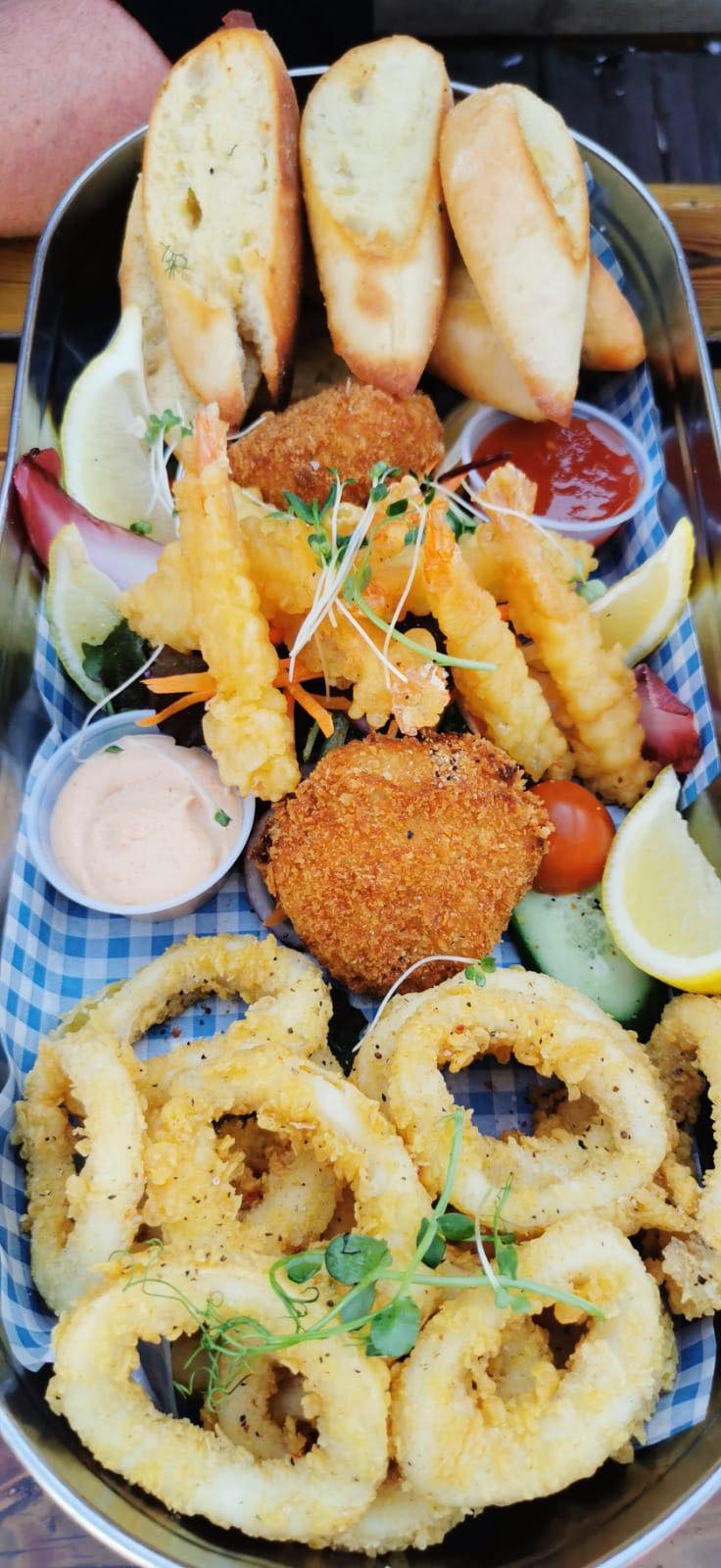 ---
Pork, beef and lamb
Pork-based products have long had a special place in the Irish diet, from the classic bacon and cabbage to the great breakfast fry. Sausages, rashers (bacon slices) and black and white pudding – the former a sausage made from pig or cow blood mixed with suet and oatmeal, the latter made without the blood - are so beloved they turn up at lunch and dinner too, in sausage rolls and rasher sandwiches, black pudding salads, bangers and mash or Dublin's beloved coddle (a potato-based casserole with sausages, rashers and onion). Meanwhile Ireland's green pastures and herb-rich hills produce the finest grass-fed lamb and beef, to slow cook with root veg for that classic Irish lamb stew or in Guinness for a beef stew. 
Where to find it
Whether it's top-drawer pork and leek bangers or bacon and cabbage with parsley sauce and honey-roast carrots, Dublin's oldest pub the Brazen Head is an atmospheric go-to for classic Irish dishes. O'Neills of Pearse St is a Victorian classic that serves a faithfully traditional stew, while John Kavanagh (aka the Gravediggers) in Glasnevin are True Blue coddle champions. The Boxty House bring excellent sourcing and playful respect to the classics (including their namesake). Expect serious 6th-generation expertise from a family of butchers turned restaurateurs at FX Buckley, which has restaurants on Pembroke St and Crow St in the city, in the southern suburb of Monkstown and north of the River Liffey in Stoneybatter. Featherblade on Dawson St and sister restaurant Mister S on Camden St pride themselves on serving the best value steak frites in town.
For that traditional fry, Catherine's Café makes the most of Meath Street's reputable butchers while Bread 41 on Pearse St packs pudding, bacon, fried egg, bacon jam, wood-fired ketchup and McNally Family Farm mixed leaves into a sandwich of their superlative sourdough bread.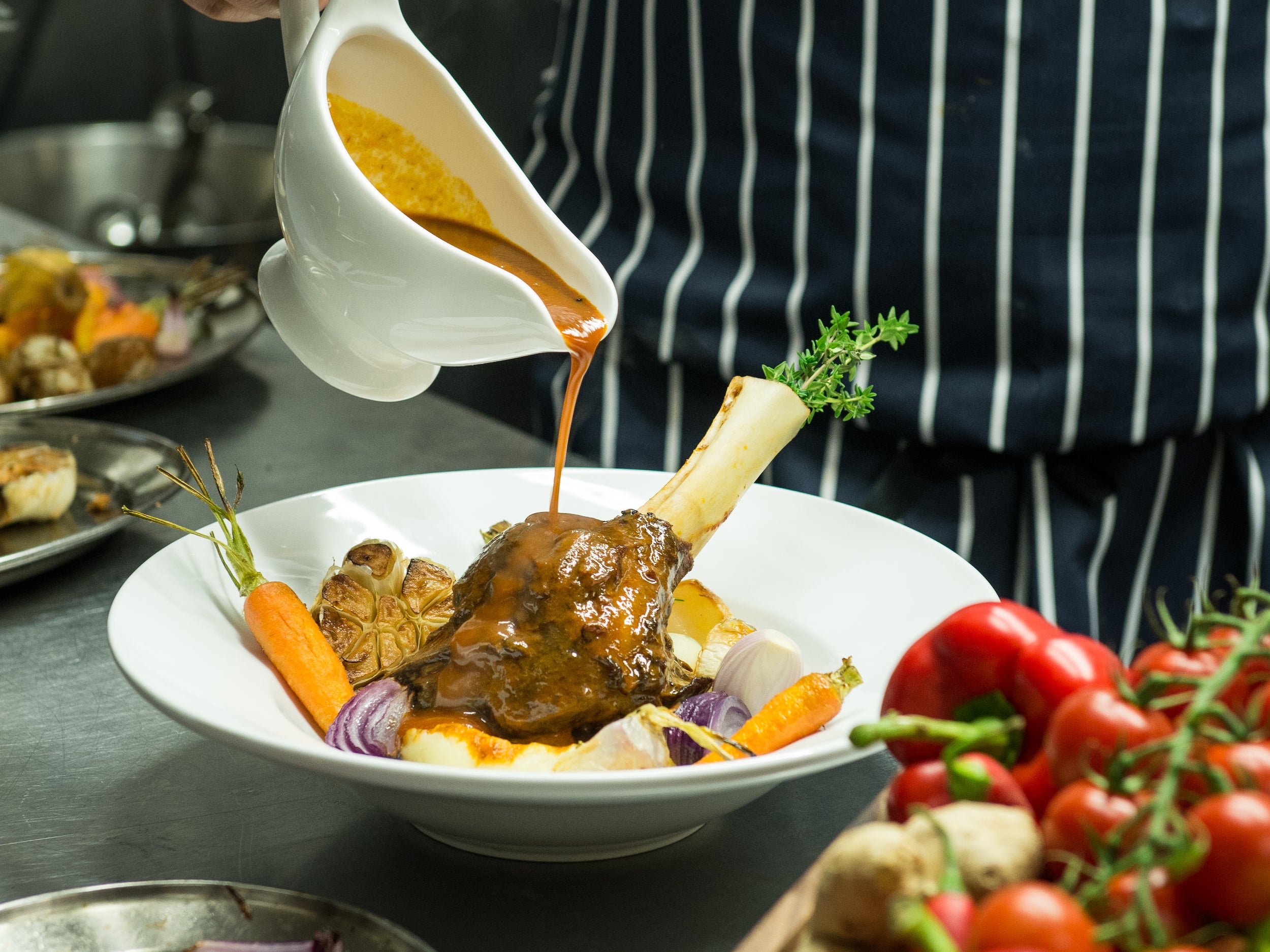 ---
Potatoes
We Irish love our spuds. Yes, it's a cliché, with a history as complicated (the potato blight resulted in the Famine of 1845-49) as it is surprisingly short (the potato was only introduced to Ireland in 1589). And yet the love affair with the potato is so strong that it has become synonymous with Irishness.
Some swear the best meals require two different potato sides, preferably three. Colcannon and champ are favourites (buttery mash with kale or spring onions folded through, respectively), as are everything from potato salad to fried potato chips (to be distinguished from fried potato crisps) and boxty (a potato pancake featuring both mashed and raw spuds).
Where to find it
Boxty is the house speciality at The Boxty House, where owner Padraig óg Gallagher is so serious about spuds that he has published research papers on them. Cornucopia's now-vegan signature salad of garlic potato with hazelnut has been on the menu since the 1980s. And for perfectly made chipper chips, there's Leo Burdocks at Christchurch or Beshoffs Bros in Howth, both of which have various other outposts across the city.
---
Oats
Before the mighty spud arrived in Ireland, oats were a staple food and their popularity has maintained. Today they've become the ingredient du jour for lovers of a wholesome breakfast to keep you going until lunch, whether as a hot porridge or cold overnight oats. 
Where to find it
Daddy's Café in Rialto make their overnight oats with oatmilk, berries, pistachio, coconut and mint, with Harry's Choco Nutbutter for extra indulgence, while Tang top their oat porridge with homemade nutty granola, fresh fruit and an indulgent honey-nut butter.
---
Cheese and dairy
Ireland's green pastures also yield the best dairy products, whether it's butter (always salted), milk, cream or cheese. The cheese toastie is a modern Irish staple: traditionally a simple affair indulged in the pub as soakage for a feed of creamy pints, you'll now find it elevated in highly competitive creative fashion in contemporary cafés and wine bars, inspired by the renaissance in Irish farmhouse cheese of the last few decades. Irish cheese is now world-class in quality, with diverse styles that range from ripe washed-rind cheeses and creamy blues to tangy goat logs and nutty aged hard cheeses.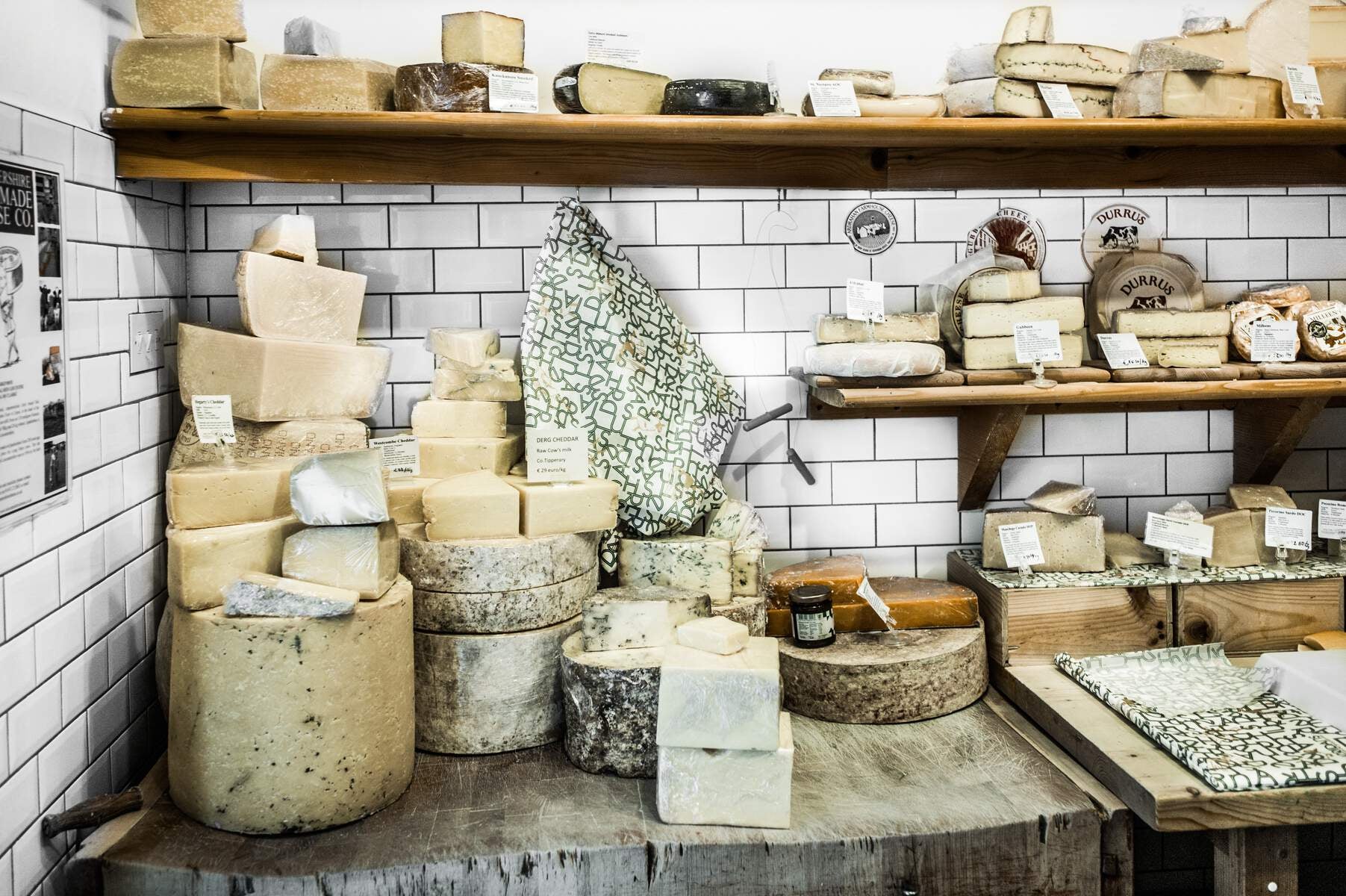 Where to find it
Purist cheese lovers shouldn't miss a pilgrimage to Sheridans Cheesemongers where every purchase becomes a tasting session and educational deep dive into Ireland's rich farmhouse cheese scene. They have a dedicated shop on South Anne St, but they have concessions in various branches of Dunnes Stores throughout the city.
Grogan's Castle Lounge, at the corner of Castle Market and South William St, is a gold-standard mecca for the old-school pub toastie, while their neighbours at Loose Canon give grilled toasties a seasonal, artisanal spin with specials like wild garlic and Cais Dubh cheese. Griolladh on Thomas Street (en route to the Guinness Storehouse) raise the ham and cheese toastie to art with their 'Hambo', featuring shredded gammon and bacon collar with a roasted glaze.
If you prefer your dairy ice-cold and creamy, there are plenty of places to get your hit, from the king of seaside ice cream cones that is Teddy's in Dún Laoghaire (don't forget the chocolate flake) to Murphy's ice cream parlour on Wicklow Street, where unique local flavours include Dingle Sea Salt and Irish Brown Bread ice cream.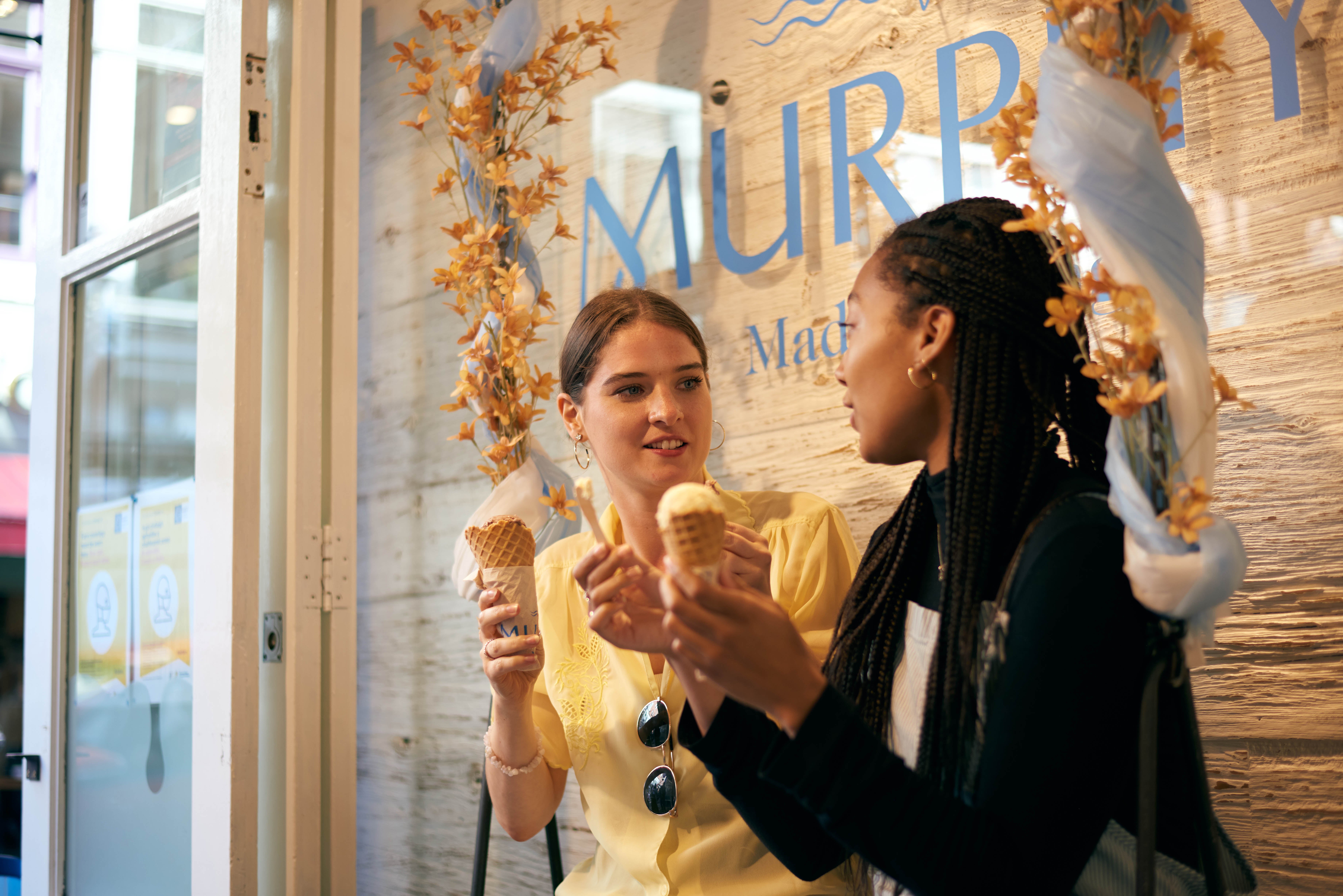 ---
Irish bread and baked treats
There was a time when every Irish mammy had her own family recipe for traditional Irish soda bread. No scales were required: the bicarbonate of soda (the raising agent) and the buttermilk (whose acidity activated it) were always measured by hand and eye. See also: soft and fluffy scones – made plain or with fruit - for slathering with Irish butter and homemade jam. And seasonal barmbrack (a cross between fruit cake and bread, and essential eating at Halloween) topped with even more butter. More recently Ireland has fallen in love with sourdough breads as well as heritage grains, reflected in an adventurous and confident approach to breads and baked treats across the city. 
Where to find it
That pride in Irish baking has seeped deep into the homegrown food culture, and you'll find excellent examples of brown soda bread across the city – served with everything from scrambled eggs (Avoca) to smoked salmon (Sheehans). Drop by the historical Bretzel Bakery, which has been in Portobello since 1870, and enjoy their range of expertly-made bread, from stoneground sourdough to tortano. Or pick up a loaf of seeded brown soda bread, Guinness and treacle bread or porridge and yoghurt bread at The Bakery in Rialto, where Graham Herterich, aka the Cupcake Bloke, also specialises in modern takes on old-school treats like mikado biscuits and barmbracks. And while you're at it, why not join the queue for brunch at Bread 41 and pick up a loaf of some of the city's best bread.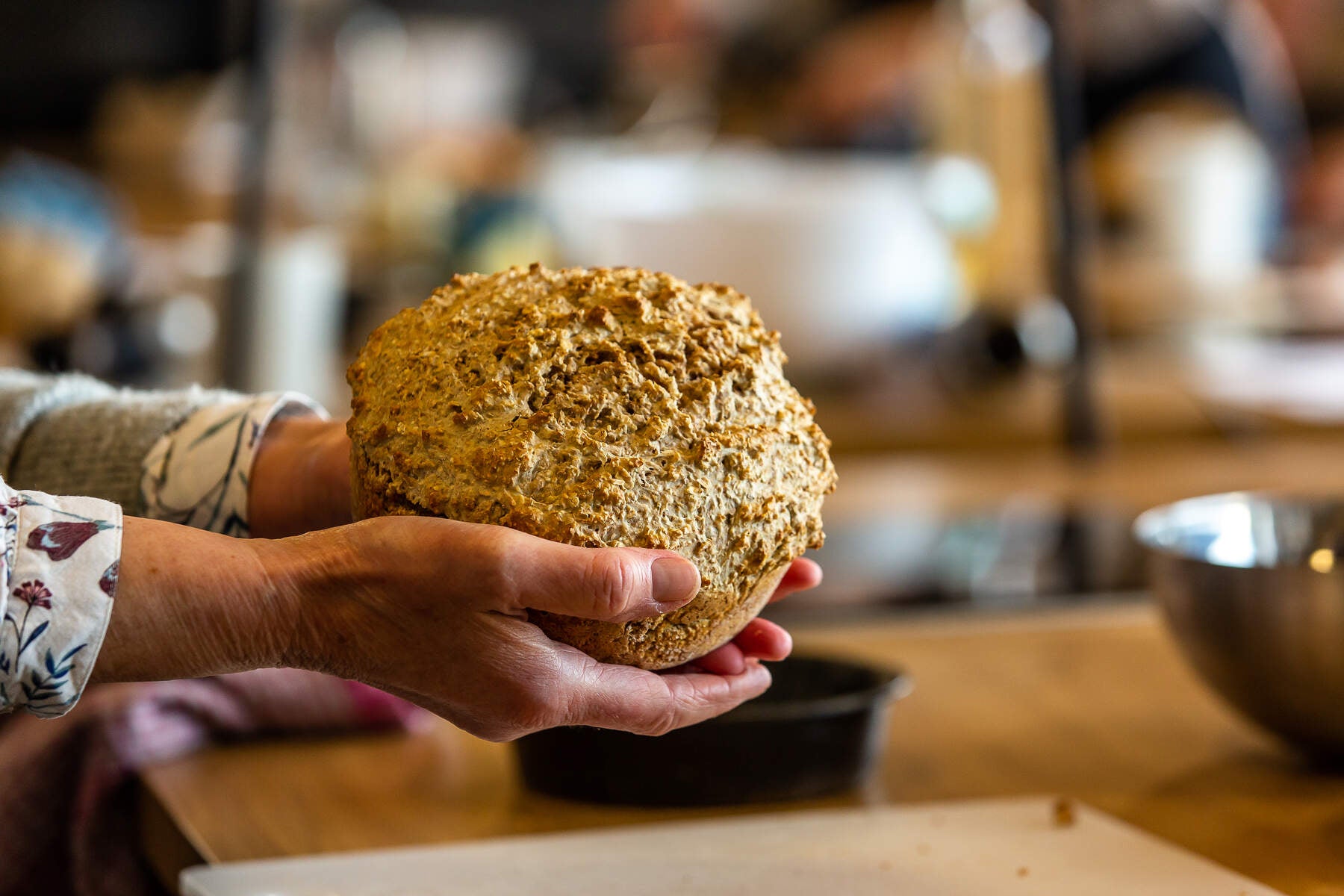 ---
Seaweed
Seaweed has made an impressive comeback in Irish food culture. This very traditional (if near-forgotten) ingredient was treasured in coastal communities as a snack, a tonic, a setting agent for milk puddings and a seasoning for cooking. 
Where to find it
Seaweed can now be easily picked up in supermarkets and health food stores like Down to Earth on South Great George's St (dried dillisk is delicious chewed on neat as a salty snack) and from local providers at markets around the city. It's a popular topping for Irish oysters – Locks tops theirs with a house kombu vinegar and rapeseed. Irish-farmed wakame seaweed also turns up in salad dishes at Asian kitchens such as Musashi and Eatokyo, as well as in breads and cheese courses such as the cheese and honey seaweed dish with wasabi sesame seed crisps at the Vintage Kitchen on Poolbeg St.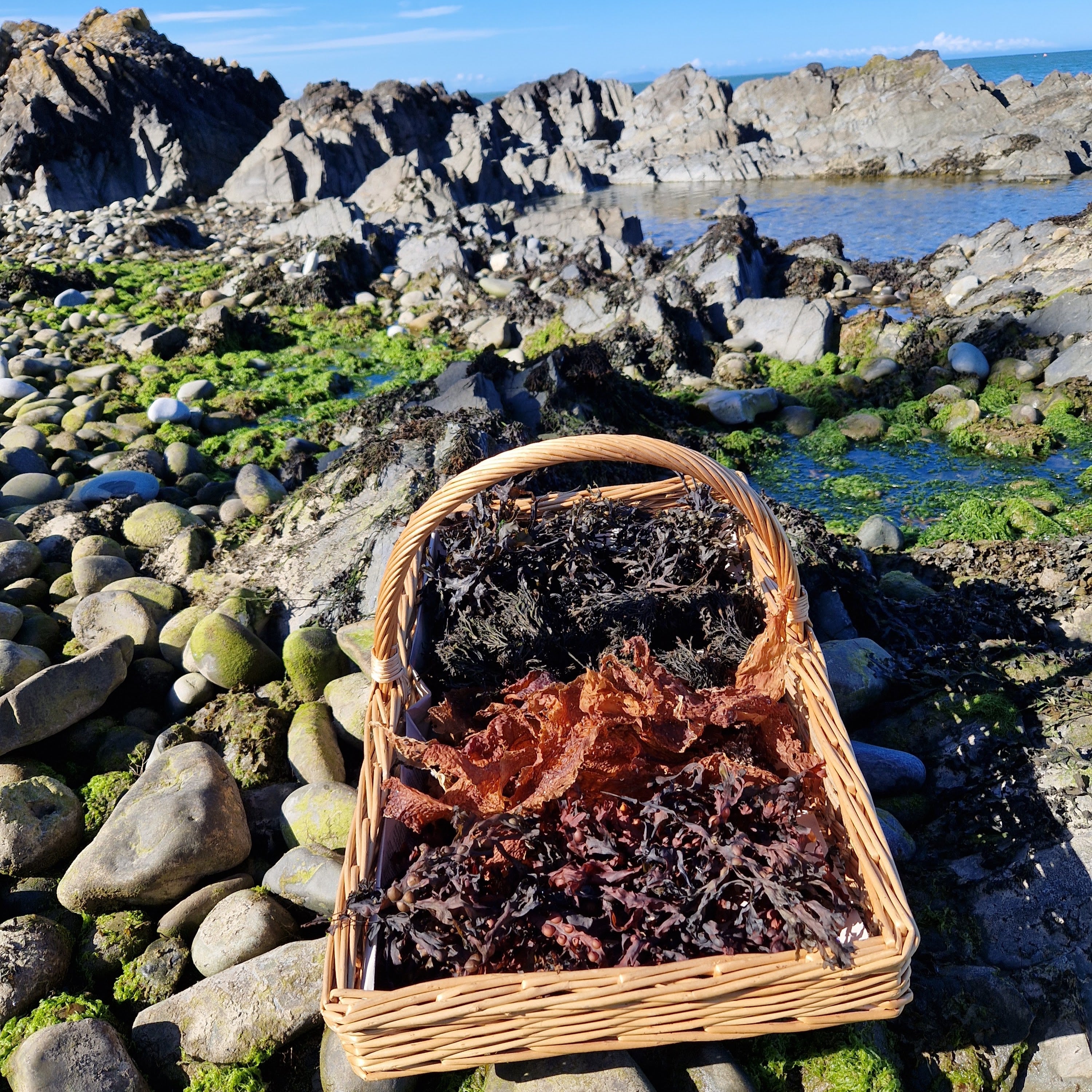 ---
Dare to try
Ireland has its fair share of traditional dishes that are challenging to the uninitiated but beloved by regular partakers. Blood pudding is top of that list, whether Munster's unique take on it (drisheen, which features a blend of cow's, pig's or sheep's blood with milk, salt and fat) or the more ubiquitous black pudding that you'll find across the land.
It also has plenty of modern popular staples which won't win any gastronomic awards but are now as Irish as bacon and cabbage. Some rule those late-night chipper queues: the garlic cheesy chips, the 'chips with bits' (crunchy scraps from the deep fat frier), the snack box (chips with chicken and sautéed bell pepper).
Some are saviours of the morning after, the deli-counter favourite that is the Irish breakfast roll (a baguette with your choice of egg, bacon, sausage or all three), or its workday lunchtime sibling, the chicken fillet roll, where your choice is grilled, spicy or BBQ chicken. And some are anytime, anywhere, cold-stone classics, such as the crisp sandwich, featuring cheese and onion crisps in between buttered white slice pan bread. The only (hotly contested) question is how to choose between Ireland's best-known brands: Tayto or Kings?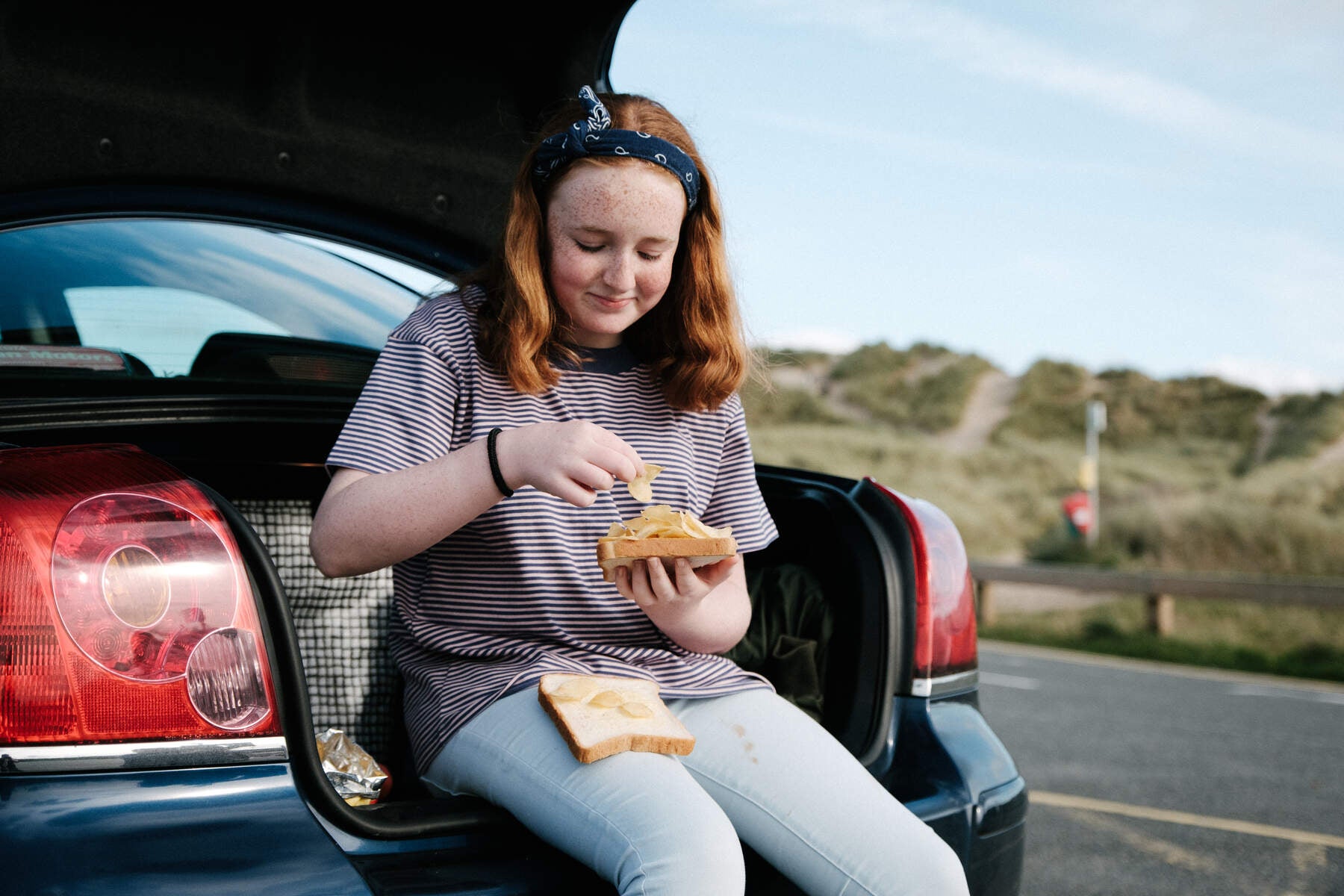 ---