Guides
Dublin's best shopping streets and districts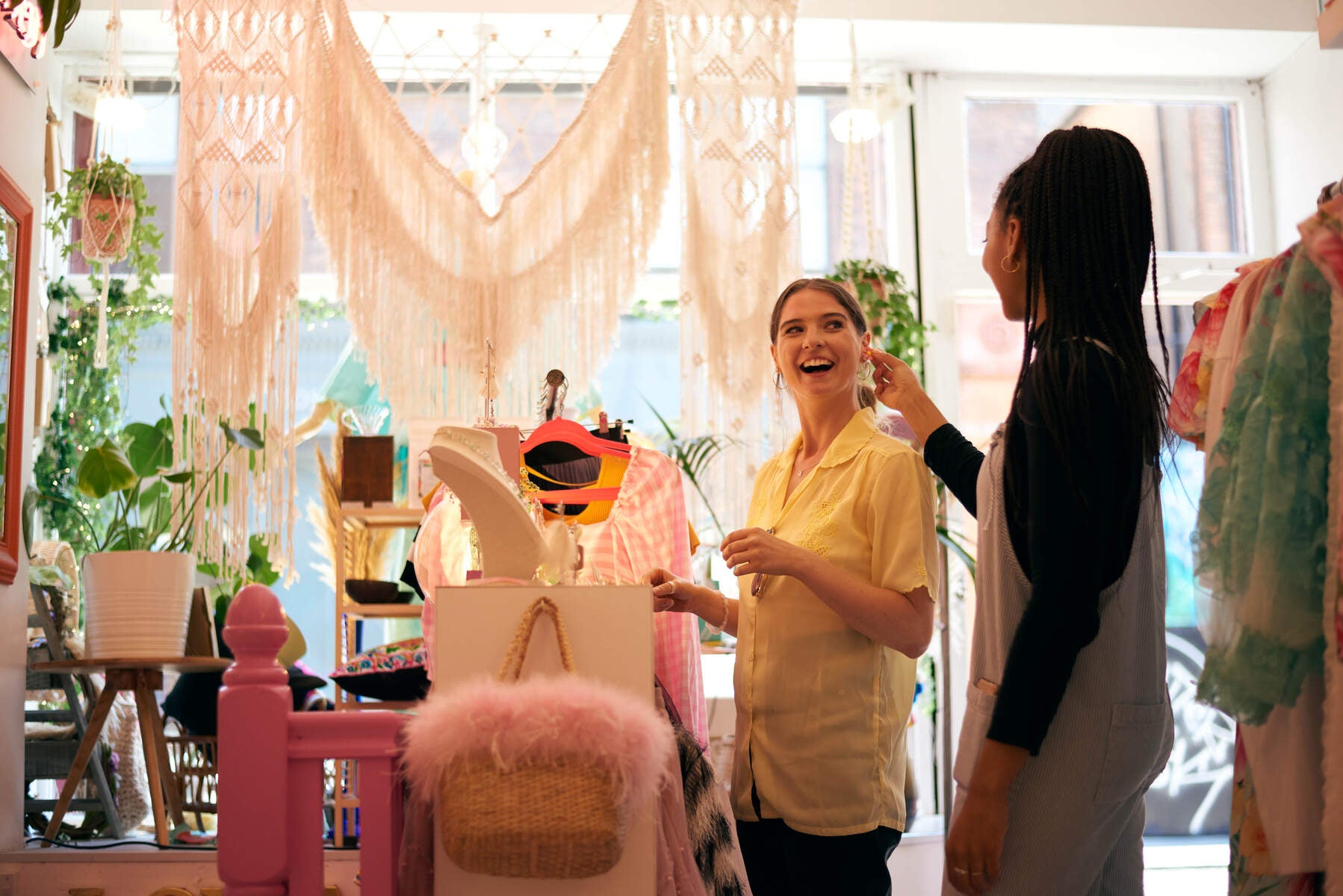 Dublin's shopping streets and districts have something for everyone.
Shopping in Dublin is as much about soaking up the atmosphere of the historic streets as it is about browsing boutiques. Grafton Street and Henry Street might be the two main pedestrianised shopping thoroughfares, but it's the side streets and back alleys that make it an eclectic and interesting city to shop. Venture a little further afield to Dundrum, Blackrock and Dun Laoghaire for your pick of markets and malls.
Here's where to shop in Dublin.
Grafton Street
Grafton Street is the hub of mainstream shopping south of the Liffey, with a good mix of high street chains, department stores and independent boutiques. It's also where you're likely to while away an hour watching buskers (it's where musician Glen Hansard cut his music teeth) and street performers that tend to camp outside the exclusive Brown Thomas department store. Here you'll find cosmetics, designer threads and high-end homewares. Across the road is Marks & Spencer (M&S), which has both a basement food hall and a rooftop café. A few doors up is the historic Bewley's Café, an institution since it opened in 1927, is famous for its sticky buns and its Harry Clarke stained-glass windows. Grafton Street is anchored by Trinity College at one end and Stephen's Green Shopping Centre at the other, a bright glass-domed mall with a glut of big-brand chains and smaller stores with an Irish bent.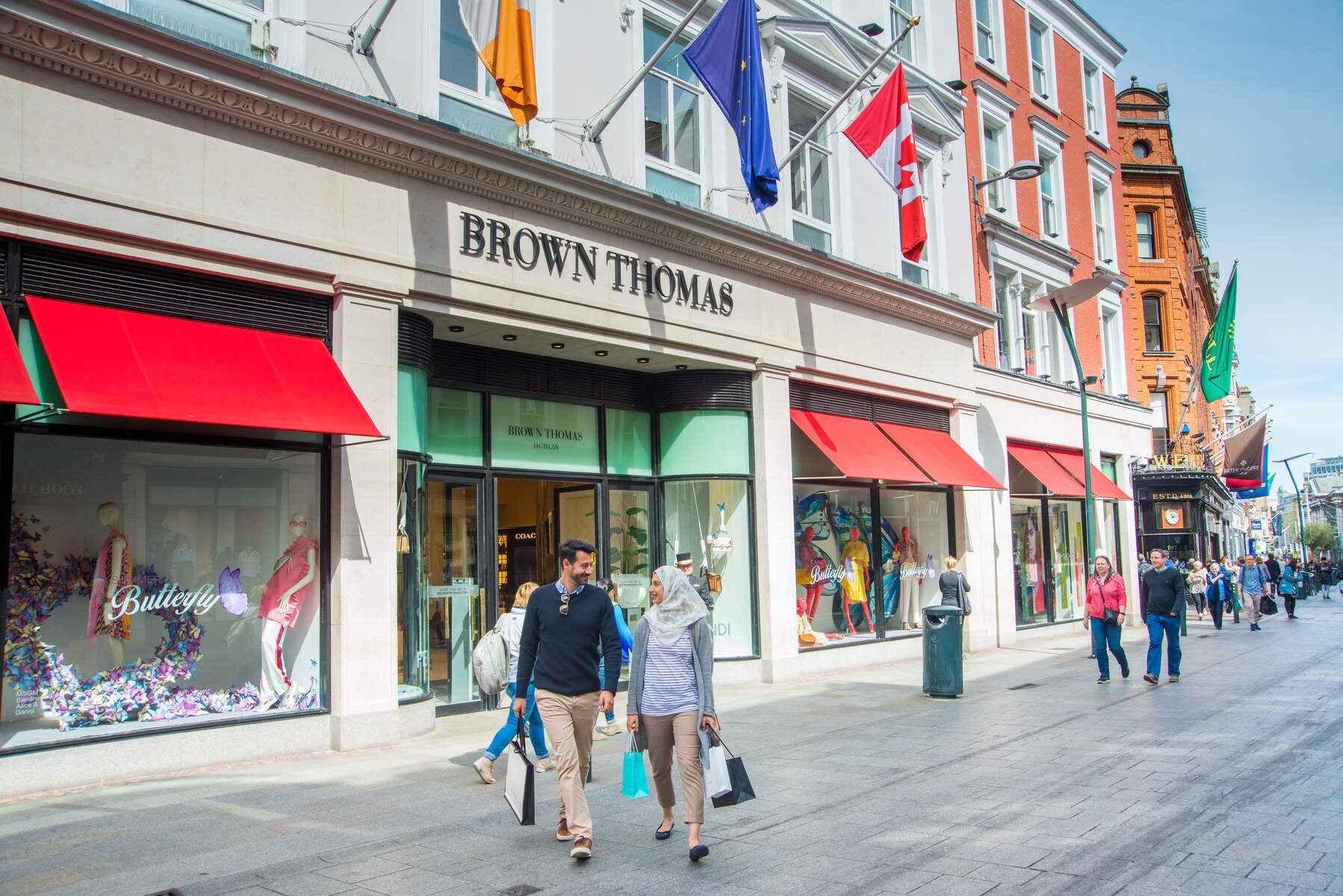 ---
Henry Street
Amble across the Ha'penny Bridge and onto pedestrianised Henry Street on the northside of the River Liffey. Many of the high street chain stores are represented here as well as Arnotts department store, a Dublin institution stocking everything from cosmetics and clothing to kitchenware, furniture and children's toys. Across the street is the Ilac Centre, with over 70 stores at ground level, while nearby the Jervis Shopping Centre has a broad mix of chain stores and a couple of cafes. Famous for their low-cost clothing, accessories and now an on-brand homeware line, Penneys is so popular with locals it's become the punchline of a running joke: when complimented on your outfit, the typical response is, "Thanks, Penneys." Round off the day with a dinner at the Winding Stair, a top-notch restaurant overlooking the Liffey.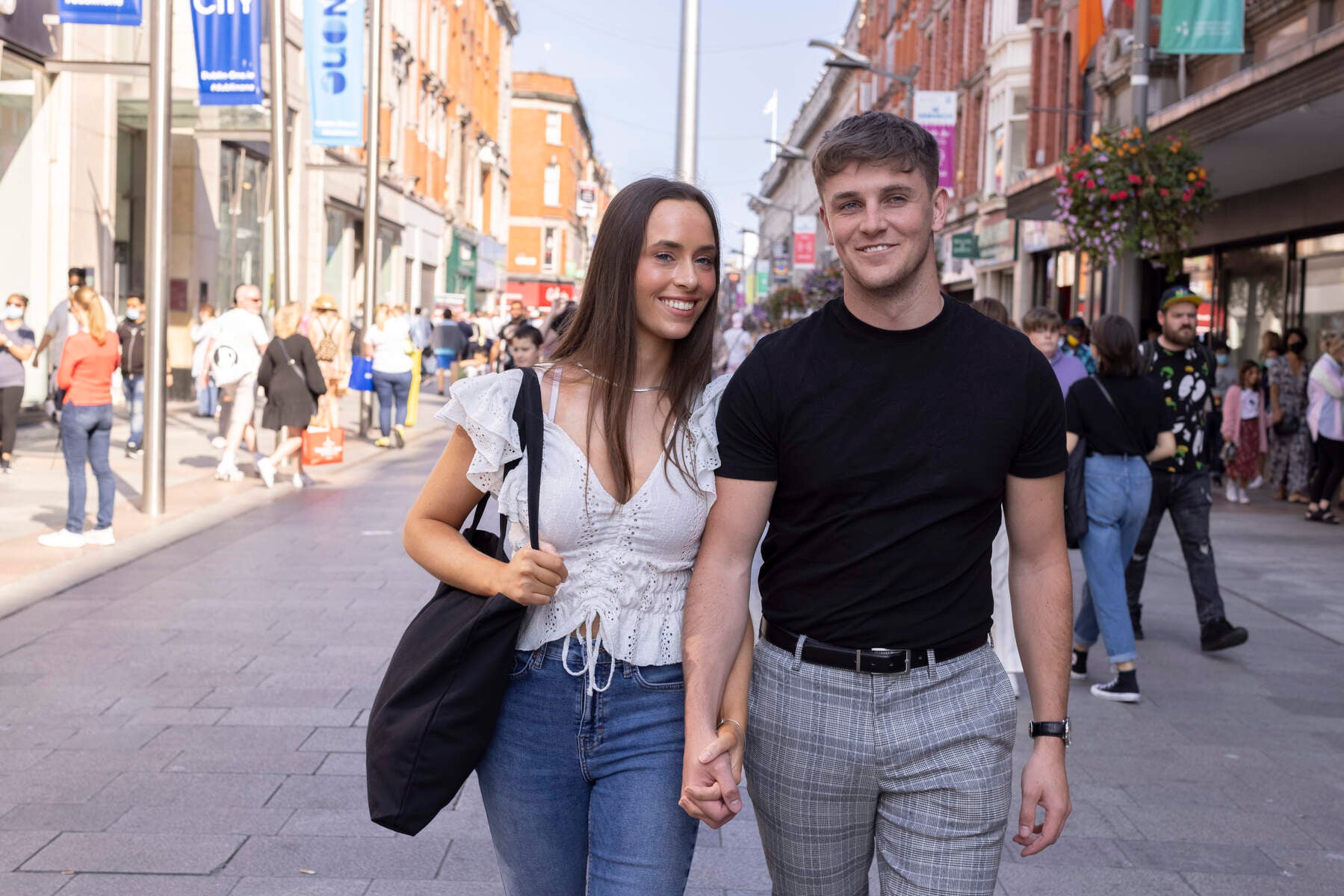 ---
Dundrum Town Centre
The largest mall in Ireland, Dundrum Town Centre is a good bet for a rainy day. There's a huge number and variety of shops to browse, including a new Brown Thomas outlet complete with café and shoe room. Other high-end stores sit alongside affordable consumer favourites across the mall's four levels. All the usual add-ons are here too: bars, restaurants, cafés, a creche, supermarket and a 12-screen cinema. It's conveniently located next to the Balally and Dundrum Luas tram stops and is well-served by buses.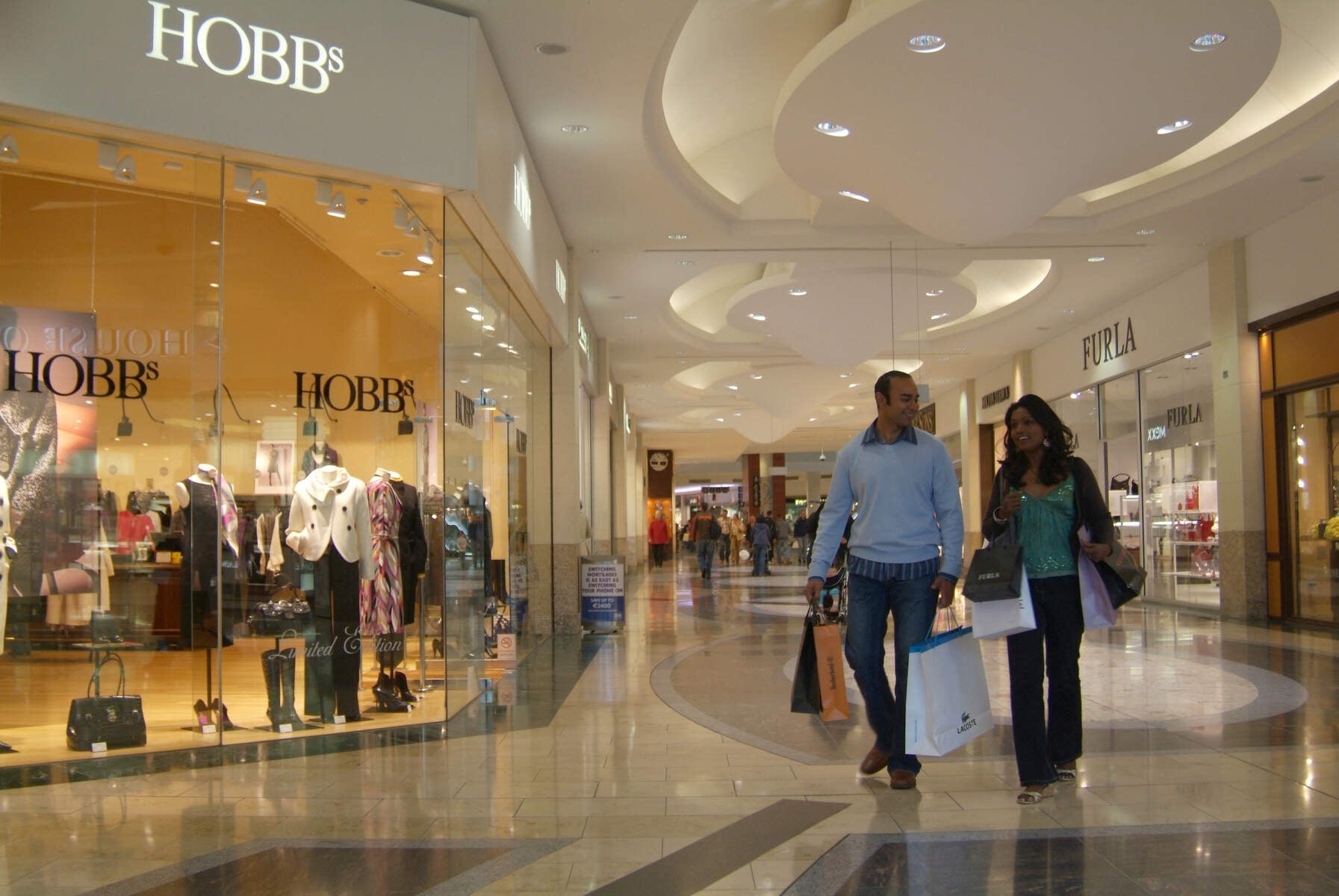 ---
Marvellous markets
Bargain hunter or browser, there's nothing like a market for atmosphere and affordable, eclectic finds. Liberty Market, on Dublin's Meath Street, has been selling everything from trainers to toys since 1973. On Saturdays, bibliophiles can wander to Temple Bar Book Market on Barnardo Square. You can hop on the DART to Blackrock Market, a haven for bric-a-brac and, more recently, gourmet dining. The nearby Dún Laoghaire CoCo Market on Sundays is perfect for picking up jewellery, crafts, and international foods and specialty ingredients.
---
The delightfully bohemian George's Street Arcade, housed in an elegant Victorian Gothic building, has been a fixture on the Dublin shopping scene since 1881. Shops selling vintage clothing, second-hand books, art, jewellery and crafts line the perimeter. The centre of the arcade is filled with great gourmet options including Umi Falafel and Simon's Place for when you need to refuel. There's even a resident fortune teller for all your future needs.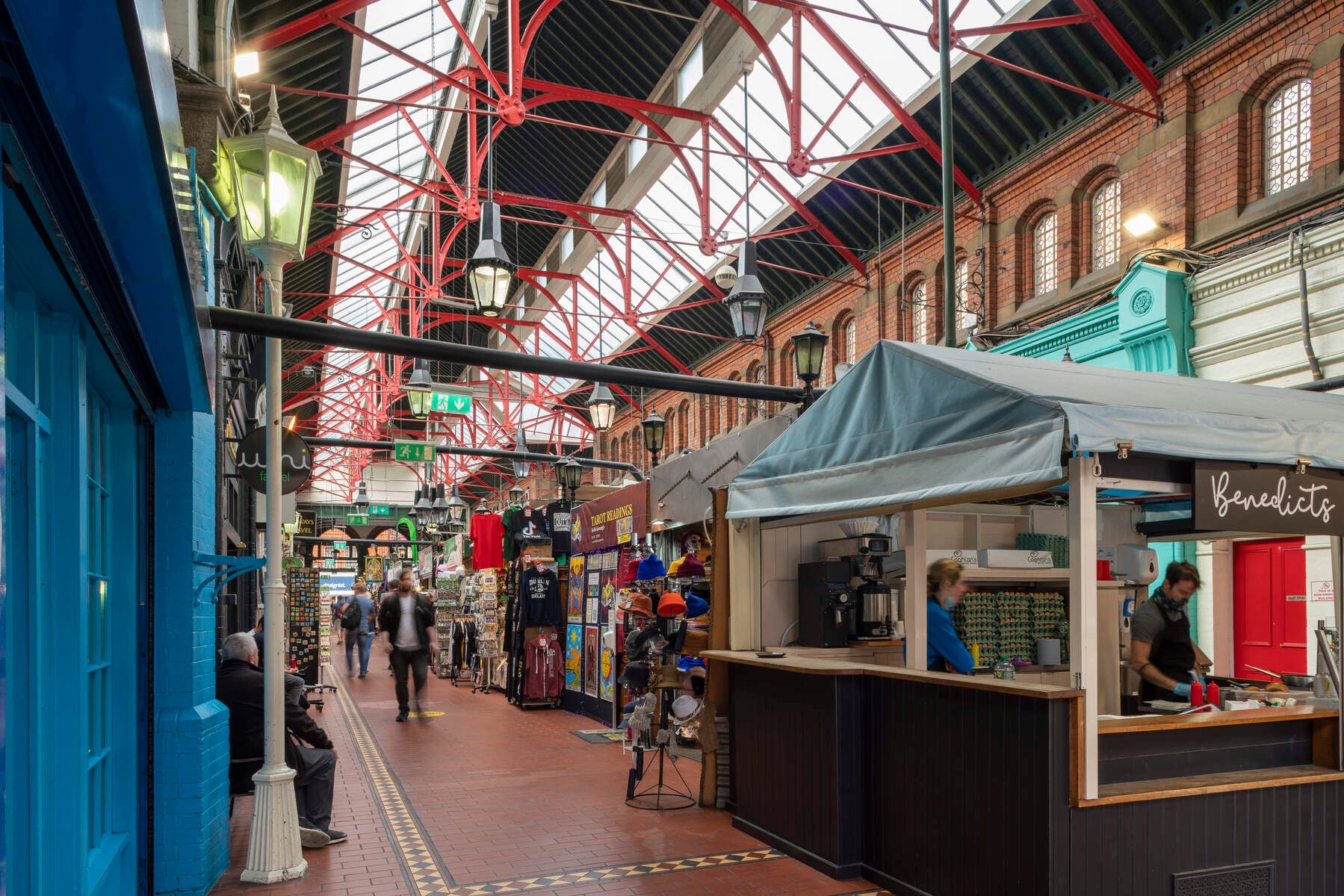 ---
City centre discoveries
The winding alleys off and around Grafton Street are teeming with excellent craftsmanship and independent shops. Ramble down Drury Street and you'll discover contemporary design including pottery, textiles and prints at the Irish Design Shop. Next door at Industry & Co, you can pick up everything from furniture and ceramics to stationery, then take a pit-stop at their café-cum-deli. There's one-of-a-kind designer dresses at the pocket-sized Costume boutique around the corner on Castle Market, the artery that connects George's Street Arcade and the Powerscourt Townhouse Centre. And you'll find some of the best international and Irish homeware designers at Article Dublin Powerscourt and Designist – two great stops for gifts.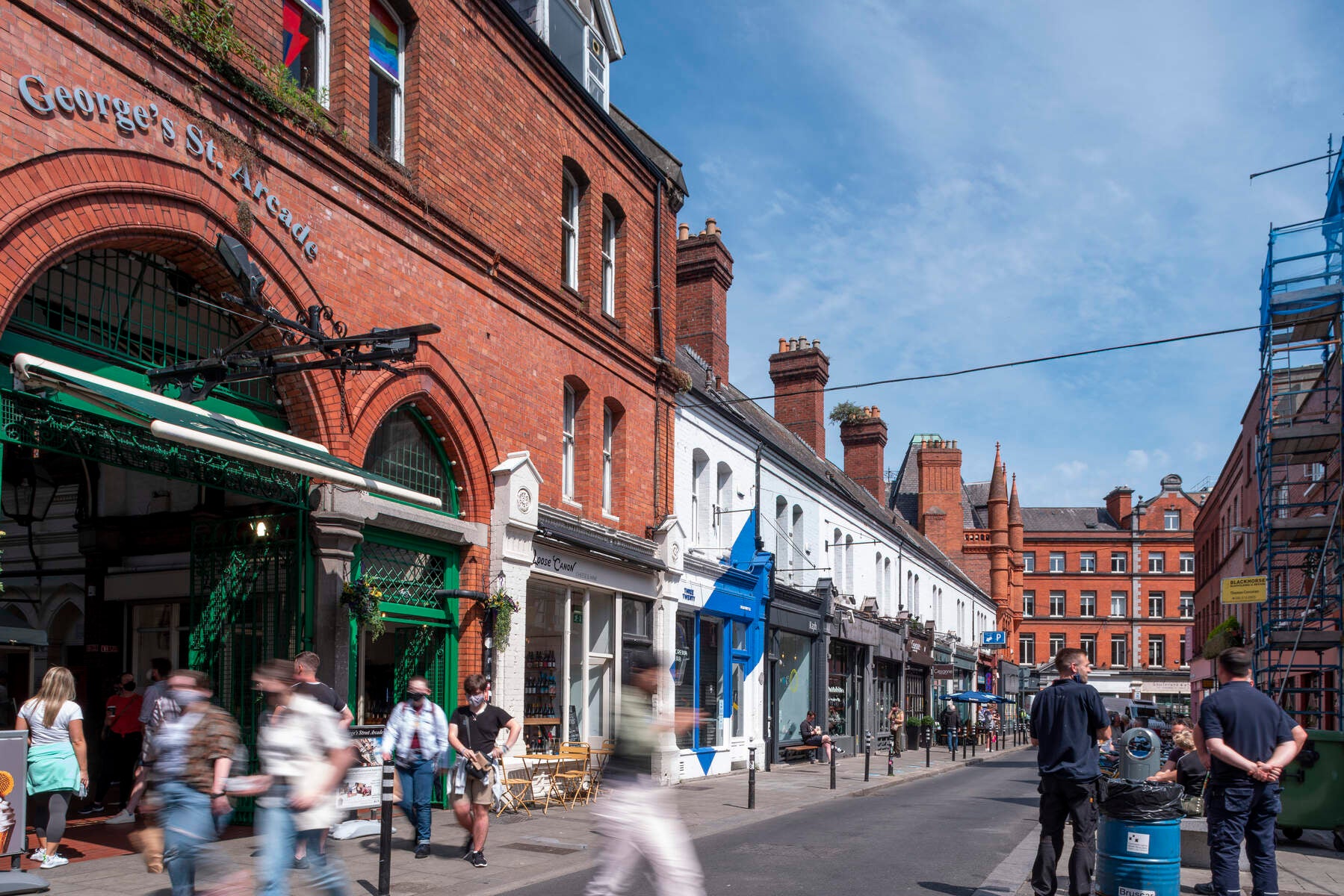 ---
Small, elegant and somewhat refined, the Georgian Powerscourt Townhouse Centre is a lovely place to spend an afternoon. Sit and enjoy a coffee from The Pepper Pot Café, or peruse the handful of shops that scatter its three floors. Pick up quirky and sophisticated homewares from Article, a bouquet or plant from The Garden, or minimalist jewellery and leather goods from MoMuse. Powerscourt is also home to SO Fine Art Editions, a gallery dedicated to emerging Irish and international artists. When you've exhausted it all, head for Farrier and Draper for a cocktail in one of their luxurious Georgian rooms.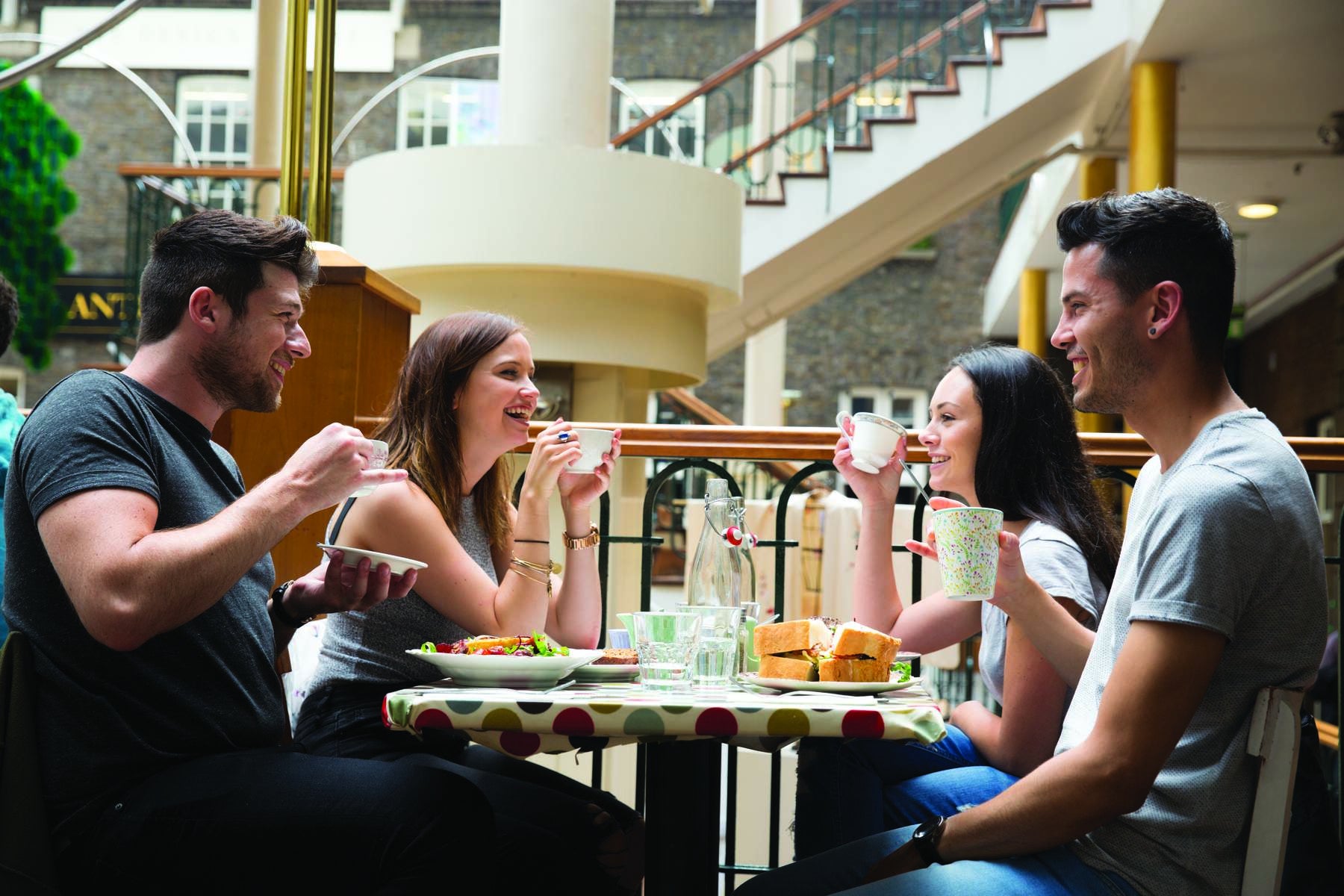 ---
Cow's Lane
On a weekday, you can wander down this cute pedestrianised street near Temple Bar into offbeat stores, where you're likely to discover all manner of knickknacks from vintage Italianate mirrors to Edwardian cabinets and taxidermy. On weekends, the street transforms into the Designer Mart offering one-off handmade designs from jewellery to underwear and art prints. After you've found a gem, head into the Queen of Tarts café and celebrate over tea and cake served on a vintage tea set.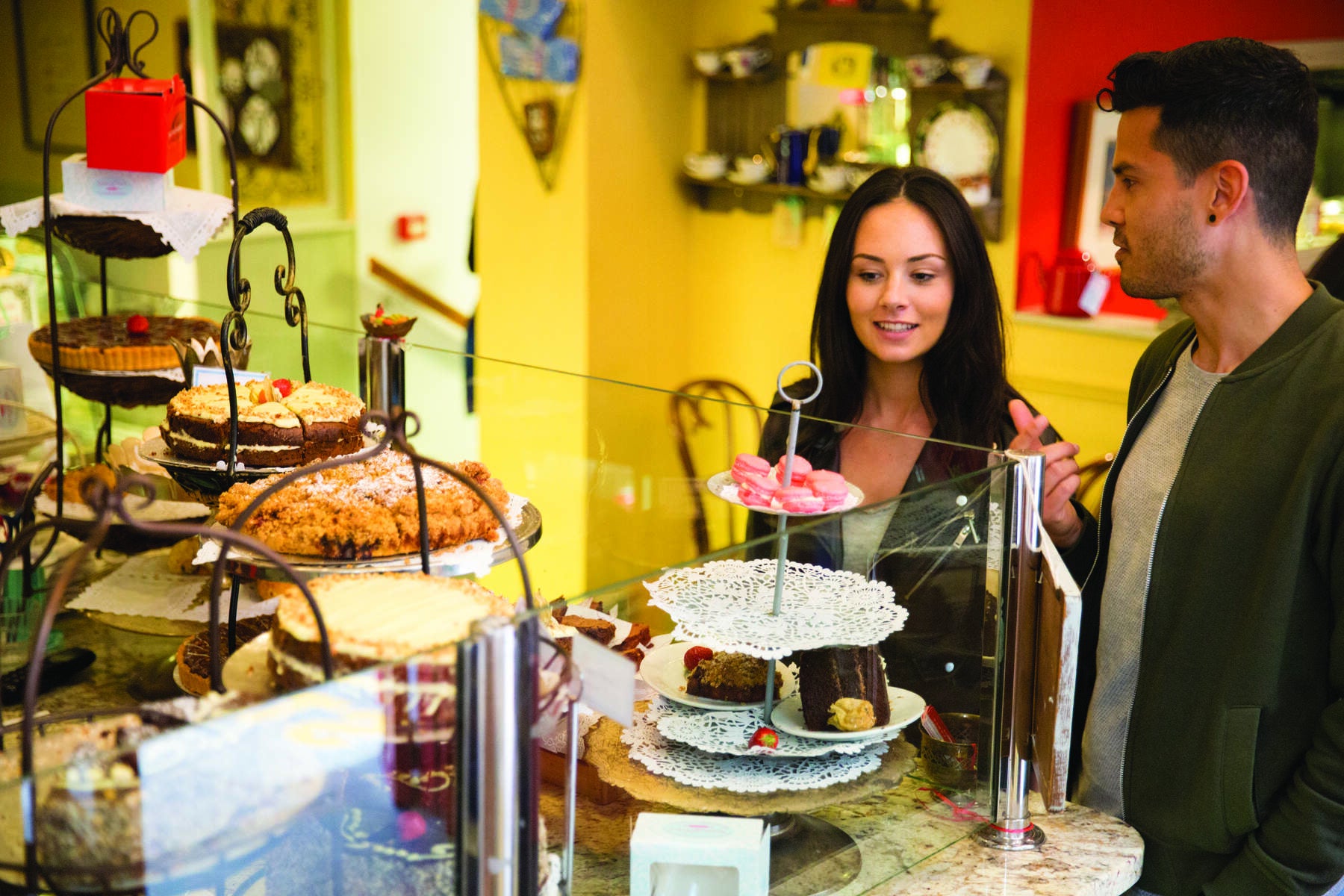 ---
Antiques on Francis Street
One of Dublin's most historic areas is also the city's art and antiques corner – and a hub for vintage finds. Antique emporiums sit side-by-side along Francis Street, selling everything from oil paintings and French porcelain to decorative objects and curios. Antiquarians worth checking out include Johnston Antiques and O'Sullivan Antiques. In the midst of it all is Oxfam Home, one of the most popular charity shops in Dublin.
---
Explore Dublin's design shops