Guides
Top 10 Dublin design and craft shops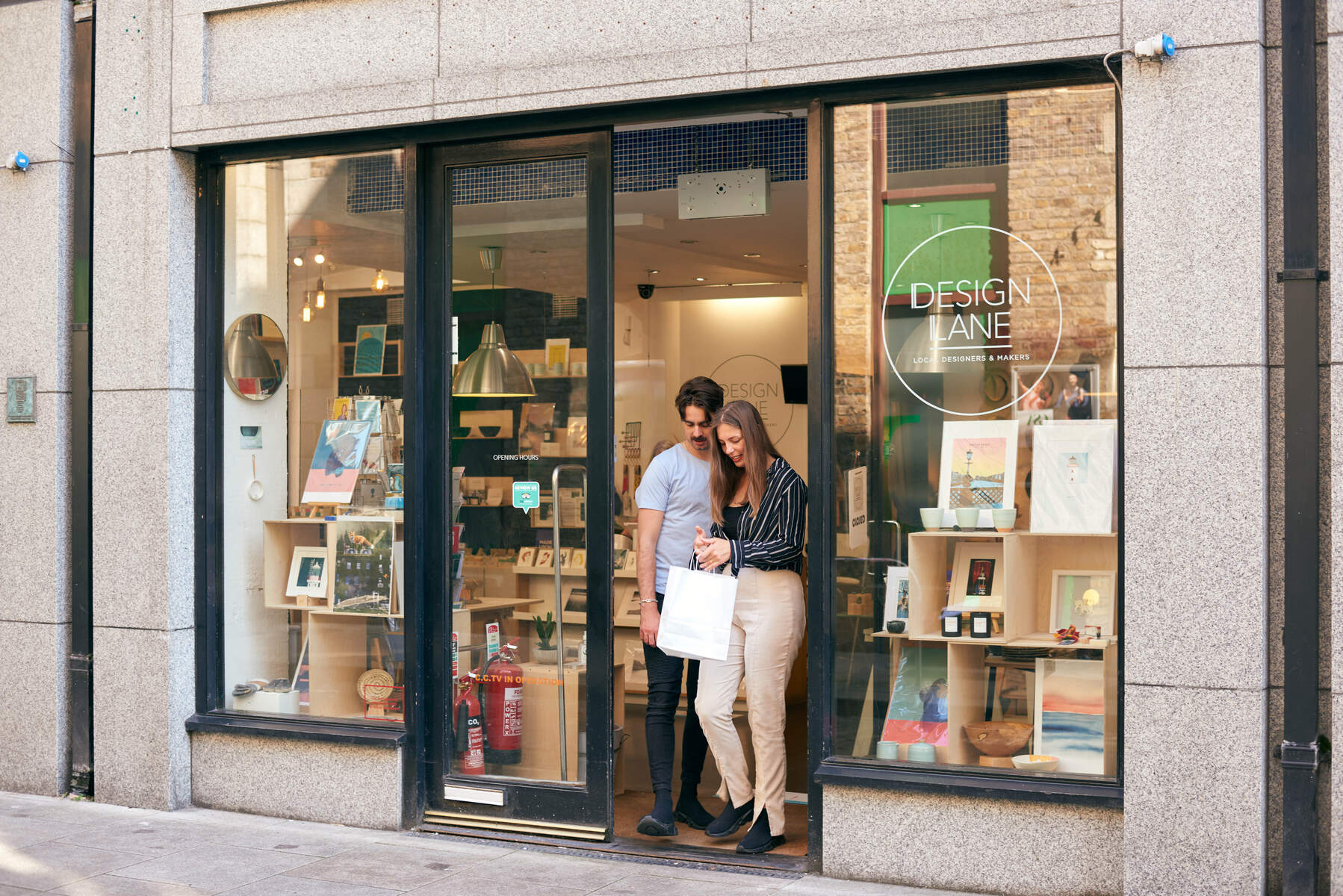 Whether you're looking for a handwoven herringbone blanket or a cool abstract necklace, the design shops of Dublin have you covered.
The city is home to a wide range of stores that showcase the artistry of the Irish craft scene, from pieces made using ancient techniques to modern twists on the classics.
If you're on the lookout for sleek homewares or modern art prints, there are plenty of places that fit the bill in Dublin.
Article
Just inside the main entrance to the Powerscourt Townhouse is fashionable design spot Article. The shelves here are stocked with homewares, stationery and design pieces, many of which were made in Ireland. Their selection of artwork is reasonably priced and eclectic, with prints of Dublin architecture from Clover Rua alongside old covers of the New Yorker. Be sure to spend some time milling around Powerscourt Townhouse, which is one of the finest Georgian properties in the city and filled with independent boutiques (including Chupi; see below) selling everything from antiques to jewellery.
---
Chupi
Many an Irish woman covets the jewellery from Chupi, which is inspired by the natural landscape of Ireland and made using sustainable gold and grey diamonds. Even the shop itself located on the top floor of the Powerscourt Townhouse, is enviably chic, with blush pink walls and wreaths of dried flowers draped around giant mirrors. The gold cabinets are filled with delicate rings, necklaces and bracelets, with pieces giving a subtle nod to Irish heritage in the form of bands shaped like hawthorn twigs or pendants cast from antique coins. 
---
April and the Bear
Spend a few minutes in April and the Bear and it should come as no surprise to learn that it's run by an interior designer. This little shop in Rathmines is filled with covetable pieces that every stylish young Dubliner wants in their home, like vibrant ceramic vases and angular pendant lights. Their range of cheeky art prints go down a storm, like the image of the Ha'penny Bridge converted into a Mario Kart game, or the sassy sketches from Irish artist Jess Tobin emblazoned with local phrases like 'Ah, here' and 'Happy out'.
---
Drury Street is a hotbed of stylish boutiques and the Irish Design Shop is one of the best. Spread over two floors, you'll find a well curated selection of ceramics, crafts and Irish books downstairs, alongside textiles like mohair throws and knitted socks from Donegal. Upstairs, there is a selection of geometric gold and silver jewellery that's all made locally. So locally, in fact, that you'll very likely see the jewellers making it right in front of your eyes, as this floor doubles up as their workshop.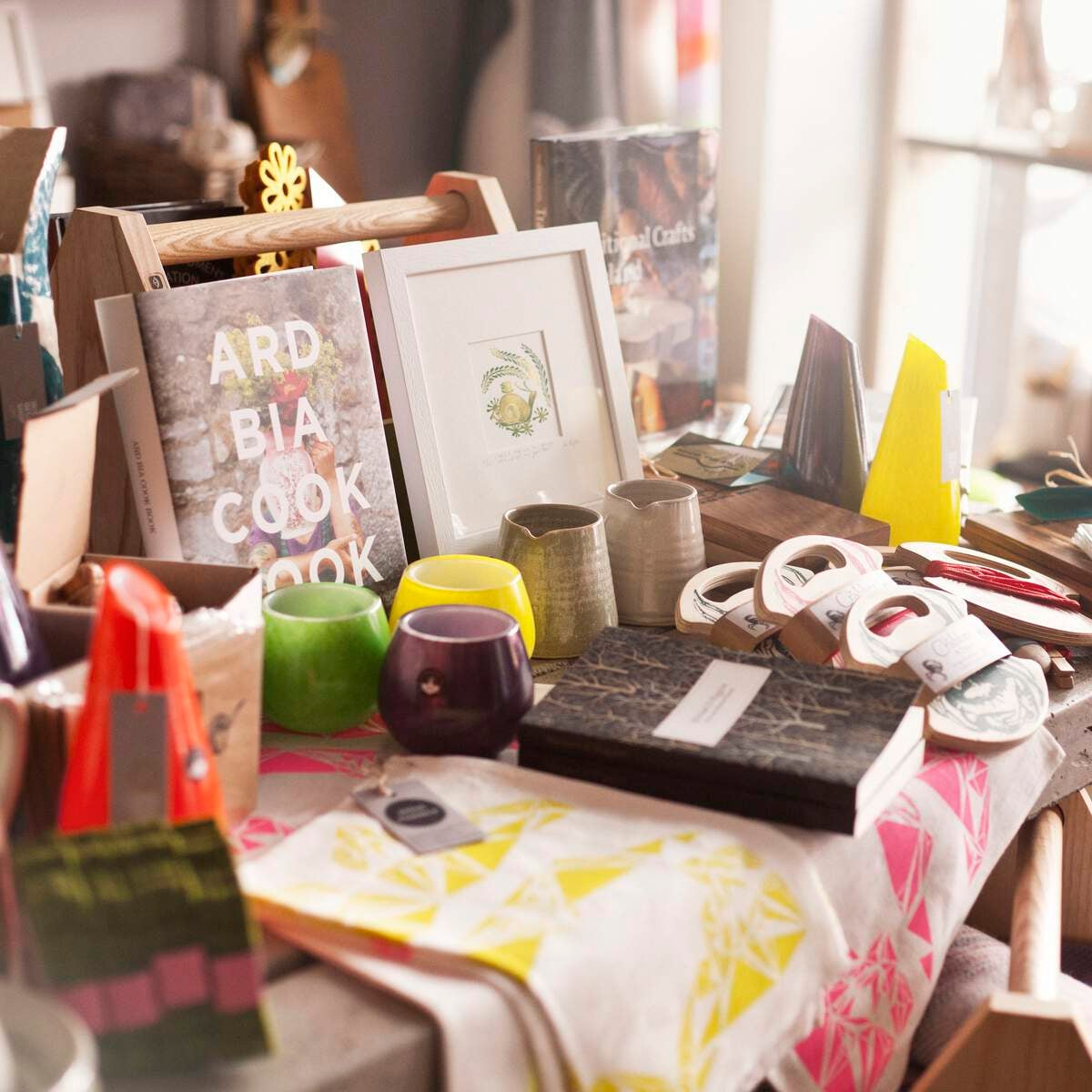 ---
Design Lane
On a quiet street in Temple Bar, Design Lane stocks a range of items from Irish designers and artists. You'll find everything from knitwear to hats as well as ceramics and cosmetics, most of which are priced at the lower end of the scale. They have a great range of candles in stock, including the Cork brand La Bougie with scents like kaffir lime and samphire. Their selection of artwork is extensive, with larger prints on sale alongside a huge range of greeting cards.
---
Just around the corner from Trinity College, the Kilkenny Shop is a huge store stocking everything from Orla Kiely kitchen bits to Newbridge silverware. They have a wide range of jewellery too, including contemporary brands like Juvi alongside classic designers like Martina Hamilton. It's long been a popular spot with international visitors who want to find a wide range of timeless Irish pieces all under one roof.
---
If you're looking for some seriously high end homewares, Industry & Co is the place to be. Browse the various collections and you'll find things you didn't realise you needed but now can't live without, like teak cheese boards and gold coffee spoons. They also stock an extensive range of lighting, including specialist Eddison bulbs and fittings made with reclaimed wood or ceramics. If all that shopping leaves you peckish, you can recharge in their café with a flat white and a sea salt chocolate brownie.
---
Find
This tiny shop at the quieter end of Temple Bar is a bit of an Aladdin's cave, with a combination of vintage furniture and smaller items for sale. The owners are good at highlighting quirky Dublin designers, so you can expect to see pieces like planters from Maka Ceramics or concrete lamps from Kaiko Studio. It's also a great spot for upcyclers, with the full range of Annie Sloan chalk paints and waxes available.
---
CA Design
There's a glam, mid-century vibe to the pieces in CA Design, run by renowned interior designer Carol-Anne Leyden. But while you'll find larger items of furniture in the Portobello studio, there are also smaller pieces you can browse, like diamond-shaped crystal wine glasses and linen sprays from the Irish company Clean Slate. There are also homey touches too, like plush sheepskin slippers and sea grass baskets.
---
There are a few branches of Avoca in Dublin and Wicklow, but the Suffolk Street shop is a handy spot to pick up woven blankets and homewares when you're in the city centre. The focus is on their own range of brightly coloured throws, scarves and wraps made with cashmere, merino and lambswool, but there are also other Irish designers and brands showcased over the three storeys. There's a great café on the top floor, too.
---
Fancy finding a unique gift, stocking up on artisan cheese or grabbing lunch from a food truck? There are so many great street markets all around the city.