Guides
Discover 13 of Dublin's best parks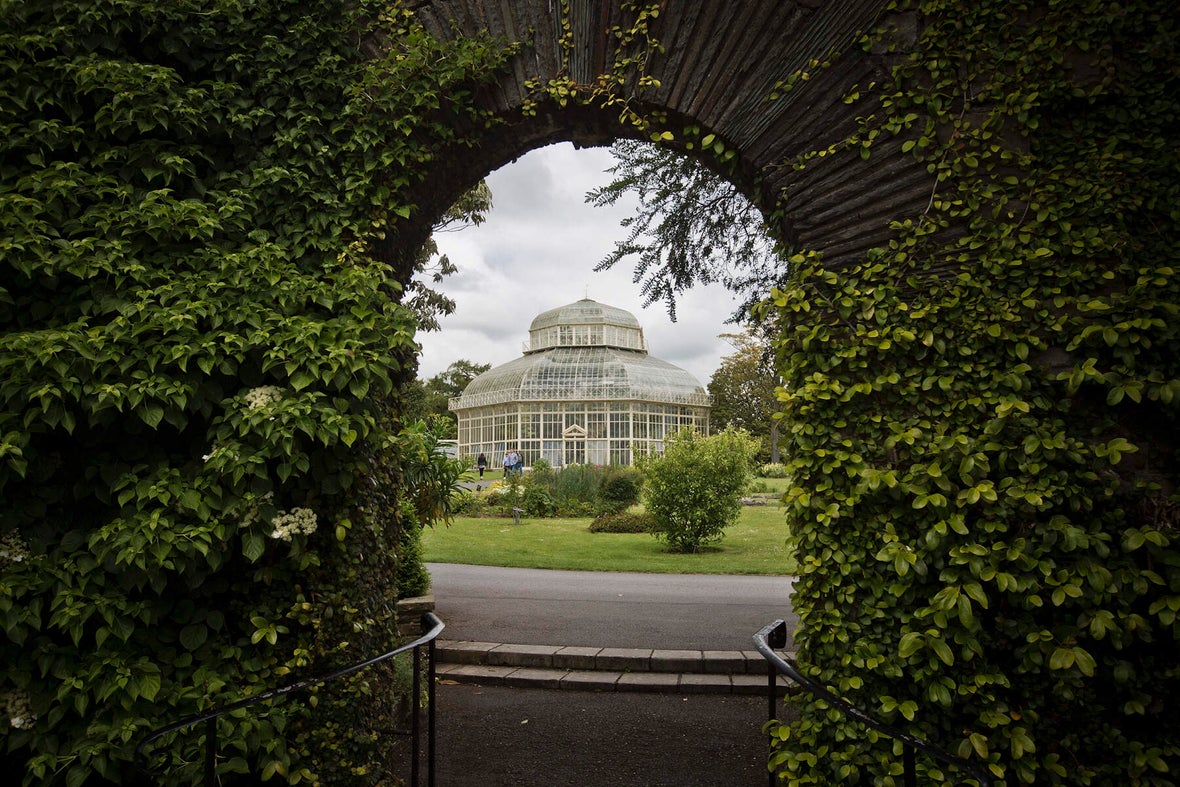 You'll find just as much allure in Dublin's parks as you will in the city's lively streets and famous pubs. From cycling through the quiet glens of Phoenix Park to meandering amid orchids inside the majestic glasshouses at the National Botanic Gardens, there are many ways to enjoy Dublin's historic green spaces.
Here's what to expect on a tour of the city's finest parks.
1.

2.

3.

4.

5.

6.

7.

8.

9.

10.

11.

12.

13.

14.
The largest enclosed park in Europe, Dublin's Phoenix Park stretches over 1750 acres inside an 11km perimeter wall. The park was set up in the 17th century as a hunting ground complete with fallow deer for visiting monarchs and then used by the military and for housing local government officials in the 18th century. Today it remains the official residence of the President of Ireland (Áras an Uachtaráin). The park contains walled gardens, monuments and many places of interest like a prehistoric burial chamber and the 19th-century obelisk of the Wellington Testimonial. The best way to see it all is by hiring a bike. And after you've finished exploring, try one of the independent restaurants and pubs in nearby Stoneybatter.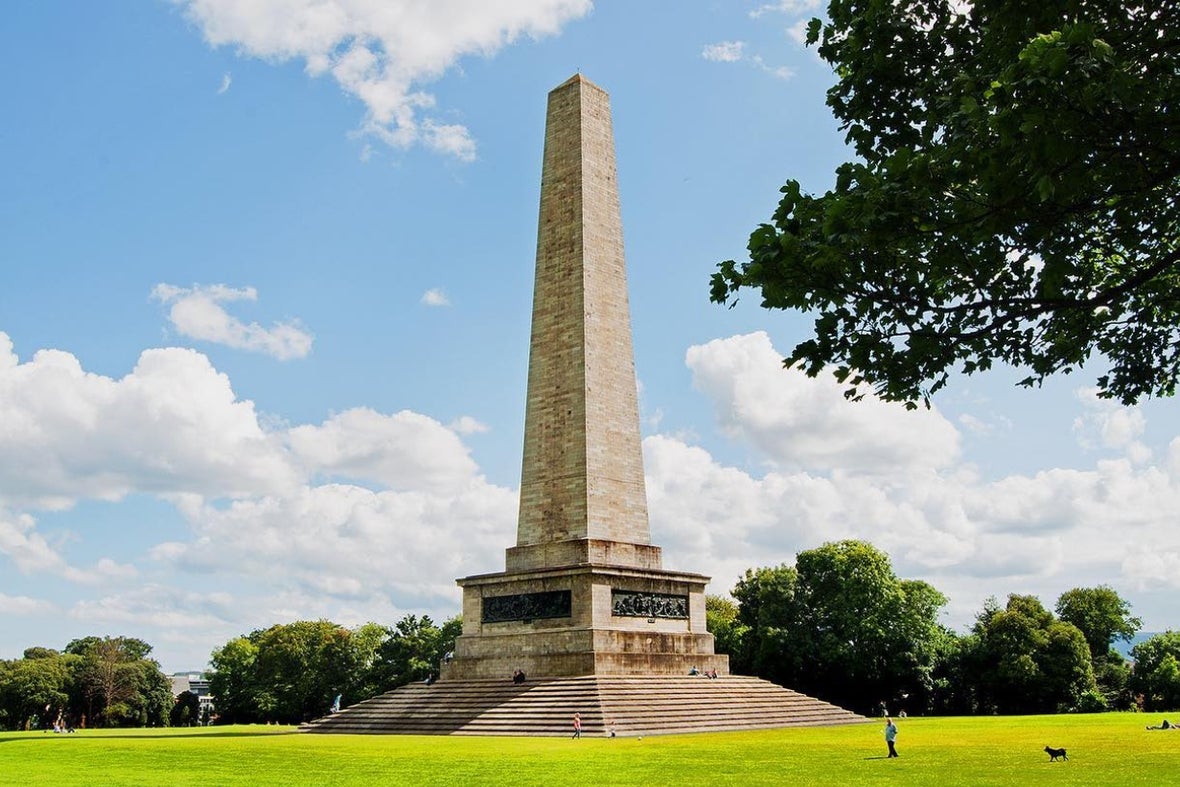 ---
Tucked behind handsome Georgian buildings on an unassuming street just south of St Stephen's Green, the Iveagh Gardens are one of Dublin's least known public spaces. These expertly manicured gardens were created by Scottish landscape designer Ninian Niven in 1865 for the Dublin Exhibition Palace. Within the garden walls you'll find Ireland's only purpose-built archery field, a charming miniature yew maze based on the one at London's Hampton Court and a waterfall flowing over a charcoal-coloured rockery made up with stones from each of Ireland's 32 counties. 
---
St Stephen's Green is one of Dublin's most evocative parks and the most accessible, being located in the heart of the city and just an easy saunter from Trinity College. The park dates back to the 17th century and its place in Irish history is celebrated with a large number of monuments and busts of important figures, including James Joyce and Arthur Guinness. Take a walk along the tree-shaded trails and among the flower beds of tulips, geraniums, wallflowers and petunias. Watch mallards, swans and moorhens glide across the ornamental lake and pay a visit to Edward Delaney's moving Famine Memorial in the northwest corner.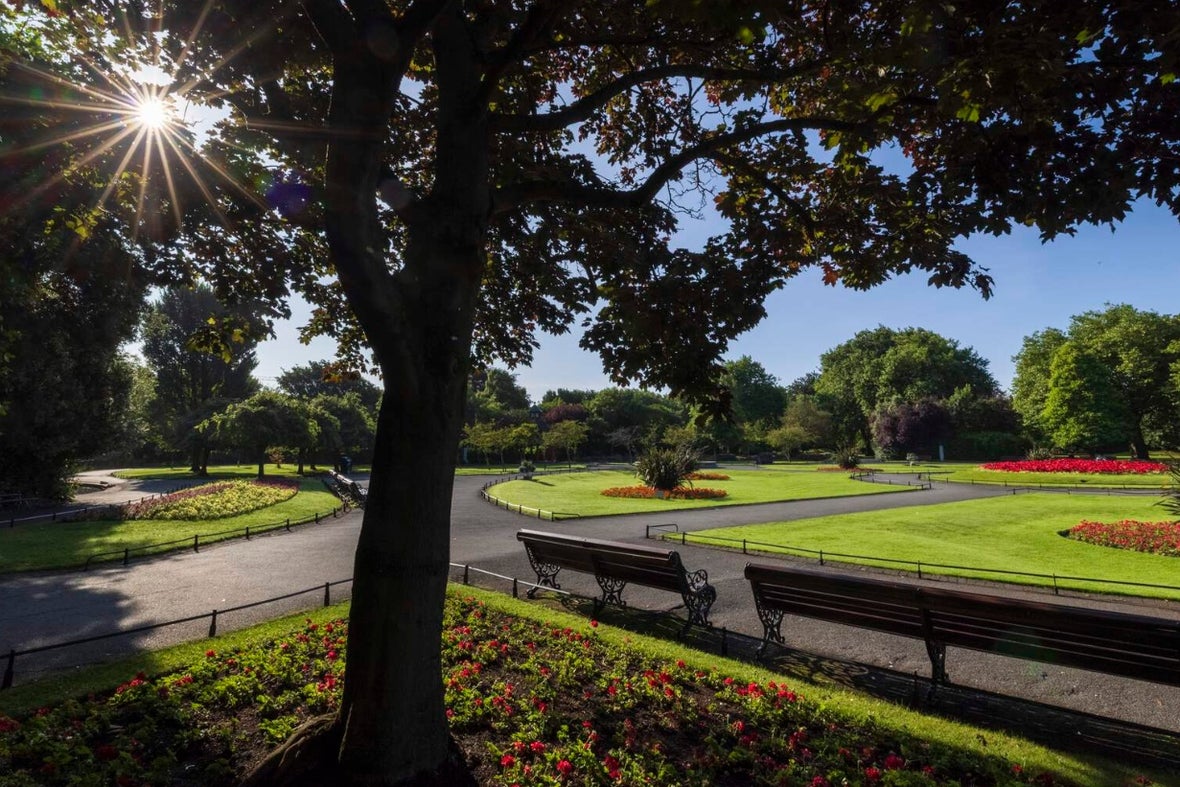 ---
St Patrick's Park
In the shadow of St Patrick's Cathedral, the tallest in Ireland at 101 metres, lies one of Dublin's most peaceful and underrated green spaces. Start your exploration by grabbing a coffee at the Tram Café nearby, and enjoy a picnic on the lawn or a stroll along one of the walkways to admire the views of the Cathedral. Take a tour of the Literary Parade, created in honour of Irish poets and writers like James Clarence Mangan, William Butler Yeats and James Joyce, and see the Liberty Bell Sculpture, a nudge to the Liberties neighbourhood in which the park is located.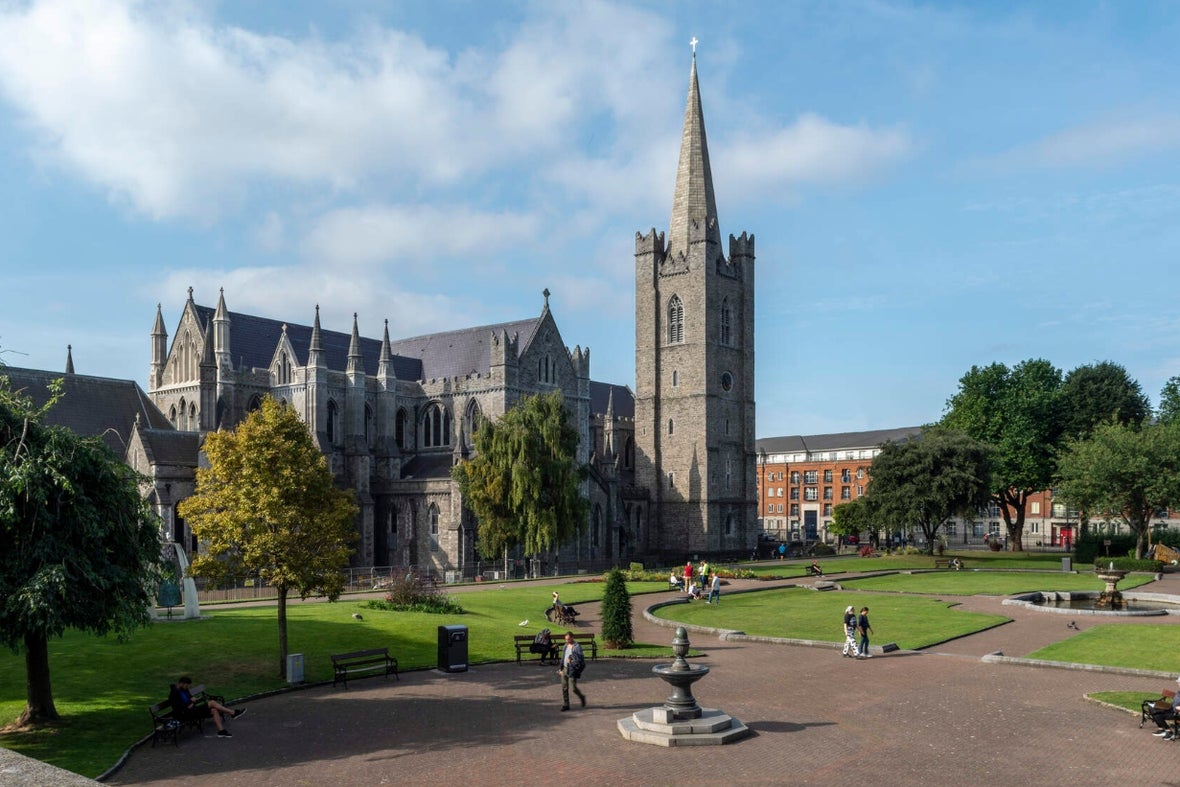 ---
There is comedy and character at the heart of Merrion Square, where you'll find a statue of writer Oscar Wilde reclining languidly on a large quartz boulder and a narrow throne-like 'Joker's Chair' memorial built in honour of alternative comedian Dermot Morgan. The compact lush green space in this Georgian square dates back to 1762 and is flanked by grand institutions such as the Daíl (the Irish parliament) and the National Gallery of Ireland. There is also an open-air art gallery from independent local artists every Sunday.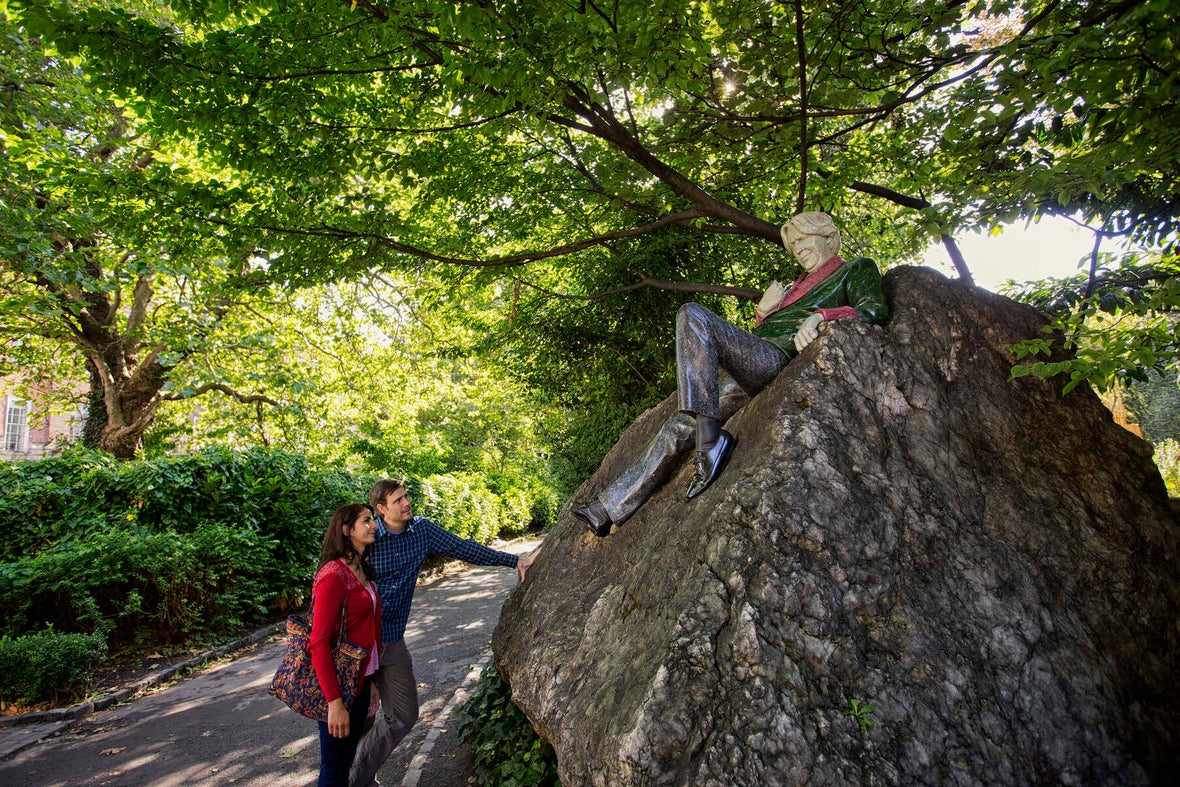 ---
St Audoen's Park and City Walls
The park sits within the medieval City Walls on the site of the St Audoen's Church's graveyard and is where you'll find St Audoen's Arch, the last remaining entrance to the city, and a section of the original walls. St Audoen's Park offers a small but fascinating window into Dublin's history, which is documented with a series of historic maps and signposts dotted around the paths. End your dive into the past with a pint in the nearby Brazen Head, the city's oldest pub.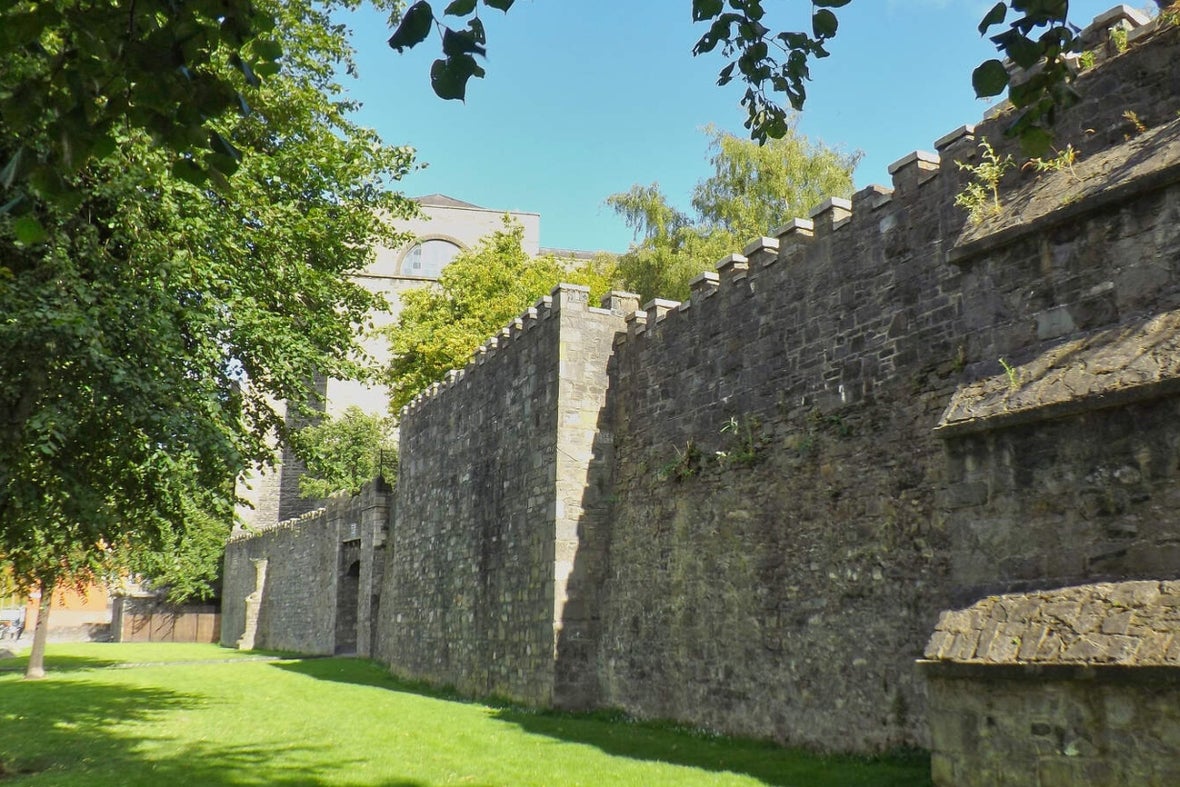 ---
Just south of Phoenix Park in a suburb west of the city centre, the Irish National War Memorial Gardens were designed by Victorian architect Sir Edwin Lutyens as a memorial to Ireland's 49,400 fallen soldiers during World War I. The monument has a classical design and is symmetrically arranged from north to south, with sunken rose gardens at each end and a central War Stone flanked by two fountains. A peaceful oasis within the city, it's a great place to relax and enjoy a book on a warm day.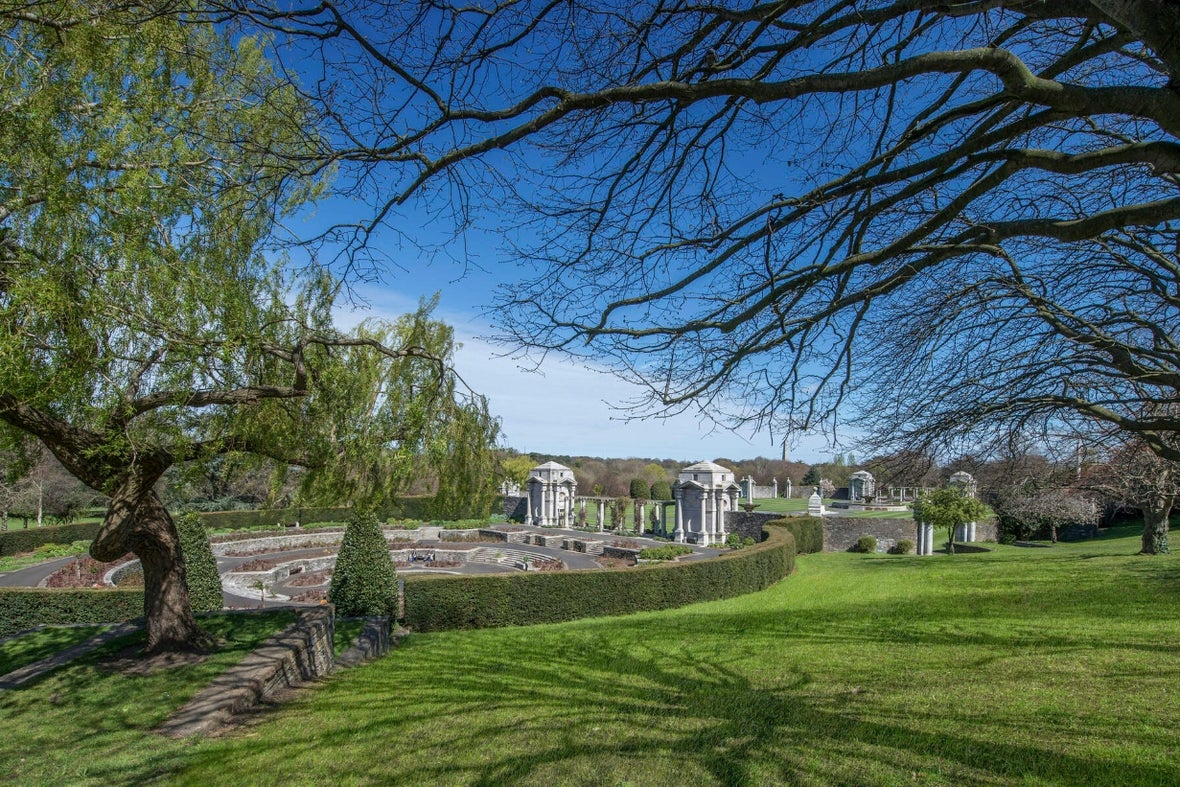 ---
Herbert Park 
A lush green space in an elegant neighbourhood, Ballsbridge's 32-acre Herbert Park has formal gardens, ponds, a bandstand and the highest number of cherry trees in the capital, making it Dublin's prime cherry blossom destination. Every Sunday between 11am and 4pm the park turns into Ballsbridge's foodie hotspot with long lines of stalls covering the majority of its winding gravel trails. At this food market, you'll find homemade cheeses, fresh artisan breads, organic vegetables, local delicacies and arts and crafts.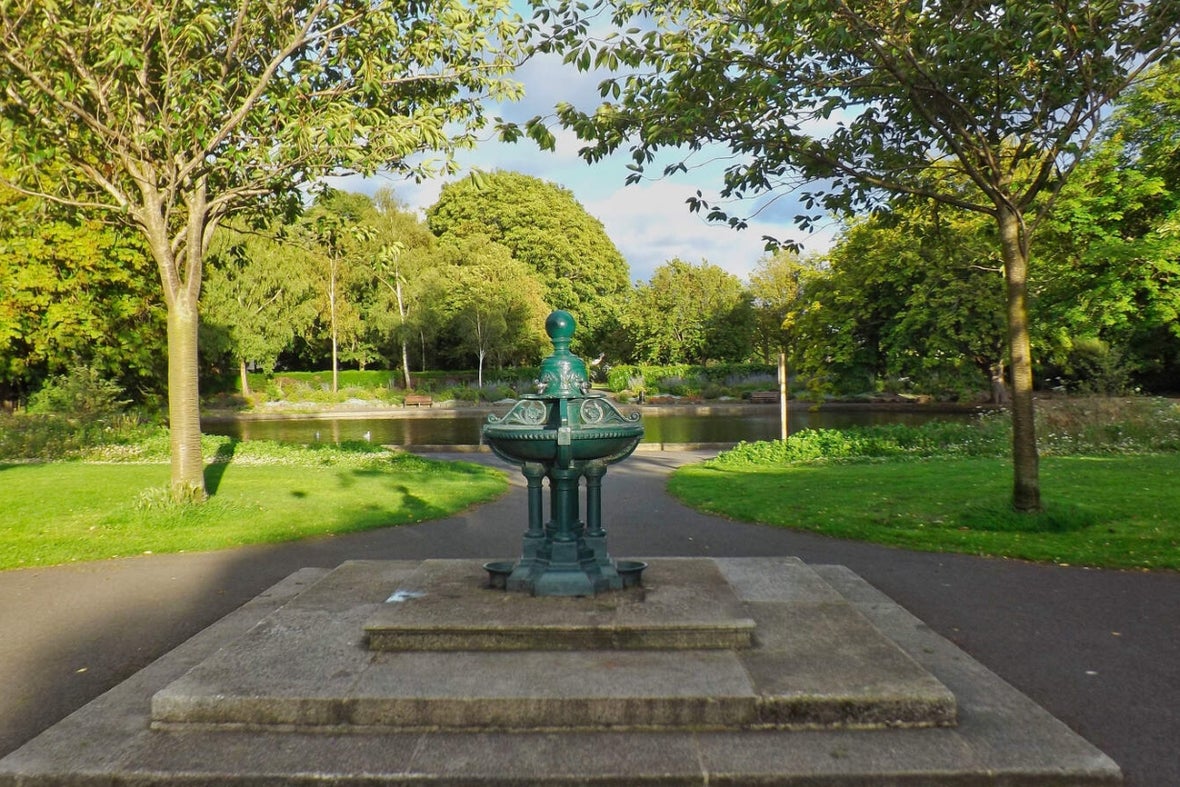 ---
The second largest municipal park, St Anne's Park stretches over 240 acres in what was once an estate belonging to the Guinness family in Dublin's northside. This vast area is home to wildlife like badgers, hedgehogs, rabbits and foxes which share the space with a number of follies. There are 10 to be exact around the river Naniken which crosses the park. You'll find a Herculanean Temple, a Pompeian Water Temple and a Roman viewing tower over a duck pond. If you're here on Saturdays between 10am and 5pm, you can enjoy these unconventional sights while sampling homemade chocolate, artisan cheeses and handmade preserves at the stalls of the park's superb Red Stables Market.
---
People's Park  
If you're looking to get away from the city for a few hours, head to the coastal location of People's Park, 12km south of Dublin city centre and just moments from Dún Laoghaire's shoreline. This small landscaped park was open to the public in 1890 and its Victorian design has been maintained over the years. You'll find the original railings, park lodge and bandstand, plus more recent additions, like the children's playground. Breathe in the fresh sea air, enjoy gorgeous views of the Howth peninsula and, if you're here on a Sunday, browse the market for handmade jewellery and soap, honey and local produce.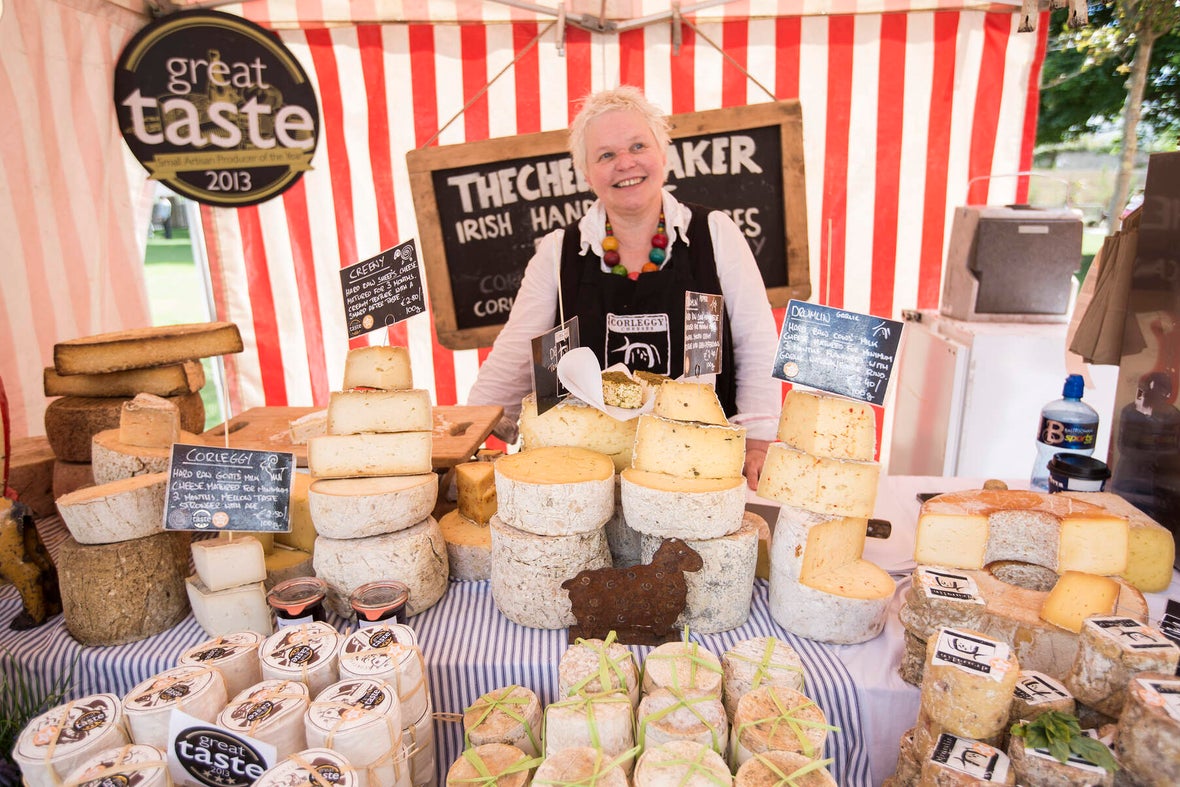 ---
Marlay Park is home to an ever-popular weekend market but this vast expanse in south Dublin also draws a large number of outdoor sports enthusiasts. The 210-acre park is more than worth the 10km drive from the city if you want to take advantage of its nine-hole golf course, tennis courts, dog park, two children's playgrounds and miniature railway. For an even more fulfilling challenge, Marlay Park is also the start point of the Wicklow Way, Ireland's oldest National Trail through the cinematic Wicklow Mountains.
---
The 51-acre Bushy Park in the Terenure neighbourhood of south Dublin dates back to 1700 when Arthur Bushe, secretary to the Revenue Commissioners, built 'Bushes House' on a section of land that was later sold, expanded and renamed Bushy Park. As well as its meandering woodland trail along the Dodder River, the park hosts the Terenure Village Market. Every Saturday between 10am and 4pm you can sample delights from all over the world, from churros, burgers, donuts and gourmet grilled sandwiches. 
---
The 19.5-hectare National Botanic Gardens in Glasnevin, only 3km from the city centre, grow a head-spinning 15,000 species of plant (from wild Irish white dryads to exotic palms). The restored 19th-century glasshouses however are even more impressive. Using a series of computer-controlled climates to reproduce environments from around the world, the glasshouses contain different species, from waterlilies, cacti and succulents to palms, orchids and alpine plants. Learn more about the gardens and the 300 rare plants housed here by joining a guided tour.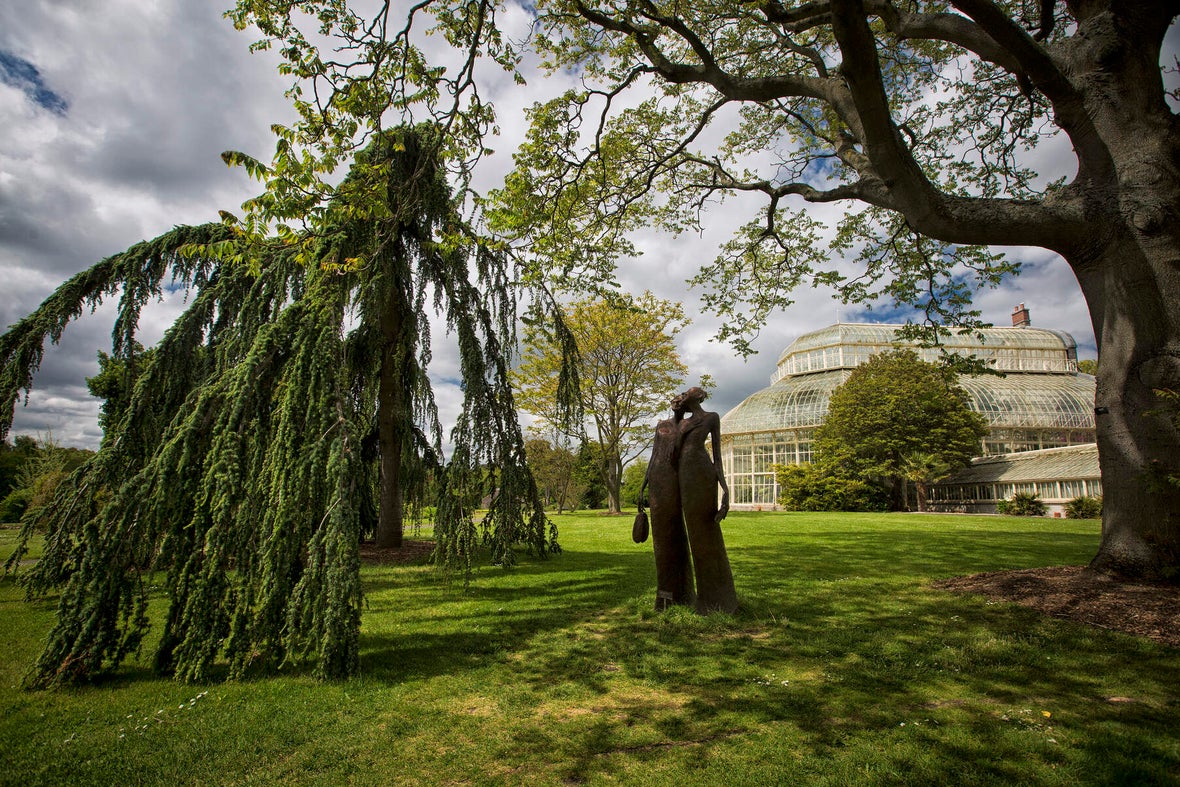 ---
Explore the great outdoors
From forest-covered mountains to long stretches of coastline, there's plenty more of Dublin's nature and wildlife to explore.