Guides
The 10 most Instagrammable landmarks in Dublin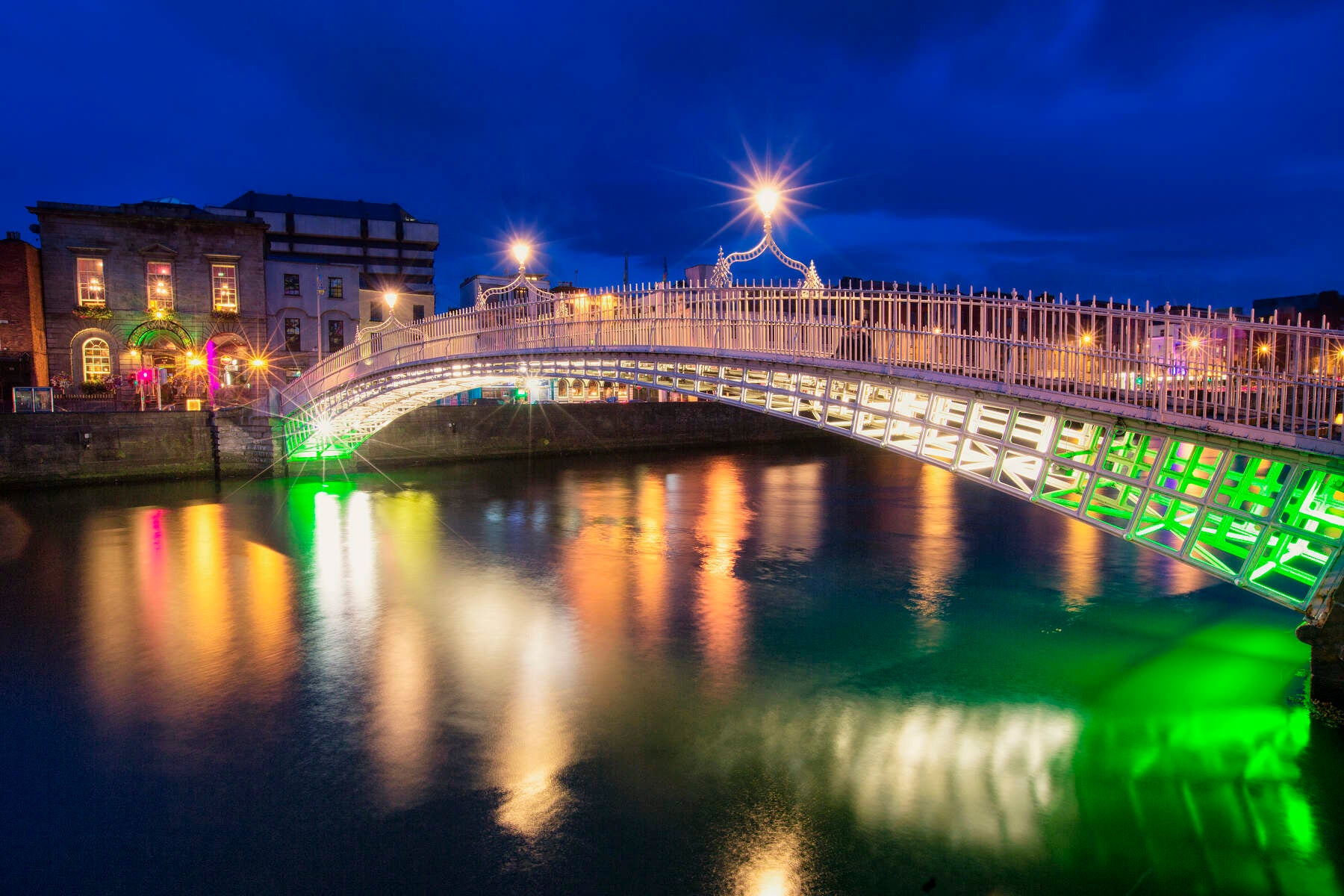 Dublin is full of great places to snap a photo.
Good-looking. Cultured. Fun. Photogenic. No, we're not writing a Tinder profile – we're talking about Dublin. Between the city's eclectic architectural styles, historic sights and spectacular natural setting, the capital is a vibrant photo set filled with Instagrammable landmarks. Urban and edgy, coastal and calm, each picture-ready landmark comes with more than a cool backstory: look closer while lining up your shot and you'll discover cobblestones and cacti, antlers and altars, details that are just as mesmerising as the headline act.
So grab your camera, come curious and get ready to fill your grid with these 10 Instagrammable Dublin landmarks.
1. Georgian doors
Georgian Dublin might be a handsome grid of wide streets, imposing granite facades and sash windows, but it's the colourful doors that bring the most joy. Take a wander around one of the city's famous squares, such as Merrion Square or Fitzwilliam Square and be prepared for a kaleidoscopic display of door pageantry. From vibrant colours to gleaming brass fittings, the semi-circular fanlights above each door bring a new level of ornamentation to the city streets.  
---
2. Poolbeg Lighthouse
The red and white striped Poolbeg chimneys might be Dublin Bay's most iconic visual, but there's another equally photogenic tower standing sentinel over the Irish Sea. Take a bracing stroll along The Great South Wall, between the arms of north and south Dublin, and you'll find Poolbeg Lighthouse, a striking red beacon that's been guiding ships since 1820.
---
3. Ha'penny Bridge
It may have changed its name a few times, and even found Instagram competition from some of Dublin's shinier new bridges, but the Ha'penny Bridge is still the capital's most-photographed crossing. Built in 1816 as Ireland's first cast iron bridge, pedestrians were charged a halfpenny to cross it. Connecting Merchant's Arch to Liffey Street on the north side, and giving great city views up and down river, the toll was discontinued in 1916, but the name stuck.
---
4. Trinity College
Overlooking College Green, Trinity College's handsome facade is like a teaser to the main event. Enter through the oversized wooden doors and take your pick of fab photo fodder. Trinity's spectacular Long Room, one of the world's most remarkable libraries, and the Front Square's freestanding Campanile both photograph well – but save space on your SIM for the interior of the university's Victorian Museum Building. A flamboyant confection of stone, Irish marble and Romanesque arches, it's pure Insta drama that seems like it belongs in another world.
---
5. Christ Church Cathedral
Of Dublin's three cathedrals, Christ Church Cathedral is the most impressive – its striking spire and flying buttresses giving it instant Insta appeal. You don't need to be an architecture expert to appreciate the beauty, scale and skill on display here. With a crypt that dates back to the Viking era and a knave filled with religious artefacts, this hilltop site has been a place of worship for over 1,000 years.
---
6. Temple Bar
With cobbled streets, colourful shop fronts, evocative street names and quirky buildings, Temple Bar packs a visual punch. As charming as it is historic, morning strolls reveal a different side to the medieval quarter, where much of the popular riverside district's architecture and origins can be snapped. Let yourself wander amongst the narrow streets, getting lost amongst the original buildings and bustling independent shops and cafés.
---
7. Howth Cliff Walk
Hop on a DART to Howth, a fashionable little fishing village in North Dublin, and discover one of the city's coolest walks and most beautiful views. From the East Pier, leave the harbour behind and climb the twisting hill to discover a windswept cliff walk at the top. Rounding Howth Head, another prominent Dublin landmark, look out for bright yellow gorse, seals lounging on the rocks below and sweeping sea views across the bay to South Dublin.
---
8. The Phoenix Park
The city's green lung, the Phoenix Park is all things to all people. Wildlife haven, cycle route, picnic spot, heritage trail, cycle route – Europe's largest enclosed city park offers up 1,750 acres of land to roam, enjoy and photograph. Home to Dublin Zoo and the president of Ireland, you'll find manicured flower gardens, beautiful trees, wide open spaces and herds of fallow deer who have been a feature at this Dublin landmark for over 250 years.
---
9. The National Botanic Gardens
If the 20,000 plant species of Ireland's National Botanic Gardens in Glasnevin don't impress you, its curvilinear glasshouses surely will. Designed by native Dubliner ironmaster Richard Turner, these glasshouses were constructed between 1843 and 1869 and look like something from a fairy tale. Be prepared for tropical heat in The Great Palm House, a leading Dublin landmark, where magnificent orchids, palm, and tropical ferns thrive beneath its striking glass double dome.
---
Grand Canal Dock
Dublin's Grand Canal Dock is the beating heart of the Dublin Docklands, also known as Silicon Docks. By day it's a futuristic riot of glass and steel, all contemporary architecture, apartments and tech company HQs. By night it transforms into a bustling civic space with restaurants, cafés, hotels, photo-ready neon street art, theatre and water sports in the Grand Canal.
---
There is art on every corner of the city.
Dublin's photogenic nature is very much on display through its fabulous collection of murals and street art, so why not check out our guide to the very best of them in the city today?