Guides
The best street art in Dublin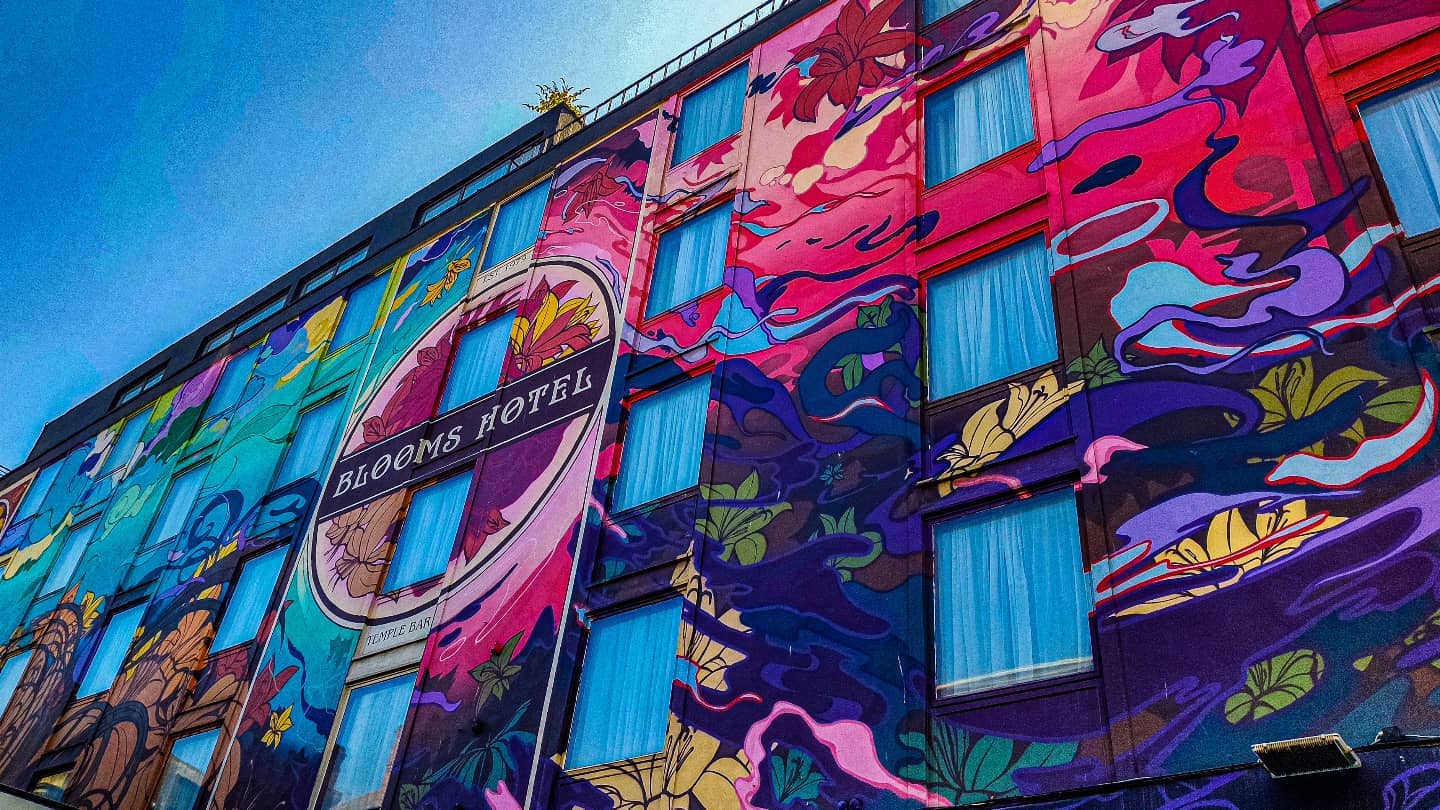 Find ever-changing and evocative street art around the streets of Dublin.
Dublin's street art tells the story of the city in vivid colour. Through transient and thought-provoking murals the city's walls, hoardings and gable ends have been brought to life through the imaginations of Irish street artists like Maser, James Earley, Aches, Conor Harrington and the energetic collective known as Subset. Cross the city, from Portobello along Camden Street through the Liberties and over to Smithfield on the northside of the city, and you'll find ever-changing and evocative street art all around.
From playful murals to cultural celebrations and powerful political pieces addressing social issues, here's our guide to discovering the best street art in Dublin.
1. U Are Alive, Dublin 8
One of Dublin's most prolific street artists, Maser brings wit and warmth to the city's streets with his graphic and thought-provoking pieces. Internationally acclaimed and with a studio in Dublin 2, Maser's bold graphic style draws upon numerous influences including optical and mid-century art, complemented with bold colours, pattern and text. 'U Are Alive', on the corner of Grantham Street and Camden Street, is currently in its fourth iteration. Designed and painted several years ago on a shop wall, it's proven to be one of Maser's most loved pieces (the previous version was a collaboration with another Dublin street art staple, his friend Aches.)
4 Grantham Street, Dublin 8 
---
2. The Aviva Stadium and Lansdowne Road station
Take the DART southbound and you'll spy a slice of urban wildlife on the western side of the Aviva Stadium and along the tunnel up to the level crossing at Lansdowne Road. A collaboration between The Walls Project and artists Holly Pereira, Omin and Decoy, the fluid mural merges diverse styles to feature a 'page flick' black cat as it moves along the tunnel through vibrant shapes and graphics. Book-ended by an edgy urban fox, created by artist and illustrator Dan Leo, and an urban hawk by Artists for All City Records at the north end of the tunnel, the work spans 160 metres, making it one of the country's longest urban art projects.
Aviva Stadium, Lansdowne Road, Ballsbridge, Dublin 4, D04 K5F9 
---
3. Traffic light junction boxes, citywide
Follow the #DublinCanvas hashtag online and it will lead you to a cool community art project that's interwoven through the city. Transforming grey traffic light boxes into a walking gallery of public art, the eye-catching initiative is overseen by Dublin's four councils. Over 750 pieces have been completed, with vibrant new themes by a diverse group of Irish and international artists, designers, illustrators and creatives. Dublin Canvas is constantly changing, with a new callout for submissions of artwork made each spring.
---
4. James Joyce quote, Dublin 8
"When I die, Dublin will be written on my heart," wrote James Joyce. Another of Joyce's quotes – "they lived and laughed and loved and left" – has been immortalised in a striking gable wall mural on a terrace of houses on Harmon Street, off Donore Avenue in Dublin 8. The St. Teresa's Gardens Regeneration Board and Donore Credit Union commissioned local artists Garreth Joyce and Vanessa Power of Signs of Power to recreate the jaunty quote from Finnegan's Wake to encapsulate the transition of the population of St. Teresa's Gardens (Extra points for their skilful camouflage of the telegraph pole). 
27 Harman St, Saint Catherine's, Dublin 8, D08 E6F7 
---
5. Writers' Block, Summerhill
Across town, you can meet Mr Joyce's younger self looking down from a wall of Summerhill's Richmond Cottages. Joyce lived at 17 North Richmond Street for a time and staged his story Araby here: "The dark muddy lanes behind the houses where we ran the gauntlet of the rough boys from the cottages…. down to the dark odorous stables where a coachman smoothed and combed the horse or shook music from the buckled harness." Brilliantly created by artist and designer Shane Sutton, the portrait of Joyce joins Sutton's mural of the writer Brendan Behan, just a few houses over. Both were inspired commissions from the Richmond Cottages Residents Association. 
20 Richmond Cottages, Summerhill, Dublin 1, D01 K7W9 
---
6. Blooms Hotel
A joyful riot of colour and culture in Temple Bar, the exterior of Blooms Hotel is one of the most eye-catching landmarks in the city. At the heart of it are Joyce's best-known fictional characters, Molly and Leopold Bloom, Stephen Dedalus and Buck Mulligan, encircled by a psychedelia-meets-Art Nouveau pastiche of clashing colours and botanical flourishes. Even if you've never read 'Ulysses', you'll want to see these fictional folk in full-sized full-colour glory. 
3-6 Anglesea St, Temple Bar, Dublin 2, D02 FK84 
---
7. Wallis Bird Hands, Dublin 2
Along one side of the George pub - Dublin's oldest and biggest gay bar - is a portrait of Irish singer-songwriter Wallis Bird. It's the work of well-known street artist Emmalene Blake, a fine art graduate whose move into street art has seen her painting live at many cultural events. This arresting portrait was painted to mark the release of Bird's latest album, Hands. Blake's work changes constantly (this image will soon be replaced by something else), but you can see examples of it all over the city. 
89 South Great George's Street, Dublin 2, D02 R220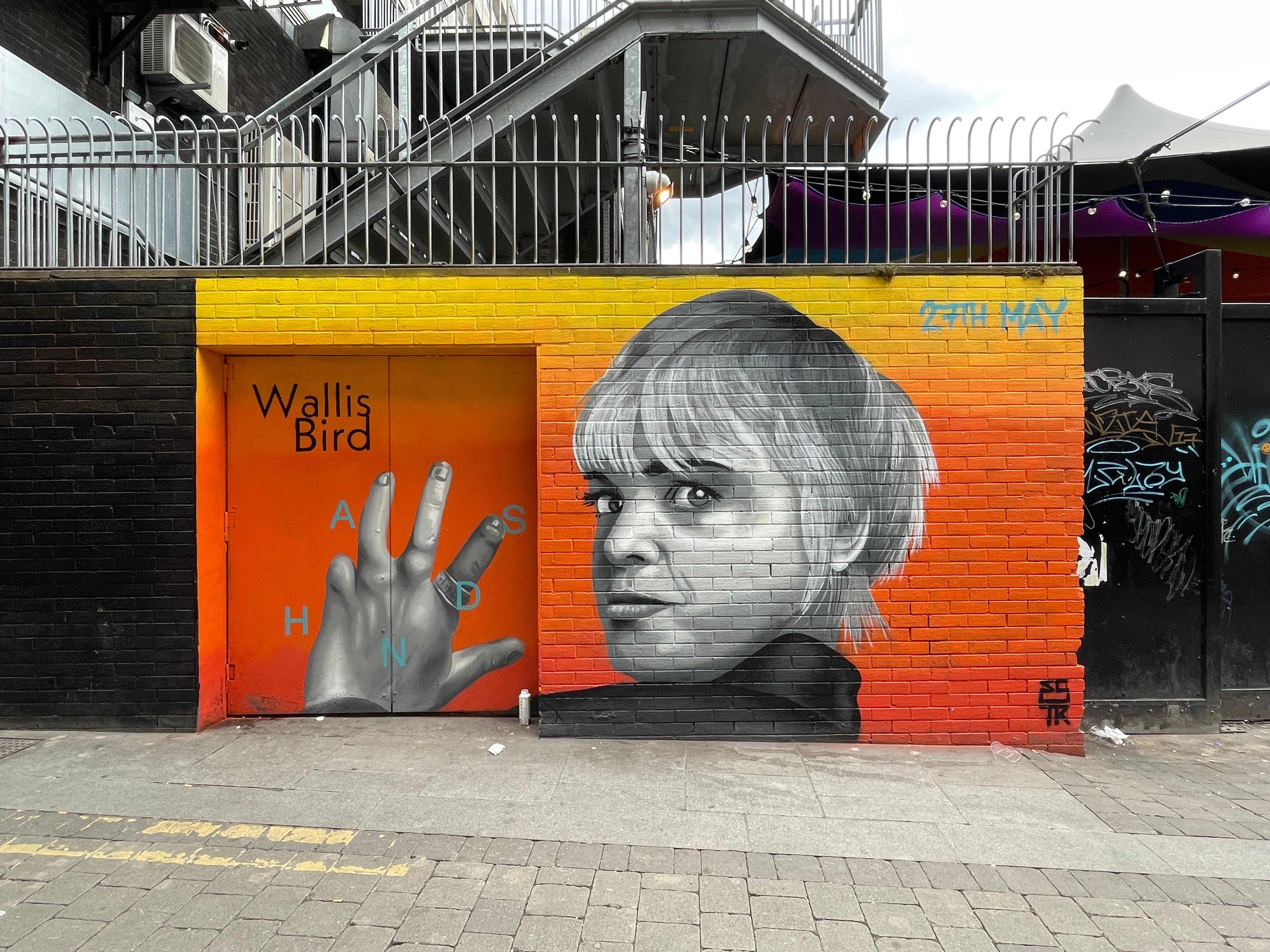 ---
Explore Dublin's artistic heritage
There are many ways to explore Dublin's rich artistic heritage, so why not take a U2-themed walk and see the city through the eyes of one of its best-known bands?