Guides
9 dog-friendly hotels and guesthouses in Dublin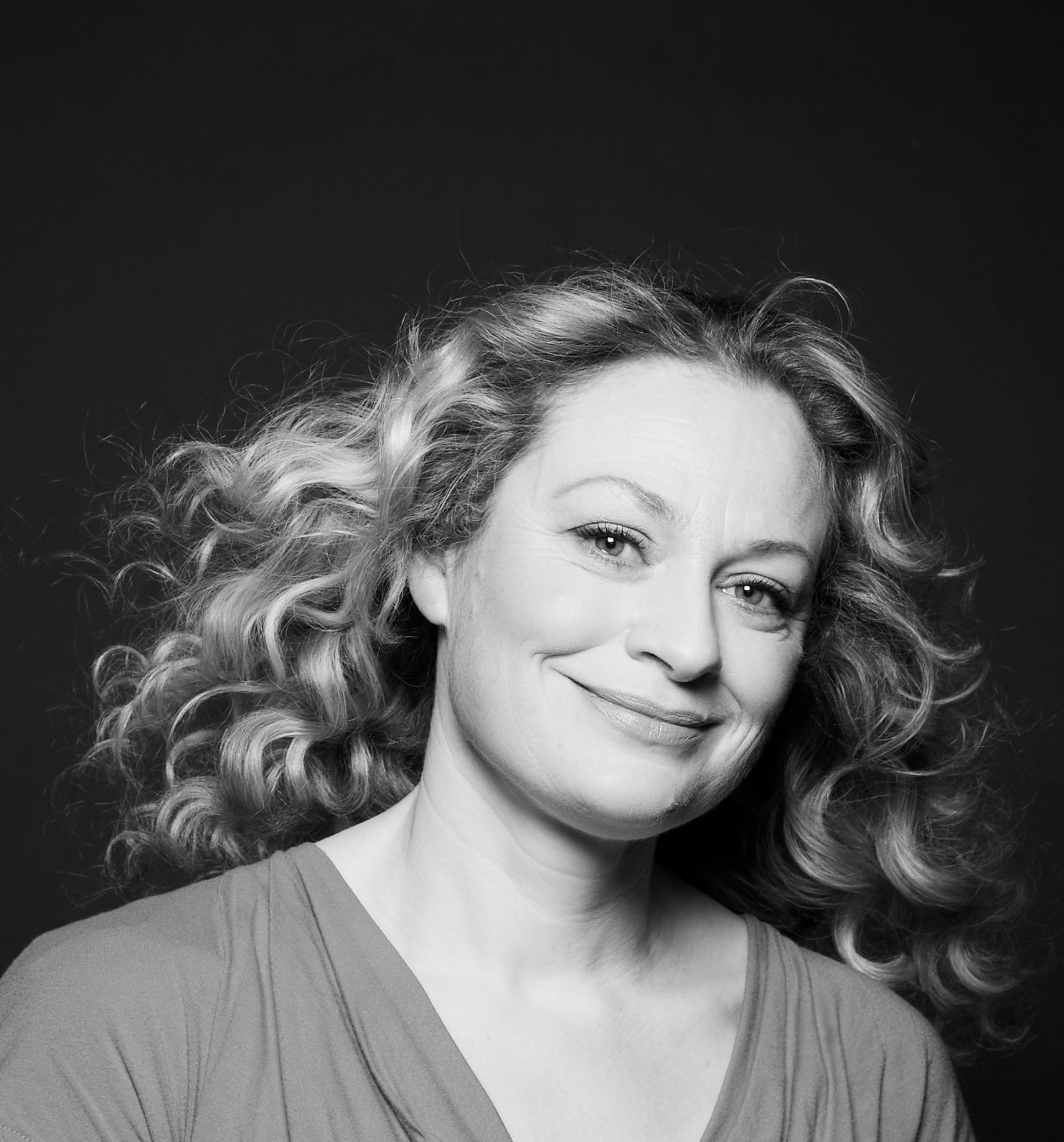 Jillian Bolger
Jillian Bolger is an editor and journalist specialising in food and travel writing. A member of the Irish Food Writers Guild, her work appears regularly in the Irish Independent, The Sunday Times, Sunday Independent and The Irish Times. She is also a columnist with Irish Tatler.
Media caption
Relax in style with your pooch in Dublin City.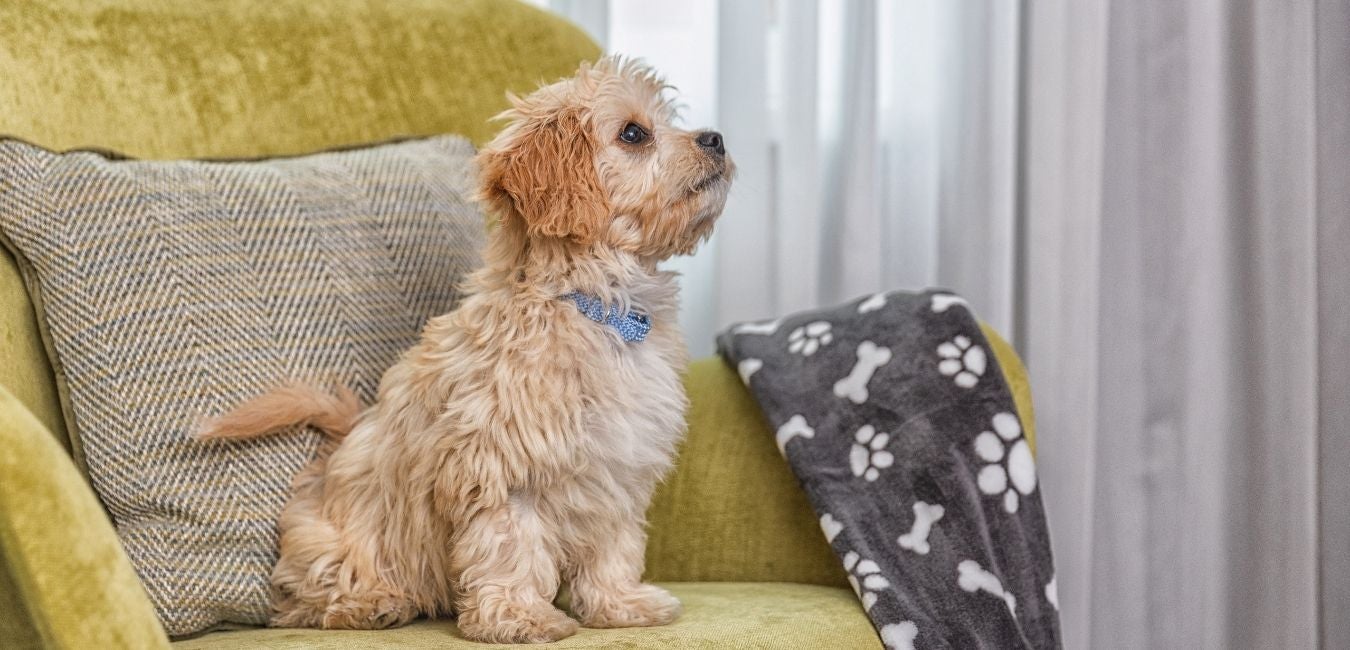 Media caption
Relax in style with your pooch in Dublin City.
Dublin is a city for dogs and dog lovers, with more businesses than ever welcoming furry friends.
You can drink, eat and explore with your dog, and when you're done you can both find a comfortable bed to sleep in at night. Canine check-ins are easier all over the city, with many hotels and guesthouses setting aside dedicated dog-friendly rooms and offering VIP packages for four-legged guests.
Factor in Georgian squares, countless parks and coastal walks and you'll find Dublin is a delightful doggy destination.
What is dog-friendly accommodation?
Dog-friendly means different things to different places. Each property sets its own guidelines around hosting dogs, from the kind of breeds welcomed to house rules and charges.
Several Dublin properties go the extra mile, offering pampered pooches VIP status, with treats like an all-day doggy menu or freshly cooked chicken served on the terrace. Others offer a no-frills service where you will be expected to bring everything your pet might need, including their own basket to sleep in.
Dogs might be known as spontaneous creatures, but most dog-friendly accommodation in Dublin needs to be booked in advance as dog-friendly rooms tend to be limited. As soon as you know you'll be travelling with your furry friend, call ahead to secure a dog-friendly room.
---
House rules
Always call or email your chosen accommodation to confirm they currently welcome dogs and can accommodate your breed. Each property has its own guidelines and often has a special dog policy that needs to be signed upon check-in. This may address everything from dog size and breeds allowed, to off-limit areas and expected behaviour. It can also include information around noise disturbance and a refundable cleaning deposit.
Some hotels provide bedding and water bowls, while others expect you to travel with all of your pet's gear. Ask upfront about charges, dog access within the property and whether your pet may stay in a room unattended or sleep on your bed. Then it's time to pack your pooch and head to the capital for some cool canine capers.
---
The Morgan Hotel's Puppy Love package promises four-star fun for you and your furry friend in Temple Bar. Book the special pup package in advance (the only way pooch can stay) and you'll find a VIP welcome of treats, food and a water bowl, floor mat and deluxe dog bed. All-day in-room doggy dining can be ordered from a special menu with all kinds of meaty canine favourites. Your dog must be accompanied at all times, and is welcome to join you in the cool and comfy heated outdoor Courtyard Terrace for dining. Only one small dog per room is allowed, weighing up to 20kg or measuring up to 15 inches in height.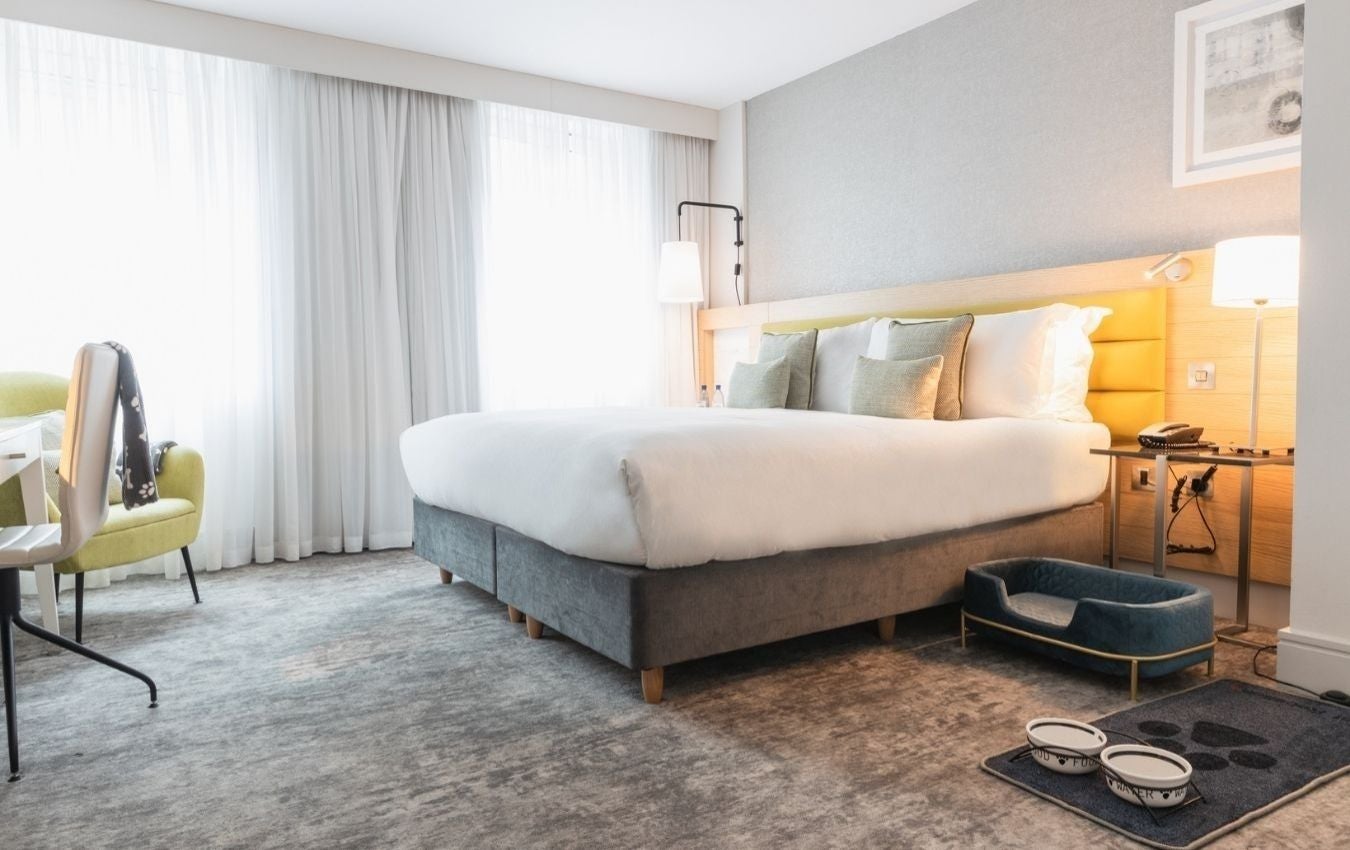 ---
A contemporary four-star hotel in a historic Dublin neighbourhood, Aloft Dublin in The Liberties rolls out the red carpet for its four-legged guests. You'll find a cosy dog bed and bowl with toys and treats in the guest room upon arrival. Dogs must be accompanied at all times in the public areas and guest rooms. While not permitted in the dining rooms, room service is available from the hotel's main food and beverage outlets, should you wish to dine with your doggy. One pet per room is allowed at a charge of €50 per night, with small to medium sized dogs up to 35kg allowed.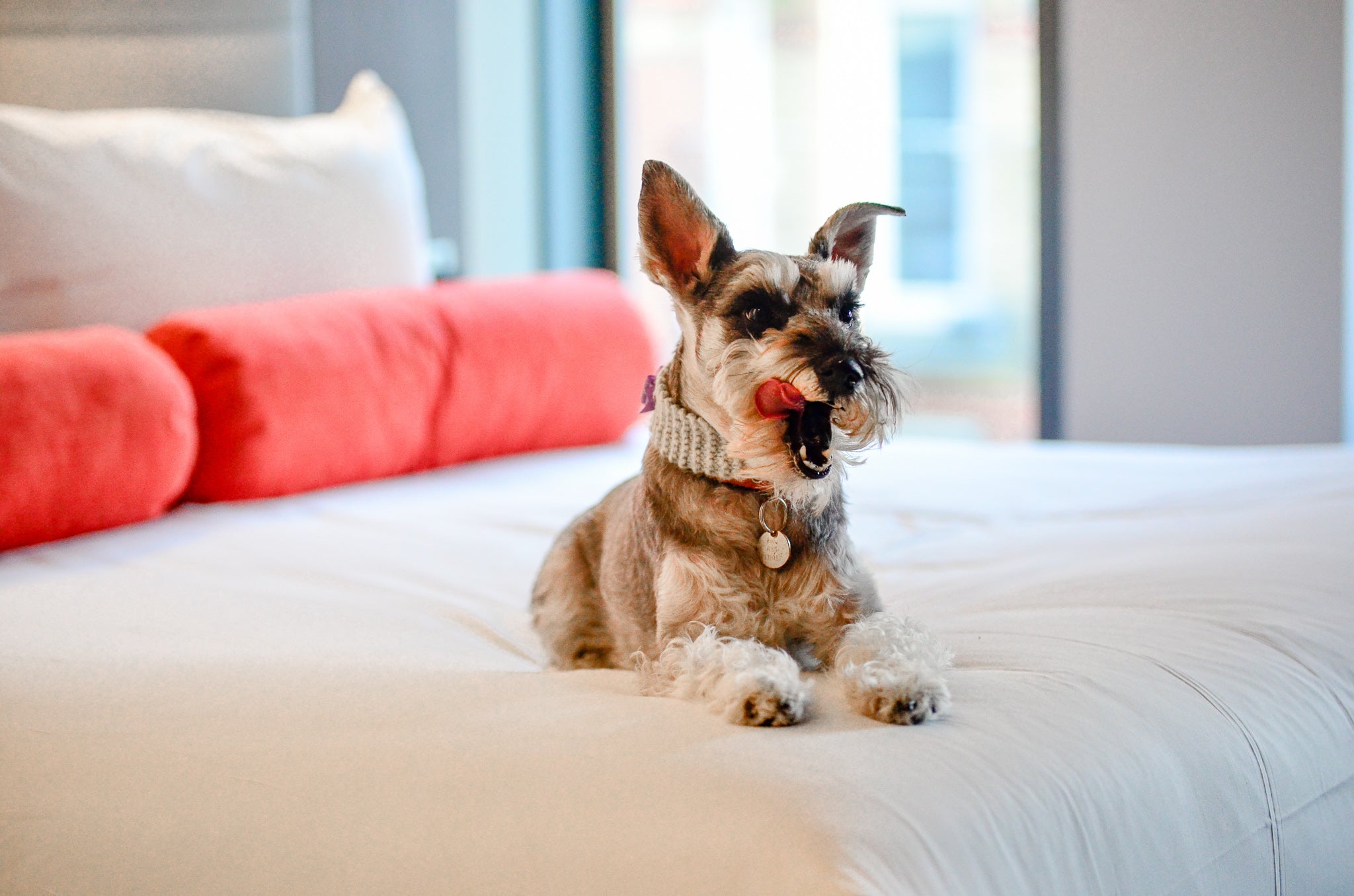 ---
An intimate boutique hotel in Dublin's Embassy belt, the Dylan loves seeing dogs check-in. Close to Herbert Park, this chic five-star hotel provides pups with a doggy bed, bowl and treats upon arrival. Pets can't be left unattended but may dine alongside you at the Front Terrace or cosy Nurserie Terrace where they'll receive a bowl of water and freshly cooked chicken. The terraces are covered and heated for maximum comfort. Dogs must be under 20kg and there's a charge of €100 for overnight stays.
---
With Georgian Dublin's handsome squares and streets next door, you and your dog will both enjoy walks around the Conrad Dublin. Furry guests are welcome in all public areas apart from the Coburg restaurant and bar. Choose from two sizes of dog bed for your pooch to settle in, with treats, water bowl, a little toy and poo bags included. All dogs 35kg and under are welcome and may be left in your room unaccompanied. There's a charge of €50 per dog per night and guest owners need to agree with the pet policy of the hotel upon check-in.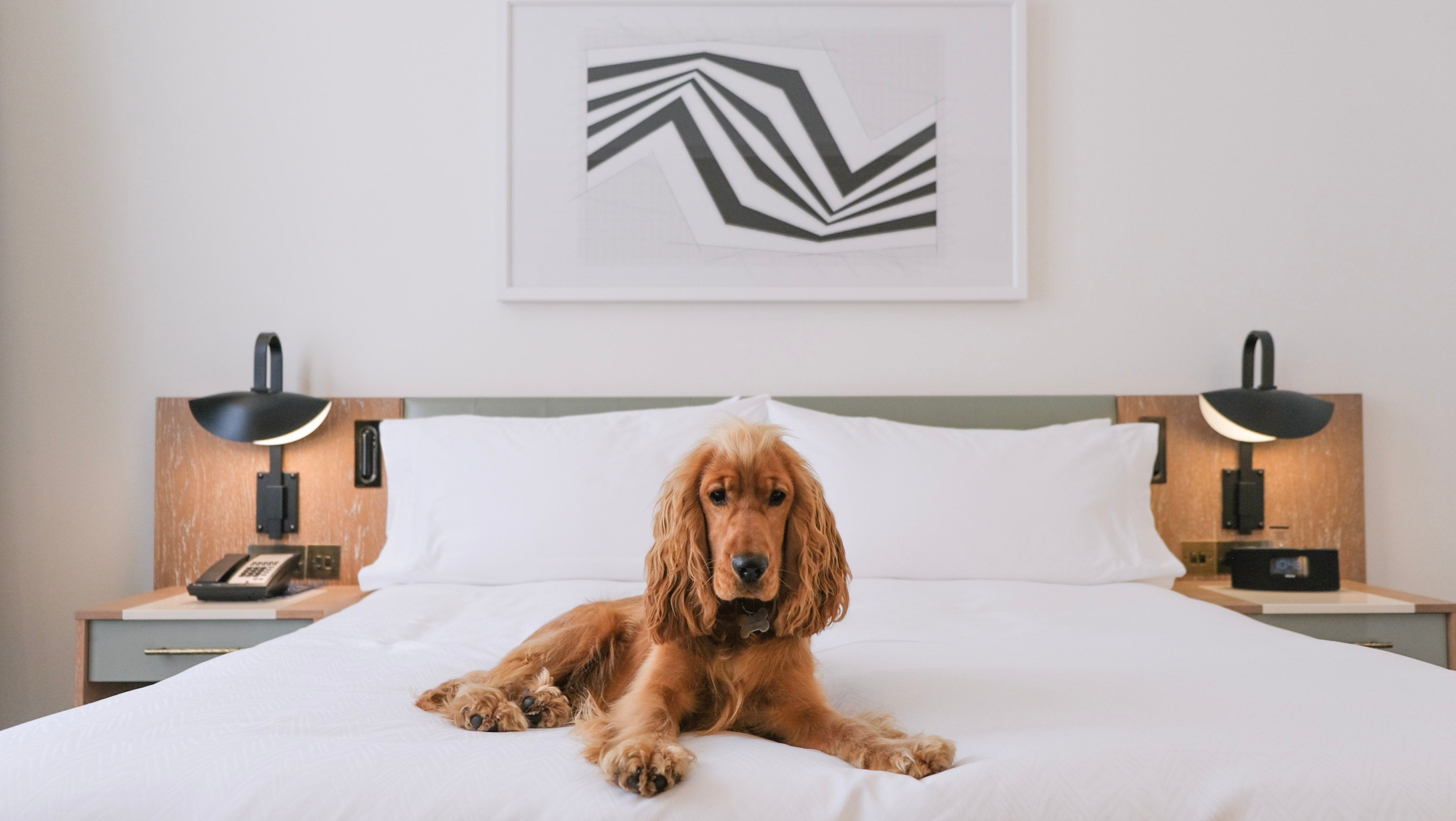 ---
Overlooking Dublin's Grand Canal, the Hilton Dublin welcomes dogs with open arms. With access to all parts of the hotel (except for the Charlemont Bar & Bistro), dogs are greeted with a comfy bed and food and water bowls. Your four-legged friend cannot be left in the room unattended, but they can dine with you in the lobby, courtyard or terrace. A once-off charge of €50 covers your dog's holiday, with two pets allowed per room. There are no specific restrictions on breeds but a weight limit of 34 kg.
---
Canine companions will find considerable comforts at Pembroke Townhouse, a cosy boutique hotel in a handsome Georgian terrace in Ballsbridge. A short stroll from St Stephen's Green, pets are welcome in the dog-friendly guest rooms, which must be booked in advance. Pack your pooch's bed and favourite food and they'll supply the doggy bowl and treats. A pet fee of €40 per night will be added to your rate.
Dogs shouldn't be left in your room for long periods of time, and well-behaved pups are welcome to join you in the lounge. Staff can happily recommend some great dog-friendly places nearby, including Herbert Park and Toners Pub on Baggot Street.
---
A cosy 3-star hotel in the centre of lively Rathmines, Uppercross House Hotel welcomes pets of all shapes, sizes and breeds at no extra charge, "so long as they are cute, adorable and well-behaved." Dog-friendly rooms, complete with tiled floors and underfloor heating, can be booked directly online, with one pet allowed per room. You'll need to bring your own pet bed or blanket and pet food, although food and water bowls are available.
Dogs can't be left unattended and must remain on their lead at all times within the hotel and its grounds. A pet concierge offers details on local dog walkers, sitters, groomers, dog boutiques and vets. Your dog is welcome in the hotel's heated beer garden at Mother Reilly's Bar & Restaurant. Pet-friendly rooms must be reserved in advance.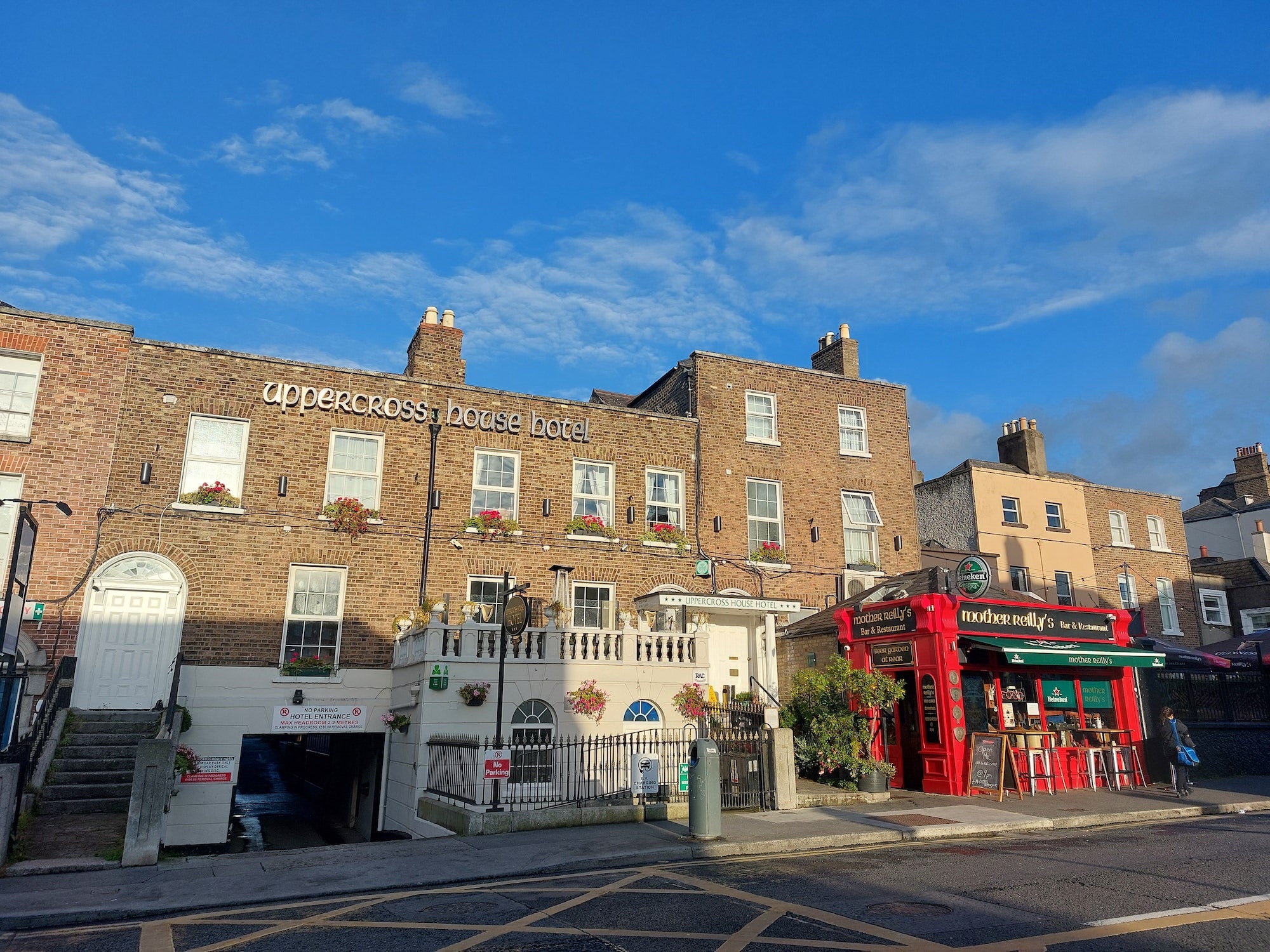 ---
Locke Aparthotels
With two stylish outposts in the city centre, Locke Aparthotels offer sleek contemporary self-catering apartments, within a fully serviced space with bars, co-working spaces, coffee shops and restaurants. Both the riverside Zanzibar Locke and Beckett Locke in Dublin's Docklands welcome one dog per apartment, which must be booked in with the WOOF package prior to your stay.
A one-off €40 fee for pet stays includes delicious doggy treats, a dog bandana and toy, plus a dog bowl and door hanger during your stay. An extra-thorough deep clean on check-out is included in that fee, too. Dogs 30 kg and under are welcome and must have up-to-date vaccinations, proof of which should be available on request.
---
Many of Dublin's cafés, pubs and restaurants welcome canine companions too, with doggy customers greeted by water bowls, puppuccinos and edible treats at these pawsome businesses.