Guides
The best brunch spots in Dublin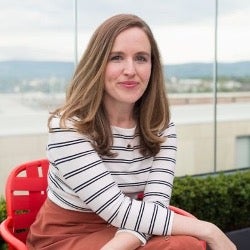 Nicola Brady
Nicola Brady is a travel writer based in Dublin. She writes regularly for the Irish Independent, The Irish Times and Condé Nast Traveller, and has contributed to books on Dublin and Ireland for DK Eyewitness.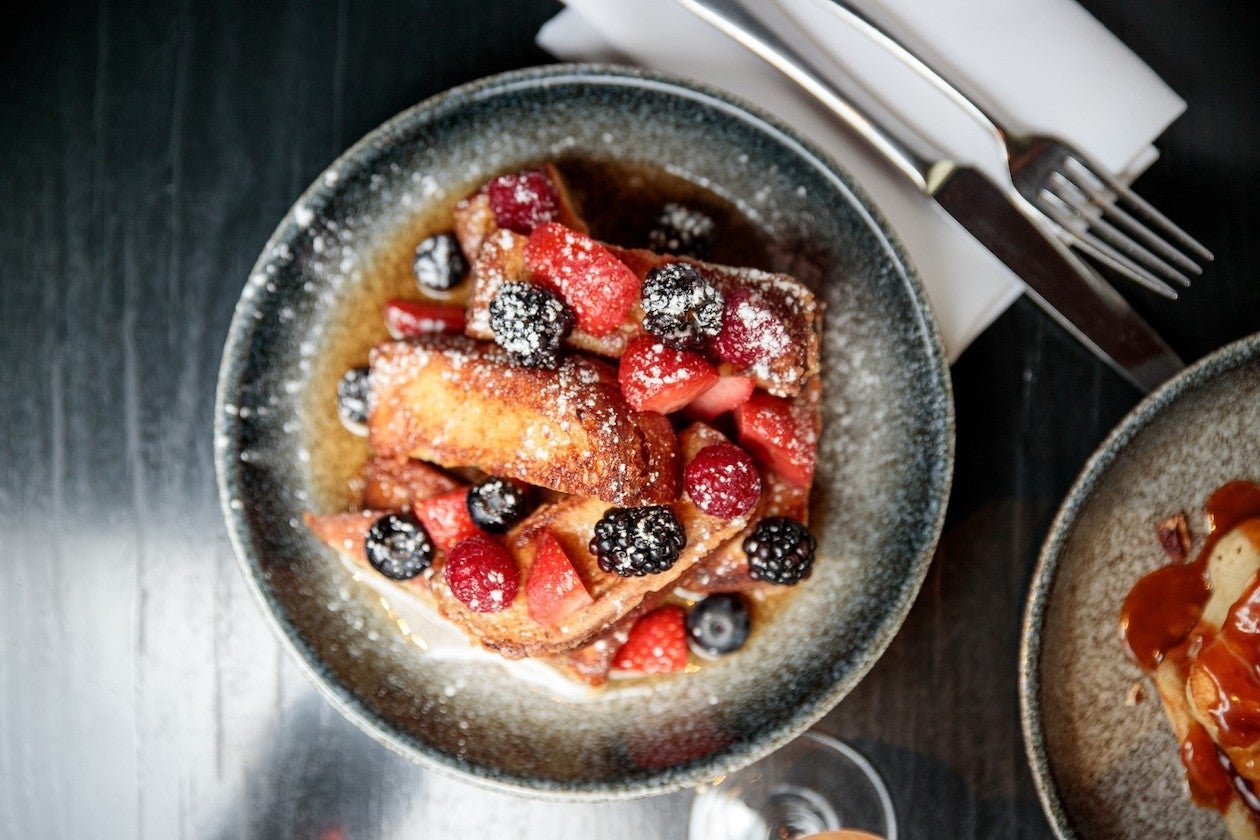 It's a sure sign of brunch's enduring popularity in Dublin that the hottest tables in town are often reserved well in advance.
And that's just at the restaurants that take bookings – elsewhere, you'll have to join the line of locals looking to catch up over avocado toast and mimosas. Luckily, brunch is often an all-day affair, with most places in Dublin starting to fill up at midday but serving food well into the afternoon. There are also a wide range of styles on offer, from vegan cafés serving smoothie bowls to chic rooftop restaurants with great views of the city.   
Whether you're looking for a plate of plant based pancakes or a boozy brunch and a floor show, here are some of the best spots to try in Dublin.
Classic brunch spots
With long communal tables, shelves stocked with jars of homemade kimchi and a rotation of local dogs underfoot, Smithfield's Urbanity is perfect for a weekend brunch. They don't take bookings, so you can pop in unannounced for classic dishes with a twist, like scrambled eggs with Gochujang ketchup and pickled chili, or Tandoori spiced halloumi with masala peanuts and curried hummus. Another Northside favourite is Two Boys Brew in Phibsborough, where locals gather for soft hotcakes and avocado toast topped with crispy halloumi, peanuts and homemade hot sauce.  
There's a swish, glamourous vibe at Angelina's near Baggot Street, with groups of well-dressed Dubliners packed into glossy leather booths for Bloody Marys, avocado toast and their signature brunch pizza, topped with black pudding and egg yolk. If you want to eat outside, their canalside tables are in a great location right next to the water. 
For loftier views, head to the rooftop restaurant Sophie's at The Dean, for pancakes, burgers and eggs served in an light-filled space overlooking the city. There's something of an Australian feel to the riverside restaurant As One in the Docklands, with a strong focus on local, seasonal ingredients like kale sprouts and McNally's heritage potatoes.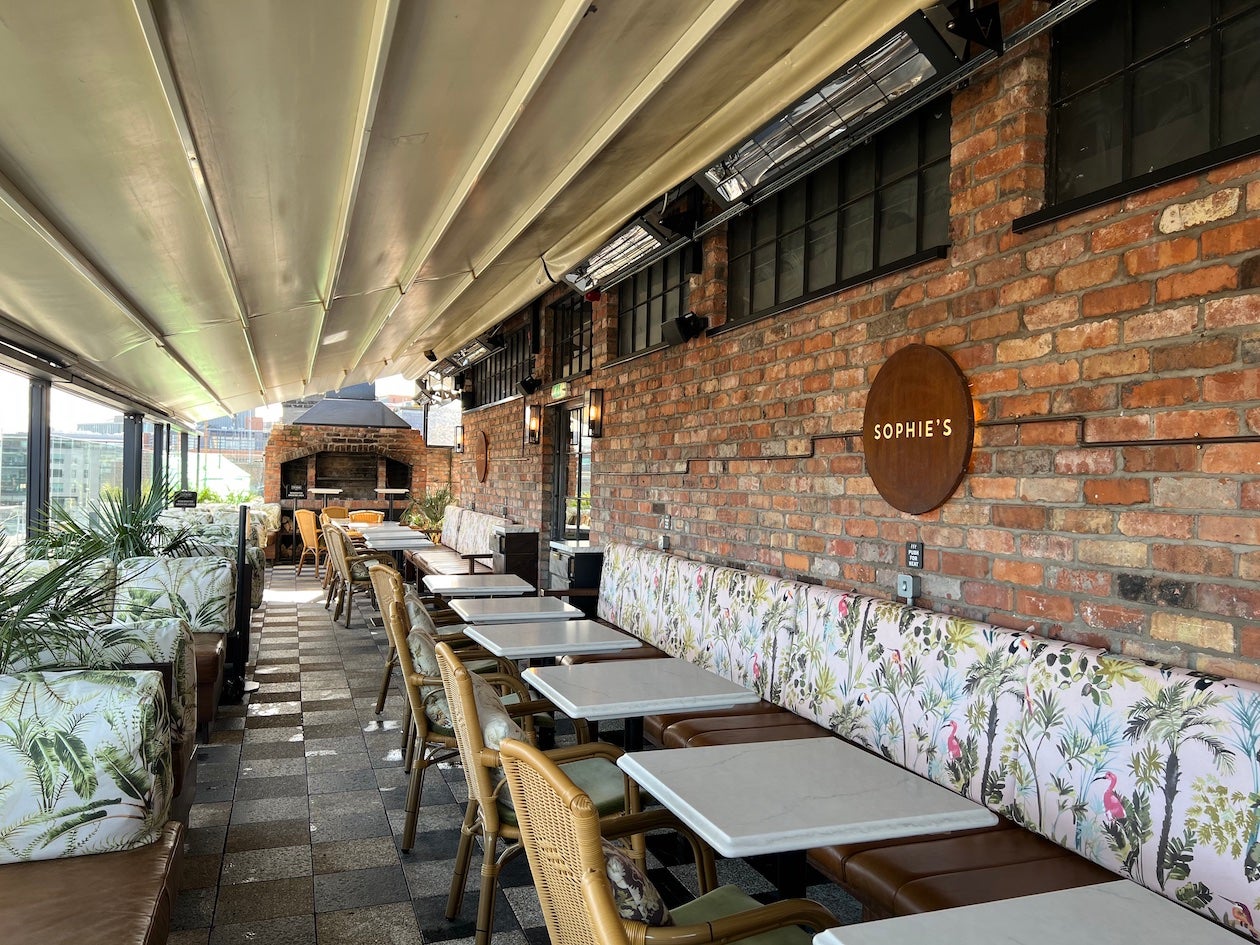 Bibi's is a neighbourhood joint set among the Georgian townhouses of Portobello, with a legion of fans who come for the Turkish eggs, chickpea toast and a bit of local gossip. The dining space is a suntrap on pleasant days, and there are outdoor tables set up on the patio in the summer. 
A few minutes walk away on the South Circular Road, Alma is a tiny café with a strong Argentinian influence – think Choripan sausage on sourdough and buttermilk pancakes bathed in Dulce de Leche. Both places serve brunch during the week as well as at the weekend.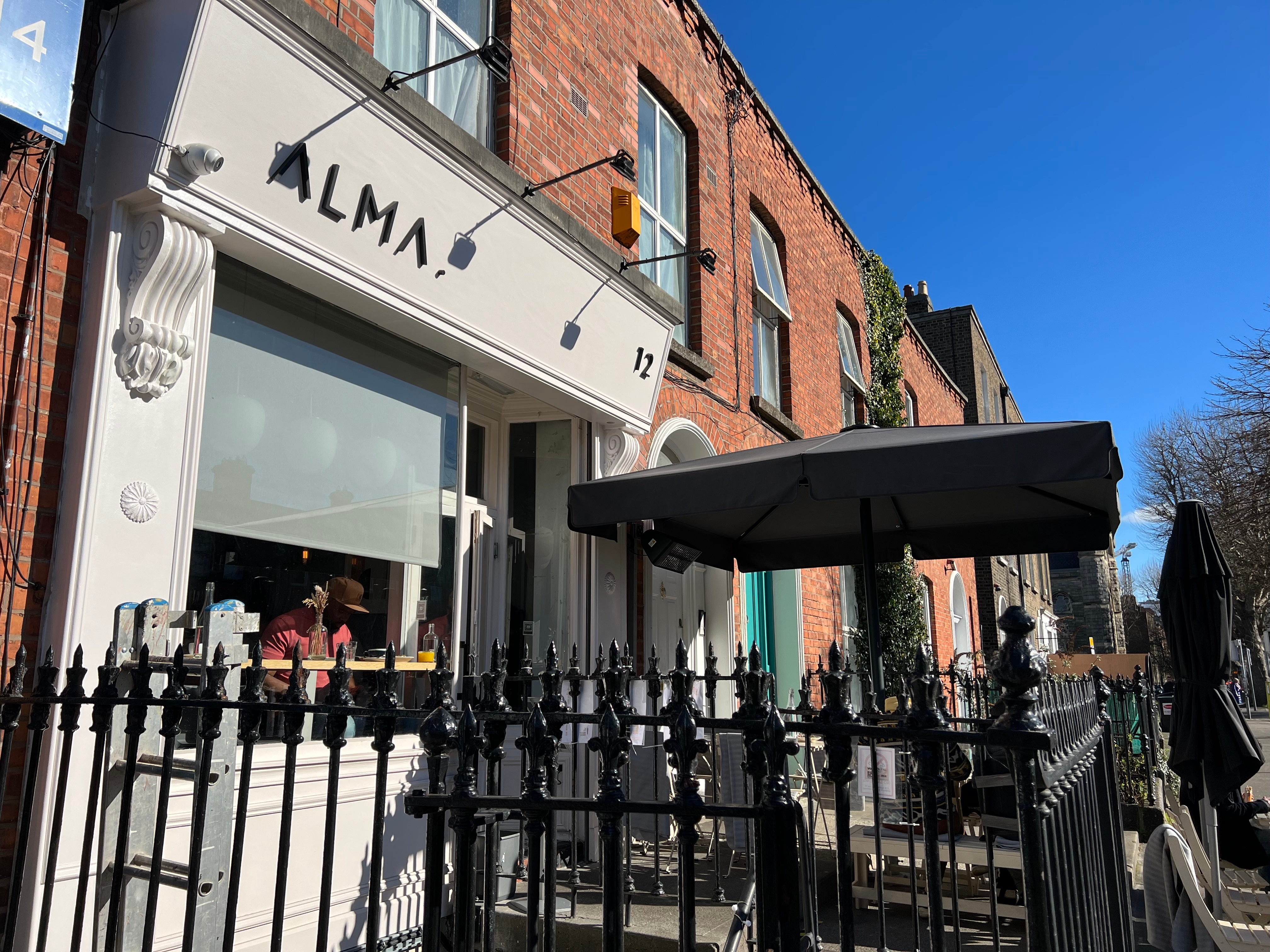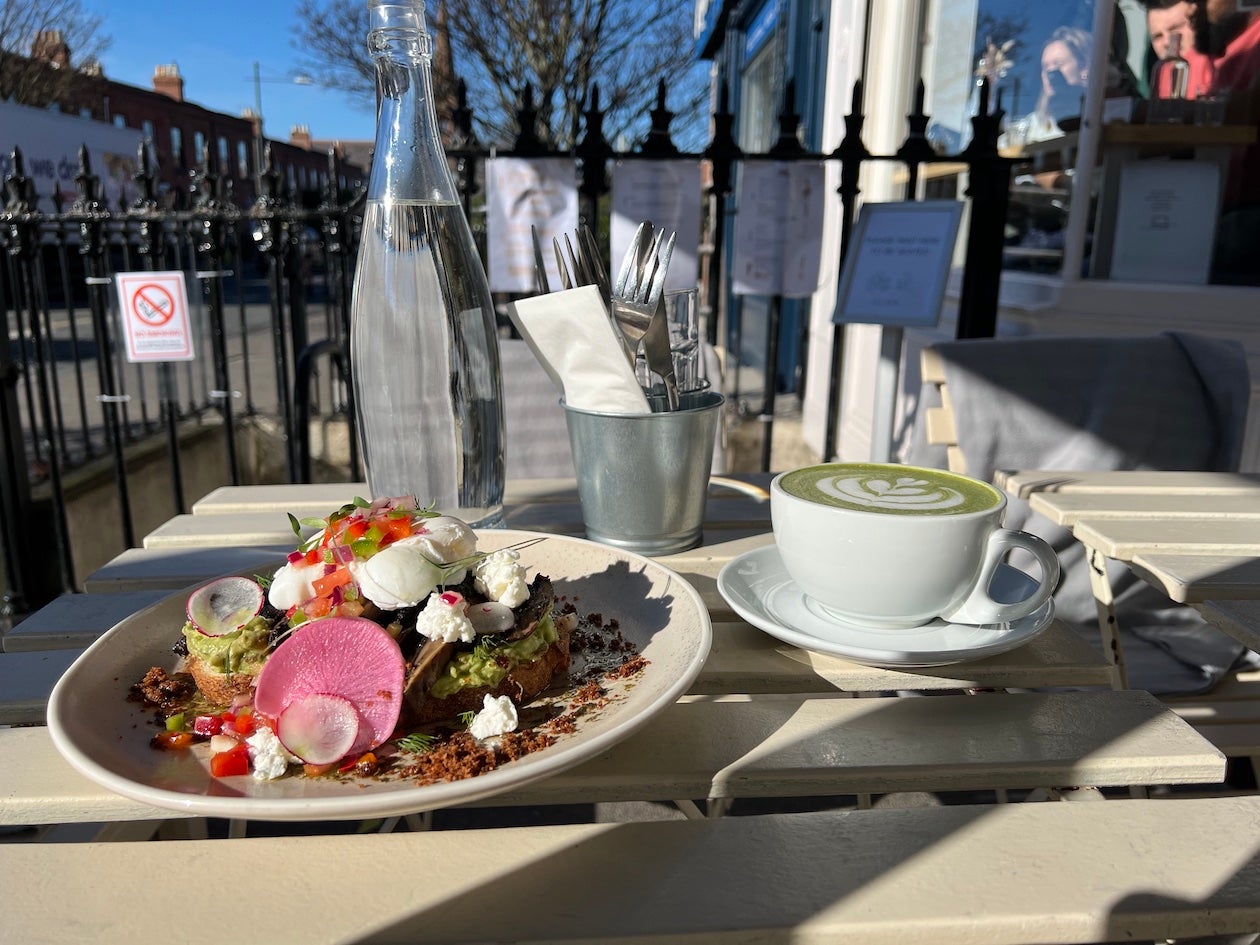 ---
Bottomless brunch
What's better than a cocktail at brunch? There are loads of places offering bottomless brunch around the city, from seafood restaurants to cafés with a party vibe. The pours are generous at Cleaver East in Temple Bar, where wait staff flit between couples and friends tucking into plates of fried chicken and waffles. Jugs of bellinis and mimosas are brought around frequently throughout a sitting, which lasts one hour and 45 minutes. The same rules apply in the nearby Beef and Lobster, where the menu has a more nautical feel. There are surf and turf tacos, Irish lobster and thick burgers, and you can build your own cheesecake for dessert, topping it with salted caramel, crushed chocolates and chunks of fudge.    
In Smithfield, Thundercut Alley serves bottomless brunch every weekend, with refillable margaritas and gin cocktails alongside the usual mimosas. The menu has a Mexican influence, with huevos rancheros and eggs benedict made with chorizo and guacamole.  
In Chimac, their Korean fried chicken is given a twist for the brunch crowd, with a breakfast burger packed with candied bacon and a fried egg, or kimchi waffles topped with chicken thigh and sriracha caramel. Order the bottomless option and your cute enamel mug will be refilled with their cult favourite frosé, an old school frozen slushie made with rosé wine.  
---
Drag and disco brunch spots
Sometimes you want brunch to be more than just a meal – you want it to be a party. On those occasions, a drag brunch is the answer. At Bow Lane Social on Aungier Street, their monthly drag brunch is hosted by Davina Devine and features a drag show, live DJ and pitchers of mojitos and Long Island iced tea. With the lights turned low, disco music blaring and tables buzzing with groups of friends, it feels more like a night out – albeit one with Eggs Florentine and crab cakes on the table. They host a regular bottomless brunch every Friday, Saturday and Sunday, as well as the occasional burlesque brunch.  
There's a drag brunch every Sunday in Wigwam on Middle Abbey Street, with plates of Brazilian waffles and cassava fries accompanied by drag performances, games and cocktails. It's a similar set up at The Bernard Shaw in Glasnevin, with breakfast burgers and a Full Irish on the menu alongside raucous entertainment from drag queens Miss Taken and Miss Roots. Though they don't take place every week, it's worth keeping an eye out for the regular disco brunches at The Well on Stephen's Green, held once or twice a month.
---
Vegan and gluten-free brunch
While most restaurants have at least one vegan or gluten free option on the menu, some venues go above and beyond. In Stoneybatter, Kale and Coco is fully plant based, so vegans can confidently order anything on the menu, from Buddha bowls packed with miso roasted aubergine to a creamy banoffee chia pudding.  
There are four branches of the vegan-friendly Brother Hubbard around the city, the most spacious of which is on Capel Street, where weekend crowds get together for noisy catch ups over battered cauliflower wraps and oat matcha lattes. For something sweet, head to Póg Café on Tara Street – you mightn't expect a pancake joint to cater to vegans or coeliacs, but all of their dishes can be adapted for both, drizzled in maple syrup, fruit and nuts. 
Down on the South Circular Road, Little Bird isn't a dedicated vegan café, but many of their brunch options can be made either plant based or gluten free, like mushrooms on toast with hazelnuts, kale and cauliflower puree, or French toast with fresh berries. If you're feeling really virtuous, you can head to the yoga studio upstairs for a class before your brunch.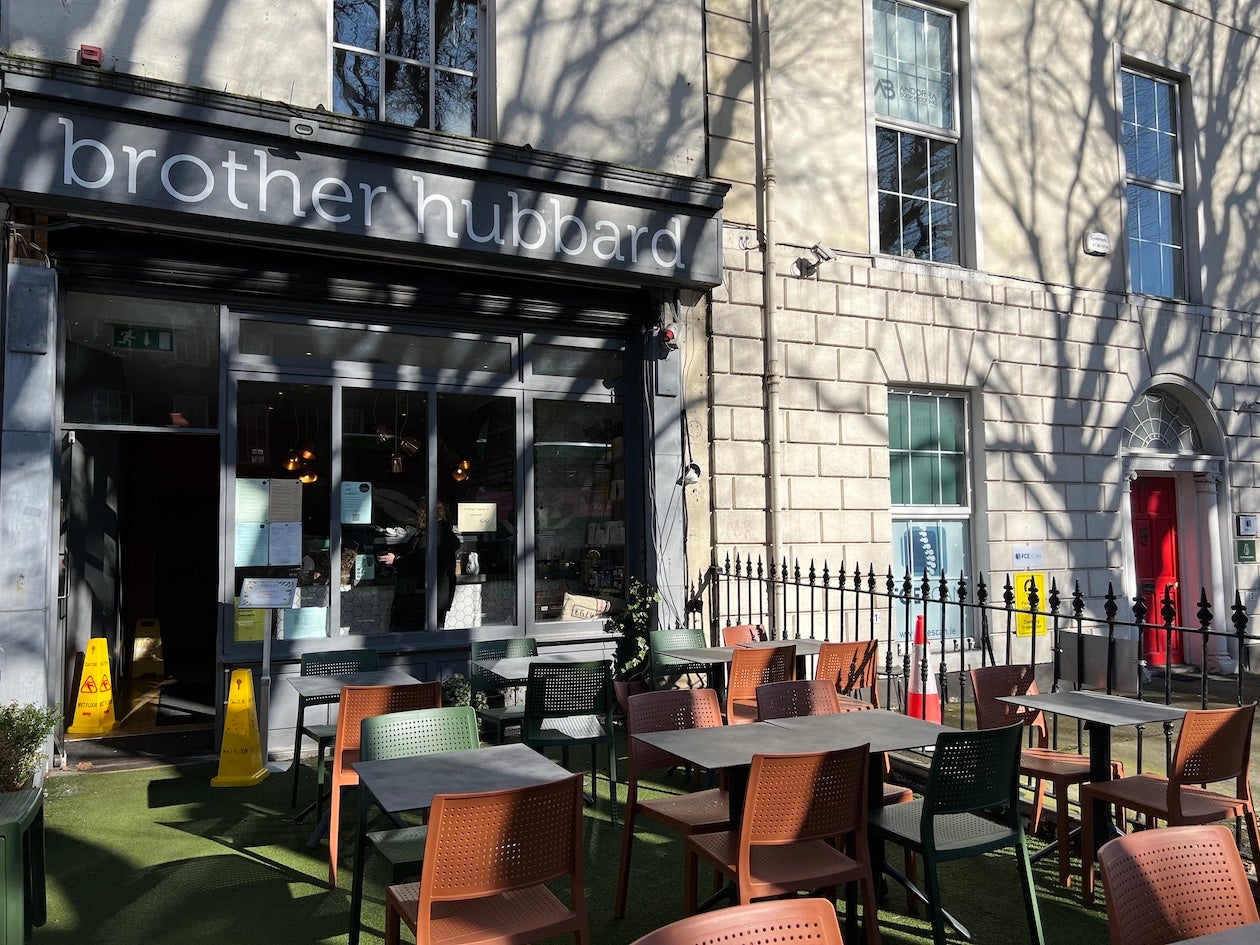 ---
Coffee in Dublin
Not hungry but looking to satisfy a coffee fix? Check out our guide to the best coffee shops in Dublin.